(A note about the screen captures Brendon and Jeff were trying to decide a "secret" hand symbol they could use when they try to fool all the newbs Basically they want to have deals with them all and they will use this hand gesture to solidify their alliances everytime they see the newbs walking around the house)
Uncensored Live Feeds Free Trial
5:30pm HOH repeats (JJ/BR) minus dani Talking about Cassi campaigning to Brendon to get home to vote our Porsche. Jeff tells them to make them think that the repeats are on the fence. Jeff tells them about Dom and cassi coming in and talking to him and Jordan earlier today. Jeff is laughing his face off at hoe "stupid" and "dumb" Dom is he rehashes telling Dom that he might have a deal with Adam he might not but there's nothing Dom can do because they have the votes.
Jeff: "No need to worry it's going to be us in here this coming week"
Jordan mentions that Cassi is doing very well in the golf game last night. Rachel is quick to say that that Cassi is not as good as everyone thinks.
Brendon: "It doesn't BLANK matter we know how these competitions go… doesn't BLANK matter how much you practice"
Brendon: "There (cassi, dom, lawon) are such BLANK.. there going to just be whining on Thursday night… So BLANK"
Rachel leaves and the remaining HOH crew go through some laughs about how dumb the newbs are and how they have the game in the bag.
Jeff: "Dom is so stupid you can read what he's thinking on his face"
Brendon: "Lets have fun BLANK with these BLANK"
Jeff: "Yeah lets just have fun and stir it up"
Brendon tells them they shouldn't over do it though if the newbs band together then the repeats will be at a disadvantage… Jeff points out that the newbs are already all turning on themselves he mentions that every single one of them down there is a idiot that has no clue what they are doing, "look they are already turning on each other… if we win HOH they will all be coming to us making deals left and right"
They all laugh .. brendon says "BLANK" he mentions that he was telling the newbs last night that during bb11 Jordan won the exact same competition with the golf balls and Jeff came in second. He adds that the he saw fear and bewilderment in the newbs after he told them that.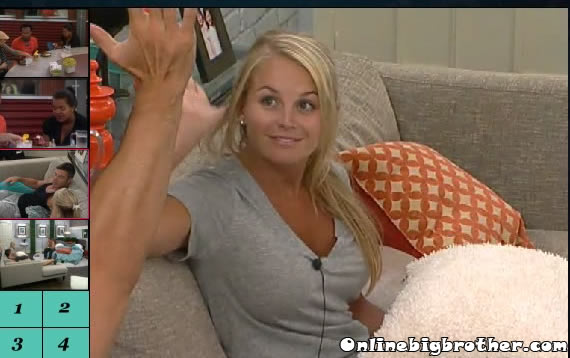 Jeff: "lets starts striking BLANK deals right now with everyone"
Brendon agress but warns them that all the newbs talk too much so any deal you make will be known by the end of the day. They says that Shelly can be trusted the most of the newbs and Brendon truly believes that she a good person. They talk about taking her to the final 6 then cutting her loose. Brendon asks them id anyone has talked to Kalia lately. Jeff wonders if she's still on board. Jordan assures them that Kalia is 100% on their side. They start joking around that they will fool the newbs ever single HOH. Like what they have planned for Kalia. Kalia plans on telling every she wants to go home so please put her up then when she goes up with her partner Lawon they will evict lawon. Jeff laughs says they'll stick tot hat strategy until everyone but them are left. Jordan mentions that she's still a little worried that she'll be the target. Jeff: "what are you worried about jordan i'm going home bozo bucket not you"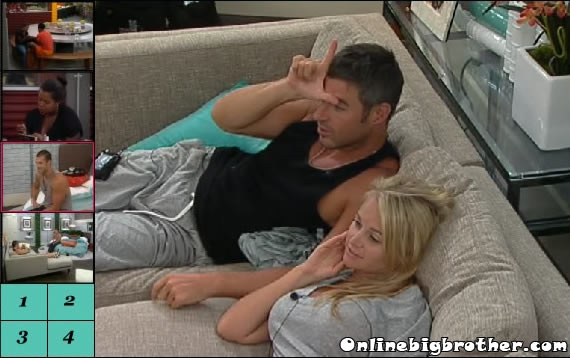 (This group is crazy confident after watching the feeds for the last 8 season this is the most cocky if seen a group in week one ever, it'll be the greatest day on the feeds when their fantasy world comes crashing down. Oh and to be fair to Jordan she doesn't call the newbs stupid dumb idiots maybe once or twice not every other second like Jeff and Brendon do) They are deciding that all they need is Kalia and Shelly then they can take out everyone else in the house and march to final 5. (no mention about Dani but i'm sure that their plan is to cut her loose at that point and I'm sure she knows it) They start strategizing about what to do in a elimination comp or majority rules. Brendon coaches them on how they should play those types of comps. Jeff thinks they should start getting the house against Cassi, Lawon and Dom all they need to do is go around and make final 7 deals with people
While the repeats congratulate themselves on winning big brother 13 the Majority of the house is in the kitchen chatting it up having a good fun time.
Share it YO!!
Tweet