Get the BB13 on your Android and iOS devices. Sign-up for the 3 Day Free Trial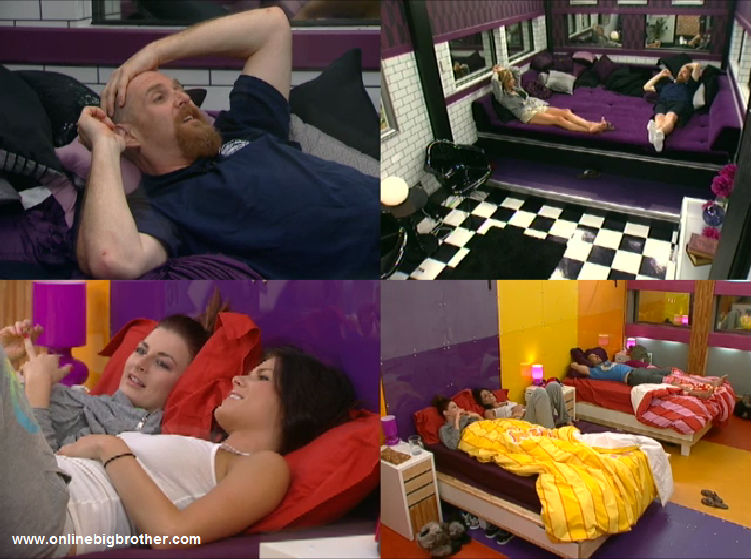 10:55am Rachel, Brendon, and Dani are in the candy bedroom talking in their annoying Bruno voices. Up in the HOH room Kalia is listening to music. Jeff comes up to take a nap. Meanwhile, Adam and Shelly are in the lounge room talking about what the power of veto competition will be like. Adam talks about how working in teams, you are only as strong as your weakest member. Adam says that he really wanted to grab the POV bag and see what other names were in there. Shelly says I am sure they were all in there. Adam says that the strategy is to get out the strong players but that the annoying ones stay in the house. Shelly says yeah and then before you know it they are at the end. Shelly and Adam talk about what the competition will be like. She thinks it will have something to do with rain and filling up buckets because this morning they played It's raining men.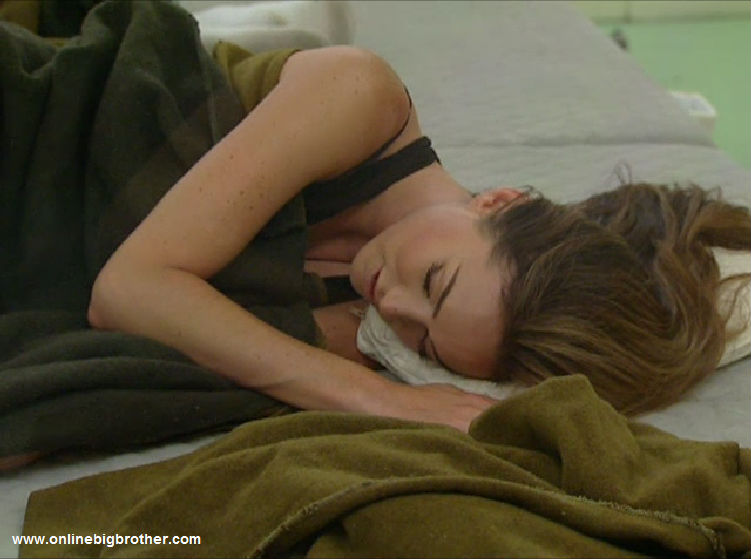 11am Dominic and Cassi are talking in the HaveNot room. Dominic says that the only person he trusts is her. Cassi says the only person she trusts is Shelly. Dominic says oh thanks. Cassi says I mean after you're gone. Cassi says that Kalia and Porsche really just jumped ship. They just sucked their faces to them. Cassi says that it really chaps her butt. Dominic says that it really chaps his butt too. Dominic tells Cassi that if a girl really loves you and you are a dead tree in bed ..she will still stay with you. Cassi says stay maybe but she wont be going around blowing your head up about how great you are. Dominic tells her that when she gets it for the first time …she can talk to him. Cassi asks gets what? Dominic says when you have sex for the first time. Cassi asks when I get it from you? Dominic says no from anyone for the first time. Cassi says yeah maybe I'll be lucky and find someone that just wants to have sex with me.
FLASHBACK – Don't miss all the drama!
Superpass – 3 Day FREE Trial
11:15am 11:40am Brendon, Rachel, and Dani continue doing the annoying voice in the candy bedroom. All four switch to Adam and Shelly talking in the lounge room. Shelly and Adam talk about how the power definitely isn't in their hands. Shelly says that they just need to get through this week. Adam and Shelly continue to talk about past competitions. Brendon joins them and they talk about his banged up knees. Shelly says that she feels so bad for him and that she hopes he doesn't have to crawl on his knees for the competition. Rachel comes in and they talk about random stuff. Then Rachel tells him that she wants to talk to him.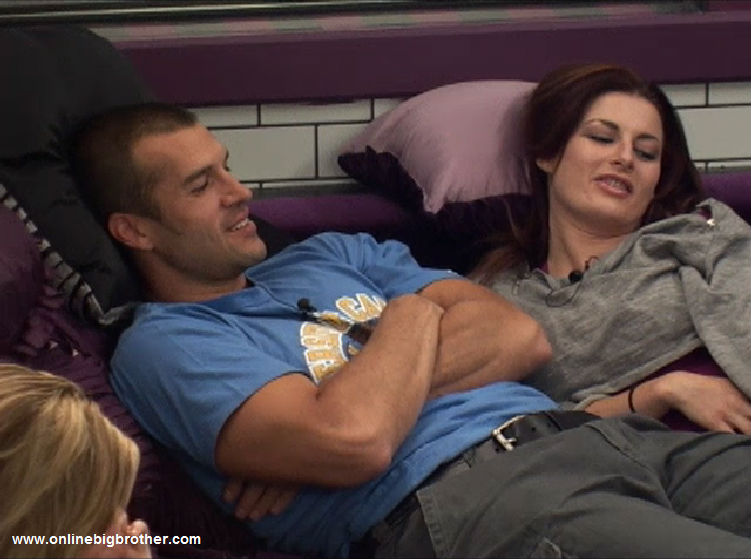 11:45am – 11:55am Rachel and Brendon go into the storage room to talk. Rachel asks Brendon if she would be willing to change the nominations if they won. Brendon said that was fine. Rachel said she wants Cassi and Shelly to go up and Cassi to go home because she is a much bigger threat to them than Dominic. Rachel tells Brendon that Jeff was very stern with her up in the HOH when they suggested getting rid of Cassi this week. Brendon said they would have to talk them into putting Cassi and Shelly up. Rachel tells Brendon that Cassi is really gunning for them. Rachel asks Brendon if he would consider throwing the POV. Rachel says that maybe we should try and win this POV and take Adam and Dominic off the block. Brendon says that Jeff and Jordan have a vested interested to not let us go right now. Rachel says that Jeff and Jordan are up there making deals with people that don't include us. Brendon says that we are not throwing anything ..unless we are 100%.. and there's never a 100% on anything. Rachel says that Jordan is really easily swayed. Brendon says yeah. Brendon asks who said we should throw the POV? Rachel says that maybe they should throw the veto and letting Dominic and Adam win so they can take themselves off the block so that it would lessen the target on their back. Brendon says their target isn't going away, so they should try to win it. Rachel says Dani. Brendon tells Rachel to not play with her emotions. Rachel says that she's not is playing strategic. Rachel says that Dominic and Adam aren't coming after us right now… and Cassi is! Brendon says that there are a lot of reasons why Jeff and Jordan need us in this game. Brendon says that she can't ever let Jeff and Jordon know that we are thinking of turning our backs on them. Brendon keeps telling Rachel to SHhhh!!! They end the conversation saying that they aren't going to throw the POV competition.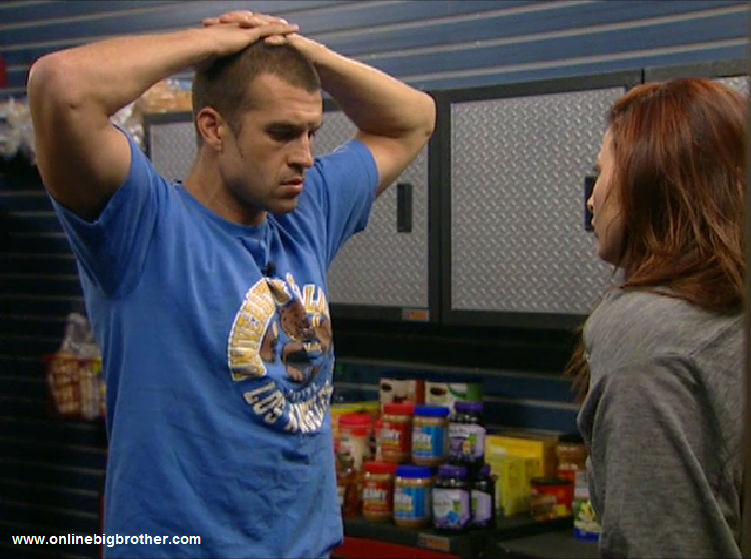 12pm – 12:15pm Rachel goes back to the candy room and tell Dani all about her and Brendons conversation in the storage room. Dani says that if we help Dominic, he will help us. Dani tells Brendon that they have a huge target on their back and that at some point you have to see this. Dani says that they should let Dominic and Adam win it so that Dominic will work with them because its too risky to win it and use the POV themselves. Rachel says that we need to win it .. talk to Dominic and make a deal with him. Brendon says that they can just as easily make a deal with Adam. Brendon leaves the room. Rachel says that he doesn't think Dominic will go after Jeff and not Jordan. Rachel tells Dani to tell Dominic that he needs to trust them that they have a way to save him. Rachel says Cassi is putting ideas in Jordan's head and says that Cassi is manipulative and needs to go. Dani agrees and says that Cassi is getting into Jordan's head. Daniele says she already laid the groundwork with everyone about keeping Dominic and getting rid of Cassi. Rachel says her and Brendon have to win, make a deal with Dominic and use the POV on him, and get rid of Cassi. Daniele thinks that will piss Jordan off. She says Jordan and Jeff are only doing what is best for them. Rachel doesn't really care if using the veto will make Jeff and Jordan mad. Rachel says that getting rid of Dominic only benefits Jeff. Dani and Rachel both agree that Cassi is a snake. Brendon joins them back in the bedroom.
24/7 UNCENSORED Big Brother 13 !
FREE 3 Day TRIAL!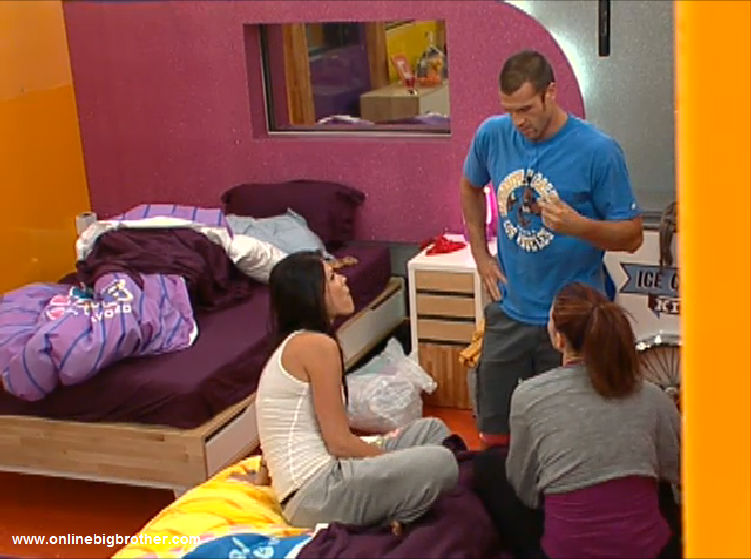 12:25pm Adam, Rachel, Dani, Dominic, Porsche and Lawon are in the kitchen making lunch and talking about random things.
12:30pm Rachel is in the candy room giving Brendon a massage. Brendon tells her that he is glad that he still turns her on. All the other are in the kitchen talking and joking around. Dani comes out of the diary room and messes with the other houseguests making them think the POV is starting by yelling "Who is ready for ..NOTHING!" Meanwhile, in the kitchen the other houseguests are all talking about and trying to do things that are difficult. Like moving their arms around in opposite directions.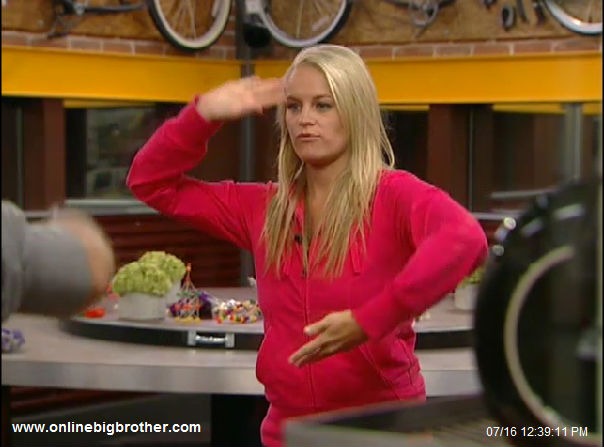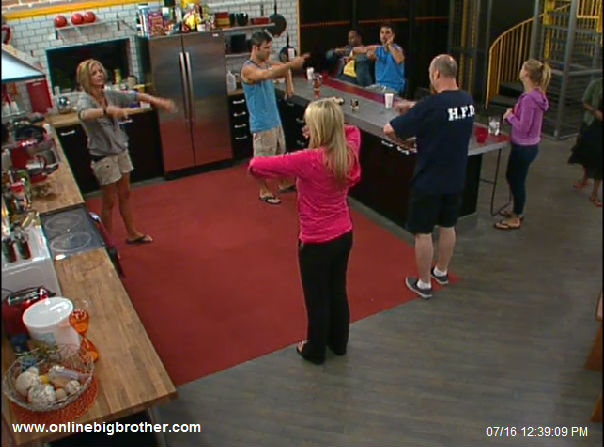 1pm – 1:25pm Rachel and Brendon are in the candy room. Rachel asks him to be nice to him and to stop being mean to her… that they are a team after all. Brendon says okay …at least until the final two when I have to go against you. Rachel asks you're not going to use the PhD card against me are you? Brendon says that he will tell them that he is just trying to get his PhD to make a difference in the world. Brendon and Rachel talk about what they would do with the money if they won. Rachel says that if she won she would put some money away for taxes, pay for wedding stuff and donate some. Rachel then starts giving Brendon another massage. Rachel and Brendon talk about Meanwhile, Dani and Lawon are talking and joing around in the bathroom. Dani says that she is going to use the annoying voice in the diary room with Michael and that its really going to piss him off. Lawon laughs. Brendon is then told by Big Brother to exchange his microphone.
TRY the Live Feeds for FREE SUPERPASS – 3 DAY Trial!
Brendon, Rachel, Porsche, and Dani are in the candy room. Kalia and Dominic are playing a game of chess. Rachel and Dani start yelling and joking around with their annoying voices. Brendon says okay ..have we passed the point of ridiculousness…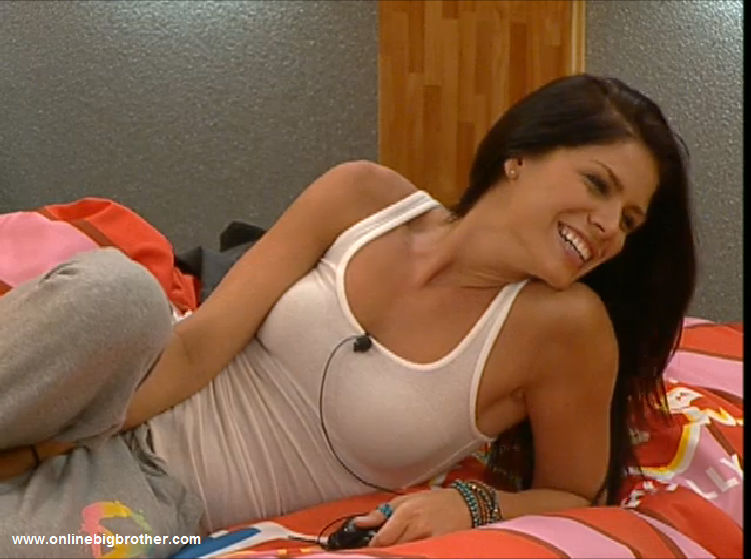 1:35pm – 140pmBig Brother keeps cutting the live feeds in and out to the we'll be right back screen. Adam and Dani are sitting in the living room waiting for the POV to happen. While Jeff and Jordan are talking in the HOH room with the door open about going on cruises and how much weight they will gain. They start talking about how gross Brendons toe is and how now after the competition it has a red outline around it .. Dani and Adam head to the bathroom and whisper. Dani says that its not all about winning ..its about getting yourself farther in the game. Adam says I know, I know.. Right then Big Brother cuts the live feeds to the TRIVIA screen..
Big Brother 13 Spoilers POLL CAST your VOTE!
BB13 Live Feed Screen Captures , These are being updated every 10 minutes all 4 Cams 24/7
Follow: @BigBspoilers and @Dawgsbigbrother on Twitter for recent crazed out spoilers. Theres also our Facebook page.
If you like this site and want to help us keep it running please consider donating, Your donations go directly to paying the server and bandwidth fees. Donate Link
Share it YO!!
Tweet