Get the BB13 on your Android and iOS devices. Sign-up for the 3 Day Free Trial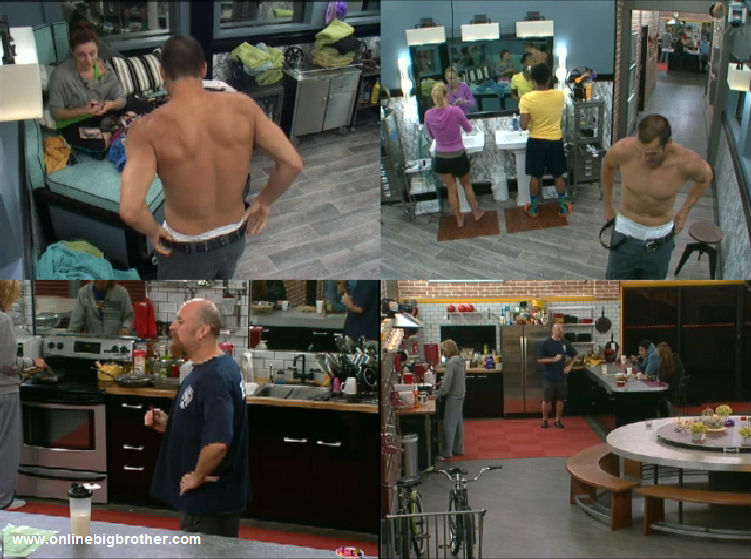 24/7 UNCENSORED Big Brother 13 !
FREE 3 Day TRIAL!
8:10am – 9am Big Brother tells the its time to get up for the day. Shelly, Rachel, Porsche, Dani and Brendon are in the bathroom getting ready for the day. Big Brother cuts the live feeds. When they come back, Rachel says its a good thing we didn't sign a pre-nup. Big Brother cuts the feeds again. All the other houseguests are in the kitchen making breakfast. Adam is in the kitchen talking about how he makes fried chicken. In the bathroom, Rachel is asking if they got any boob footage of her. She says they didn't get any of me last year. Brendon says maybe this year. She says she doesn't want them to get any boob footage. Dani asks Rachel where she would like some boob footage. Rachel says in Brendons wallet ..so he doesn't forget. Adam comes into the bathroom and says he is ready for this day to start. Rachel asks him if he ate. He says he had a shake. Rachel tells him he better eat …you want to be ready for the competition (Power of Veto competition). In the kitchen Dominic asks Dani if she would shave her eyebrows for the POV. Dani says yeah. Shelly tells Dominic that its easy for a girl, they can just draw them back on.
Rachel asks Adam if at this point in the game, would he take a one week slop pass. Adam says no. Big Brother tells Brendon,Please move his mic higher. Rachel says that Brendon is getting in trouble for everything this morning. Shelly says Brendon, Please make it a point to show your abs to all the ladies in the morning. Rachel says that she likes that!
See What They Can't Show You On TV! SUPERPASS – 3 DAY Trial!
9:10am Dani and Kalia are talking in the bedroom talking about the nominations and about Cassi. Dominic and Adam are in the havenot bedroom talking about the power of veto competition. Dominic talks about how they need to really fight for this one, there's nothing else to do ..we have three couples to beat. Dani and Kalia are whispering in the other bedroom. Kalia says that yesterday when Cassi was in the room all day she was selling everybody else out, Jordan Jeff.. Dani says that she told her that they think Dominic is their main threat. Kalia says that Jeff doesn't understand why…freaking out over Cassi, it's ridiculous. Adam joins them in the bedroom. Dani asks him why he looks so down in the dumps? Are you just hungry, you don't get any bacon. Adam says that he is just down because he doesn't have something from home and he's bummed because he can't sing. The thrill is over. I've already been on National Television, the thrill is over. Kalia starts talking about a dream she hed where she saw someone get murdered. She says that after she woke up she couldn't get back to sleep because Lawon was snoring. Adam starts talking in an announcer voice. Dani and throws the weather over to Dominic. Dominic says that it's cloudy with a chance of suck on a big dick. Kalia says Oh my, now that's my kind of thing. Big Brother cuts the feeds.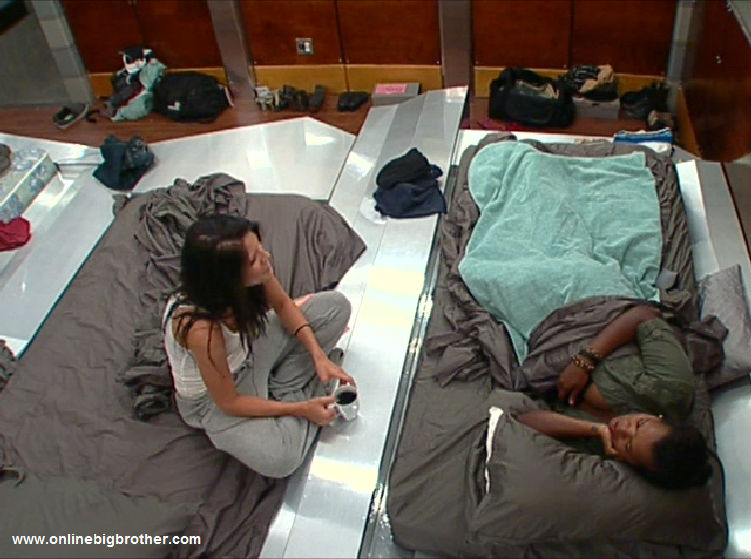 9:40am – 10:35am Big Brother cuts the live feeds to TRIVIA for the houseguests to pic the power of veto players.Jeff, Dominic, Adam, Rachel and Brendon are picked to play for the POV. Dani will be the host of the POV competition. Rachel and Kalia are up in HOH. Kalia says to Rachel yu get to play again, you'll probably win too. Kalia talks about how she would want to play for fun because it would be something to do, but that she doesn't mind watching either. Kalia leaves the HOH room. Brendon, Rachel and Jordan are up in the HOH room talking. Brendon says so Adam is gonna throw POV? They talk about how that is what he said he would do. They talk about if the power of veto will be a competition for couples. Rachel says that the worst way it can go is if Dominic and Adam win. Rachel, Brendon, and Adam continue to talk about how Cassi is still trying to rally the troops. Jeff comes up to the HOH and tells them what does it matter if we talk to Cassi and try and swing her to our side. Jeff says that if she wins HOH she will come after us … so what does it matter if we talk to her. Rachel says Cassi plays the victim and that drives her nuts. Brendon says that he will never trust Dominic either. Brendon tells Rachel that she is playing too emotional and that Cassi isn't. Brendon says that Cassi probably hates all the girls, but at least she pretends to like them. Brendon says that Cassi has the best social game. Rachel says that Porsche is smart but she can't keep her mouth shut. Brendon says that all of them can't keep their mouths shut and they can use it to their advantage.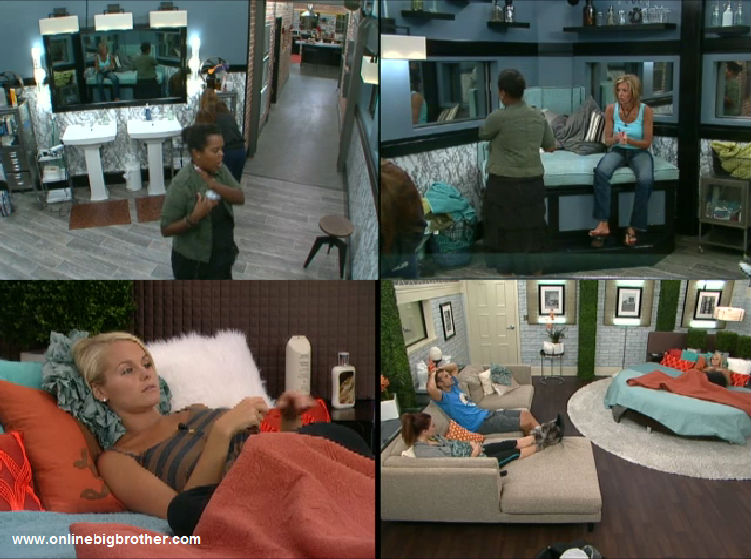 10:50am Most of the houseguests are trying to rest and take a nap now while they wait for the Power of Veto Competition to begin. Kalia goes up to the HOH and tells Jordan who is trying to sleep that she just wants a fruit rollup. Kalia and Jordan talk about Cassi. Jordan talks about how she told Cassi that she was considering putting up Adam/Dominic or Shelly/Cassi …Jordan says that she told Cassi that the only reason she was thinking of putting her up ..was because Cassi has never talked game with her so she doesn't know where her head is at. Kalia talks about how each week the focus shifts to a different target each week. Kalia says that she is with Jordan and them because she can trust them. Jordan says that if other came after Kalia.. that they would protect her.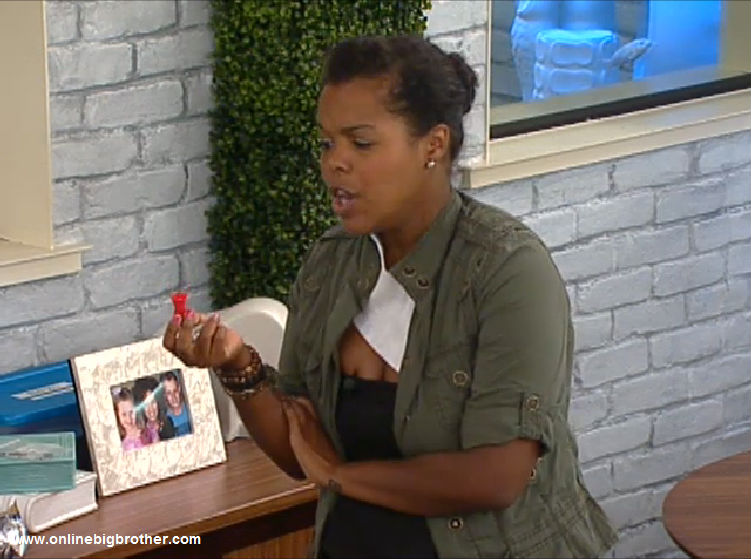 10:50am Rachel tells Dani in the candy bedroom that Jeff got angry when Rachel suggested putting up Cassi and for them to get rid of her this week. Rachel tells Dani that once Jeff gets rid of all the guys, he will be going after Brendon. Rachel is pissed because Brendon would never go after Jeff.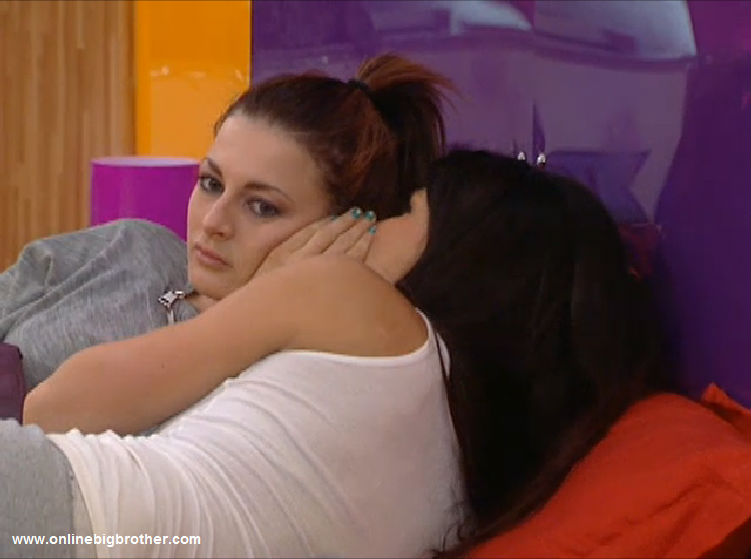 Big Brother 13 Spoilers POLL CAST your VOTE!
BB13 Live Feed Screen Captures , These are being updated every 10 minutes all 4 Cams 24/7
Follow: @BigBspoilers and @Dawgsbigbrother on Twitter for recent crazed out spoilers. Theres also our Facebook page.
If you like this site and want to help us keep it running please consider donating, Your donations go directly to paying the server and bandwidth fees. Donate Link