8:12pm Brendon, Rachel and Jordan Hot tub rachel is talking about Shelly and her lies. rachel: "Shelly said she wanted the couples to win" Jordan swears she never said that to her (shooting straight.. ) Rachel: "ohh I thought you did.. well someon said that then". Jordan brings up boston rob and how he said that he won survivor because he was able to tell stories to everyone and because nobody talked to each other to confirm if it was true.
Brendon leaves.
Rachel says that shelly has made a final 3 deal with BR and a final 3 deal with JJ. Jordan trying to defend shelly says "i don't know its all just so tireing.. we have to keep the numbers there going to pick us off one by one" (LOL.. "they will pick us off one by one" is the standard line Jordan gives everyone it's her Jeff approved game talk)
Rachel: I know … .Silence.. you're costume is so cute…. silence…….
(hahahaha Rachel knows Jordan is full of BLANK, Jordan is very transparent and the look on rachel's face is of pure evil)
Jeff and Brendon start up a game of pool…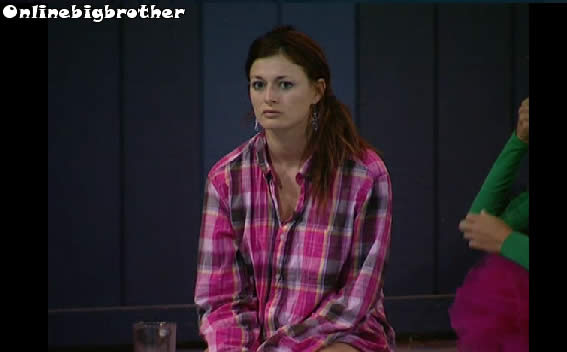 Rachel says she doesn't know what shelly has been telling JJ but brendon and rachel have always been with JJ they've stuck their necks out for them.
Jordan: "ohh ohh yeah yeah.. I know you are"
Jordan brings up they should have won HOH but they didn't so matter how you cut it they will lose a member this
week. (Unless kalia pulls a lawon and volunteers to go up and dani pulls a kalia and puts Kalia up)
Jordan says that Adam isn't going to vote with DK because they got mad at him for last week(shooting straight)
Bring together all the onlinebigbrother.com spoilers right to your browser using our BB13Spoilers ToolBar
Big Brother 13 Live Feeds Can be watched on your iPhone and Android Mobile devices sign up -> Watch Big Brother 13 on Your iPhone or Andriod Phone
8:30pm Hammock BR (BR JJ split is on)
rachel give brendon a debriefing outlining the conversation with Jordan. Says that Jordan completely trusts shelly over her and she's just appalled by it. Rachel can't understand why JJ would choose SA over them. rachel calls SA useless. brendon points out that JJ are not known for their stunning comp wins. Racehl adds that JJ are not going to vote for them if they get put up next to Shelly, "I can't believe it… why have they flipped on us"
They decide they needs to convince Dani to put Jeff up, they just go up there tonight and give them the full run down that is going on in the house. Brendon and Rachel have figured out that JJSA are a final 4. Rachel: "Jeff is useless absolutely useless… all he has a temper…. They got this army of useless players"
Rachel: "they are so stupid they flipped on us I know that now.. chose the 2 strongest players for 2 of the weakest"
BR start to become worried that Dani may be listening to JJ and is falling for all their BLANK. Brendon: "all these people are affraid of jeff becuase of his temper he doesn't really win BLANK". Rachee: "they have these minions.. dani needs to know.. I can't believe they go to bat with Shelly and not for us".
Brendon: "The bottom line if I get put up and I go home you have to join Kalia, dani and POrsche.. the house is divided in half" Brendon doesn't care he tells her they will talk to dani lay it all out tell her everything we know, be honest and if she takes it we're good with her but I she doesn't Rachel needs to befriend her and join the girls because JJSA will put her up first chance. Rachel says brendon should stay in the game, he has a much better chance if he teams up with Dani. Brendon tells her she can do this she knows where the people are at now.
Brendon: "Shelly is the BLANK rat in this game"
rachel: "How the BLANK can they beleve Shelly and trust her"
brendon: "JJ are not bright people they are simple minded"
Rachel: "Even Dani knows Shelly is a liar"
Rachel says they should of listened to Dani when she wanted to backdoor jeff.. Rachel adds that at the time they felt closer to JJ than dani and Dom, but now they know that JJ were building a army with SA and dani tried to tell them.
Rachel points out that Shelly took the opportunity after Brendon left to bump Rachel out of the JJ alliance and she moved in to number 3. Rachel could tell on Shelly face when brendon came back that she wasn't happy.
8:45 HOH DKP
(Porsche is like thei little spy its hilarious)
Porasche saying that she's heard JJBR was talking and they over heard Jordan saying taht they will get picked off one at a time. Dani scoffs at Jordan says maybe Jordan would win something then they wouldn't get picked off. Kalia brings up that Jordan walks around the house and complains about everything when she's never been the target. POrsche: "It's not the holiday she wanted"
Porsche leaves DK
Dani is talking like they she is going to backdoor brendon. She adds that the following 2 weeks they need to put up Jeff and Rachel. Dani mentions that Rachel told her that Shelly is saying Dani is the worst Big Brother Player ever. Dani doesn't believe it but she's going to keep that around as ammunition for later try and stir up some BLANK between SR. Dani reminds Kalia that during the fast forward week they usually have quick physical comps so they need to send Jeff home before that. Dani brings up Jordan says to Kalia that she'll have to put her up eventually. Kalia really doesn't want to.. (this is why the dunce camp is on Kalia) Dani tells her to remember when Kalia was HOH and how Jordan acted when Kalia won.
9:50pm Backyard BR and JJ. BR say they will go up tomorrow sometime and talk to dani.. Adam walks out starts to chit chat..
10:00pm Shelly Shooting straight in 24hour confinement
Check out the Big Brother 13 Polls
Share it YO!!
Tweet