6:24pm purple room jordan and Adam
Adam is giving her a run down that he thinks Dani will backdoor Brendon this week. He tells Jordan that ever since week 2 he's been 100% with JJS and he thinks the 4 of them (JJSA) can make it far playing with honour and respect like JJ did
in BB11 (adam is full of bacon shit) Adam jokes that Brendon got 1million votes from the public to come back into the house but he can't win the crate and barrel wedding contest. Jordan says that BR have been throwing JJ under the bus the
last couple of days.. they are trying to keep themselves off the block, but are really causing Jeff and Jordan to rethink working with them. Adam goes on about how he doesn't trust Brendon and Rachel and how they were rude to him whenever they don't need him. Adam thinks Brendon and Rachel will still be the biggest target in the Big Brother House so now might be the best time to get them out.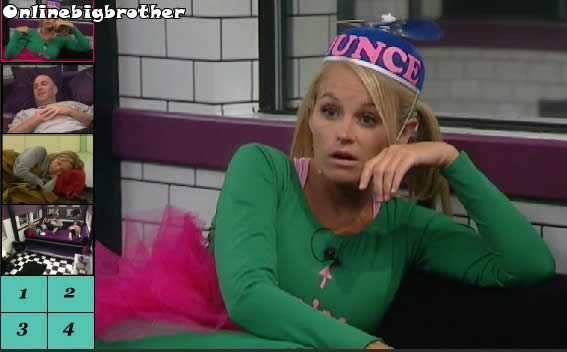 BR joins them
they start to discus the POV comp and what happened
Jordan got the unitard outfit
Shelly got a call to home and 24 hours isolation
Jeff got the money
Adam got the POV
Dani got a veto ticket (meaning she gets to play in next weeks POV if she wants to)
Kalia got a vacation
6:50pm have nots door Shelly and Jordan.
shelly is wondering if Brendon and Rachel are pissed right now. Jordan doesn't think so they are worried about going up but they are keeping to themselves. Shelly says she feels like she's already won the game she gets to call home. Jordan is happy for shelly tells her it'll make her feel better and give her the energy to stay in the game. Shelly says she's not going to bother to campaign or tak to "any of these people" Shelly goes on about thow Rachel is spreading all the lies about her and turning the house against her (ahh straight shooting again). Shelly thanks Jordan for what she did in the pov (must of gave the phone call to her) she tells Jordan that today Jordan won the hearts of America. Jordan appreciates the kind remarks says Shelly deserves it after the weeks she's been through.
Kalia joins them asks Shelly how she's doing Shelly says it's a padded room probably exactly what she needed right now. Shelly isn't excited about the food she'll be eating saying there's bread, water.. no coffee not smokes. Kalia jokes that they can slip a peanuts butter sandwich under the door.
Kalia says she found out that her trip can be traded in for money at the end.. she's thinking about doing it. Shelly is happy Kalia won somehting.. comments that everyone seemed to win somehitng that will help them in or out of the game.
Kalia makes a comment about they need to get BR out. Shelly agrees says brendon has had 3 chances now to play the game time to go home.
If you like this site and want to help us keep it running please consider donating, Your donations go directly to paying the server and bandwidth fees. Donate Link
7:55pm Quad view Chit chat in the purple room
Share it YO!!
Tweet