Big Brother 13 Live Feed Image Gallery
10:10pm Backyard Couch JJ
Jeff says he's sure he could of won the veto if he hadn't taken the money.
Jeff says he's not going home if he goes up.. "And if Adam doesn't vote for me after I threw it to him i'll f-ing kill him" Jeff is worried about Brendon and Rachel flipping the vote. Jordan doesn't know what BR will do.
Jeff brings up that dani told him that JJ are the only honest people in the house right now. Dani asked Jeff if he would vote Brendon out if she put him up. Jeff tols her he would for 2 reasons, Brendon is a huge road block in this game and It would benefit the whole house. Jeff adds he was really trying to talk her into putting Rachel up. He's going to talk to dani a little more tomorrow.. he was a bit indecisive last time he talked. Jordan Brings up dani having the Veto Pass.. Jeff doesn't think it's a big deal, only 2 people don't play POV next week.
Jordan says during the comp Dani looked at her and asked her if Jeff takes the POV will he keep the nominations the same and Jordan yes he will. Dani then took the veto ticket.
Jordan is scared that BR will tell dani that he took the money and should get backdoored. Jordan asks him if he's upset because he didn't take the veto. Jeff says it was a gamble.. He's a bit nervous.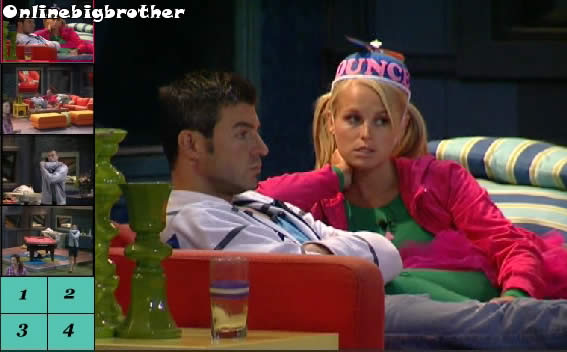 they talk about the prizes people took, Jordan is pissed about players in this game that do nothing and walk around all high and mighty. Jeff: "They make me sick"
Jeff: "Dude I was so pissed it was tat type of competitions… and when i'm on the block it's going to be Spell some crazy shit"
Jeff: "fck that of course i'm going to take the money if I get backdoored I better go home with some prizes"
Jordan will be shocked if dani puts him up. Jeff says that dani likes making big moves so she'll do something Huge.
If brendon goes up I'll tell him "Yo Dude it looks like Brendon is not flipping you don't have the votes I Don't want to look like a idiot in this game". Jeff tells her to not say that to anyone.. they needs to focus on making sure Jeff doesn't go up. Jeff: "and if I do go up these M*THERF*CKERS Better vote for me.. I will massacre them "
Jordan: we have B, R and Jordan for votes.. Jrodan: "how about Adam" Jeff: "Ohh he'll vote for me or i'll kill him"
Jeff: "me you Kalia and Jordan can go far.. But it would mean doing a deal with the devil." Jordan says she doesn't want to work with Kalia. Jordan mentions if they would of won HOH and Adam the POV then Dani would of been gone this week. JJ are worried that Adam might flip because he's good with Porsche.
Jeff: "Rachel will sell us out for a second".. Jordan: "Ohh for sure"
jordan is sure they have Shelly 100%, Jeff doesn't care about Shelly too much he thinks her performance in comps is bad, "She can't throw a bag at a barn.. cmon"
Jordan: "I cannot deal with rachel for another week.. all the emotions"
Jeff tells her not to worry she won't have to.
Big Brother 13 Live Feeds Can be watched on your iPhone and Android Mobile devices sign up -> Watch Big Brother 13 on Your iPhone or Andriod Phone
Bring together all the onlinebigbrother.com spoilers right to your browser using our BB13Spoilers ToolBar
10:23pm backyard PK Exercising.. hey are talking about Shelly hating everyone in the house. Porsche says it's funny Shelly can't figure out who to hate more Porsche and Shelly
Porsche says it's funny how Jordan slipped up in the meeting saying that she only talks game with Jeff and Shelly, "Why say that in front of everyone.. umm DUH". Kalia says that Rachel is one of the biggest liars in the house.. they both think Shelly is the biggest though.
10:20pm- 11:20pm rachel getting her hair done by kalia while Jordan watches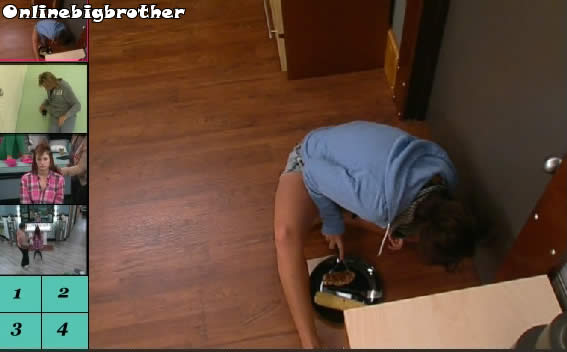 11:19pm Havenots door Shelly and Dani dani is saying to her that Shelly is 100% safe. Shelly thanks she appreciates Dani telling her and she believes dani. Dani doesn't want Shelly to be siting in their stressing Dani: "I promise you.. you have my word… just don't stress out you're totally good".. Dani tells her that "It's obvious" Brendon is going up and they have the votes Shelly doesn't need to worry. Dani warns Shelly that she's heard that Rachel has started to campaigned for votes because she thinks she's going up. Dani asks Shelly whats she's been doing in there. Shelly says it's tough her brain has been going around everywhere.. she's been walking around.
Follow @BigBspoilers and @Dawgsbigbrother on Twitter for recent crazed out spoilers. There is also a Facebook page.
11:30pm Quad, DK chitchatting with Srtaight shooter, Jeff, adam and Brendon playing pool chit chatting.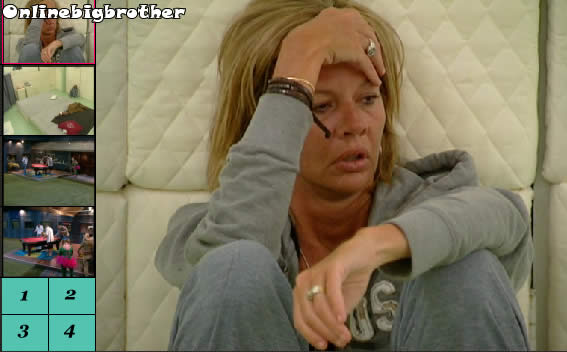 11:55pm Havenots Shelly After having Kalia, Porsche and Dani hang out with her for the last hour.. Shelly is again all alone. (Thinking of reshuffling perhaps?)
Check out the Big Brother 13 Polls
Share it YO!!
Tweet