8:37pm Kalia and Rachel Kalia says she's assuming if she throws the HOH and her and Lawon go up then Lawon goes hom. Rachel says yes. Kalia: "yeah as long as I don't go home. " Rachel says if it's majority rules we're going to go A every single time until we get out Lawon, Adam and Dominic.
Kalia says that the newbs have been getting their asses kicked So she thinks it's going to be a quiz
8:55pm POrsche sighting near the jelly beans
9:10pm Shelly and Jordan Shelly is telling her that Dom is not going to be putting JJ up she's pretty sure Adam will put up Lawon and Kalia then backdoor Rachel if the options is there. She reassures Jordan that she will make damn sure that Adam doesn't put up JJ up. Jordan is worried that Dani is going to side with Brendon and Rachel. Shelly I think Dom is trying to pair up with her so when they hit to singles those 2 will make a play. Jordan agrees. Both of them are very worried that dani is going to go far and is one of their bigger threats (Hmm Jordan knows what is going on) Shelly doesn't think adam will win many comps but is sure Dom will win a few.
9:25pm Couch Shelly and Jordan They are talking about relationships and Rachel is beside them doing squats. Dani asks why she's working out there it's awkward Rachel says she wants to be part of the conversation. (Jordan and Shelly isn't engaging her in their conversation.. LOL there not even looking at her ) Shelly saying that they don't walk around their house naked their strict about that. Shelly talks in length about her kid and husband. Jeff joins them and Brendon jumps on the elliptical. Brendon mentions that in rachel's old apartment she was kinda dirty but after moving in with him she cleaned up a lot. Rachel says she changed for Brendon but they have a tiny apartment so it's easy to clean.
Lawon, Cassi and Porsche joins them
9:36pm Jordan: "My friend Megan looked in her dogs poop there was all these little worms" POrsche: "My little Chihuahua had worms so I called him Tequila"
10:02pm KAlia and JEff playing Chess
10:18pm Porsche and Rachel POrsche has been filling her time counting things around the house.
10:20pm Thursday night black head squeezing
10:36pm Rachel and Porsche are talking about getting rid of Dom. Rachel says that both Dom and SHelly are sad Cassi is leaving so there's still something going on between them. Por points out that if they keep Dom then there's 3 strong guys in the house. Rachel has been thinking about that to.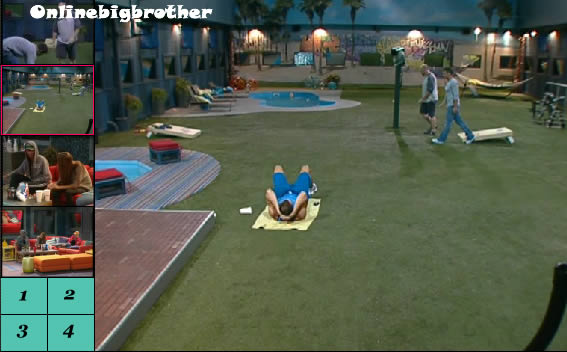 11:06pm Backyard adam jeff playing the bag toss Brendon doing a ab work out.. Not much going on.
Check out the BB13 Polls
Share it YO!!
Tweet