Get the BB13 live feeds on your Android and iOS devices. Sign-up for the 3 Day Free Trial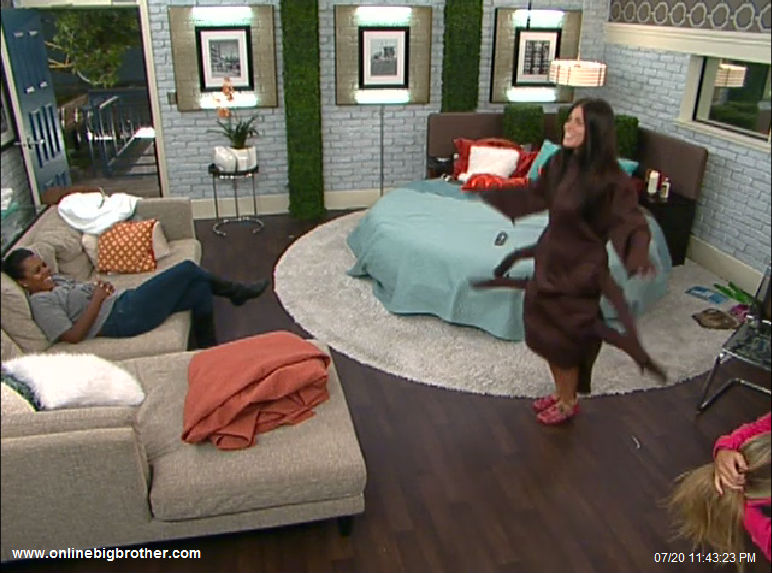 11:40pm Jordan, Rachel, Kalia and Dani are up in the HoH room talking. Jordan and Rachel are talking about how nervous they are about tomorrows HOH competition. Dani tries on the ant costume. Dani and Kalia try to predicting what the HOH competition will be. Jordan goes into the HOH bathroom and finds the chocolate brownie Dani put in the toilet. Kalia gives it away that it was a brownie. Dani tell Kalia that she is ruining everything. Dani, Jordan, Rachel and Kalia all laugh about how they will leave it there for Jeff to find. Jordan starts telling a story about when she was five and pooped in her pants on a school bus. Jordan says that she cried when she got off. They all laugh. Jordan tells them that she will take slop if she needs to tomorrow… and then says besides it will help her lose weight. They talk about what Julie Chen will ask Jodan on the live show tomorrow. Rachel says that she thinks Julie will make a joke and ask about alliances. Jordan says she's not good at answering questions, and says that she goes off on tangents. They tell her not to worry that Julie won't let her get off track. Rachel talks about her interview last year. Jordan says that she is worried that she will look like an idiot and ramble. Kalia tell her not to be nervous. Jordan starts talking about how her and Jeff have to talk after the show to figure out what's going on in their relationship and figure out who will move where.
TRY the Live Feeds for FREE!
Click here for your: SUPERPASS – 3 DAY Trial!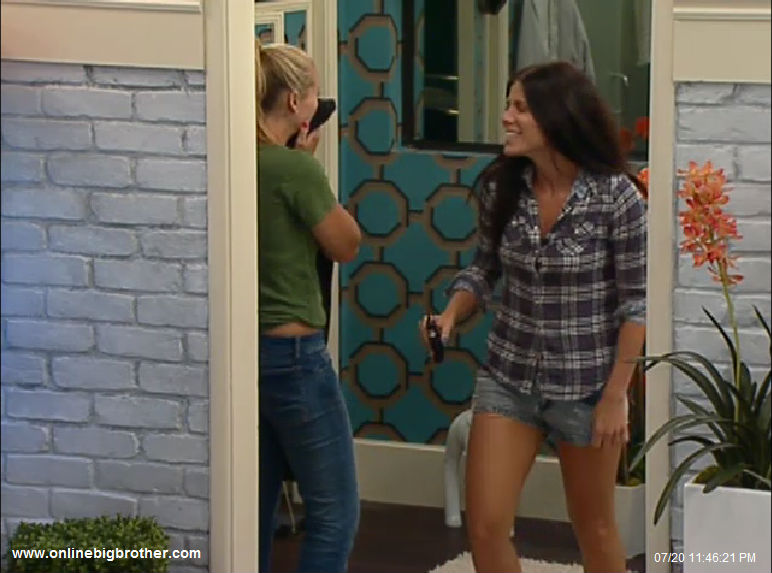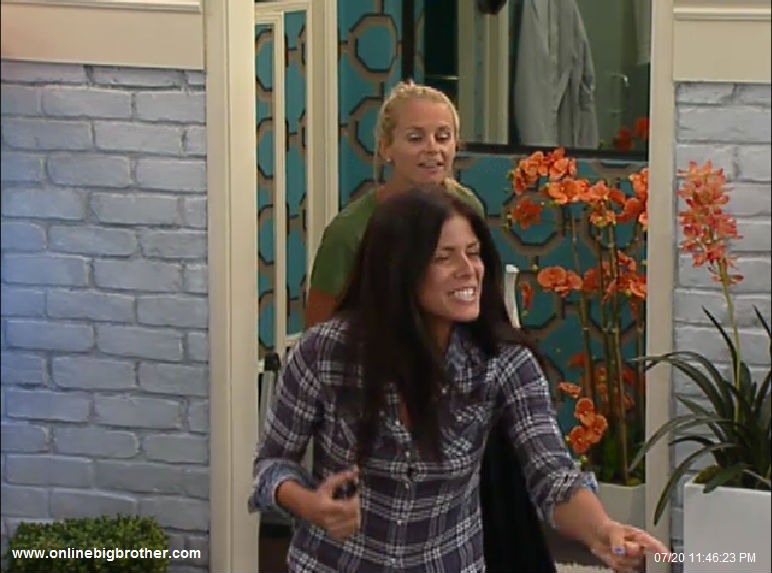 12:30am Brendon and Rachel are in the backyard on the hammock. They are studying for the HOH competition. They try to remember the order of when the houseguests fell out of the first HOH competition. Meanwhile, up in the HOH room, Kalia, Jordan, Dani Porsche and Shelly are talking. They are all talking about Dominic as they watch him dance on the spy screen. They are all laughing at him dancing. Dani says that she is ready for him to pull a Britney Spears. Porsche says that Dominic is tall ..and that 6'3″ is like the perfect height. Kalia says yeah, but he looks so tall because he's skinny. Shelly says that she just want to know how he makes his feet do that… Shelly then decides to go to bed. The others in the HOH room laugh as they watch Dominic now dancing with oven mitts on. When Shelly comes through the kitchen she complements Dominic on his dancing and lets him know he's being watched by the HOH group. Kalia says that she hasn't been called to diary room yet. Dani jokes and says she hasn't been called because production hates her. Dani says that maybe if she didn't sing or obstruct your microphone so much, they would call you in more. Kalia says that Adam is always in the diary room. Dani says that she thinks Adam will be America's favourite. Porsche says Dani will be America's favourite. Dani says no definitely not … let's be real!! Kalia says that it's not because I don't like Dani but she won't be America's favourite because of the way they portray her. They all agree that it's impossible to tell who America's favourite will be. Jordan sasy that she thinks it will be Dominic. Jordan says that she is ready to go to bed. All the others leave the HOH room.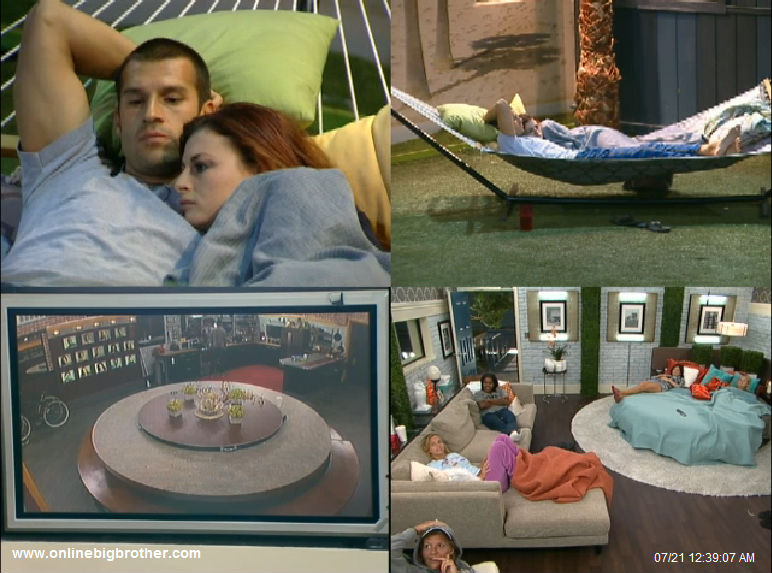 FLASHBACK – Don't miss anything!
Superpass – 3 Day FREE Trial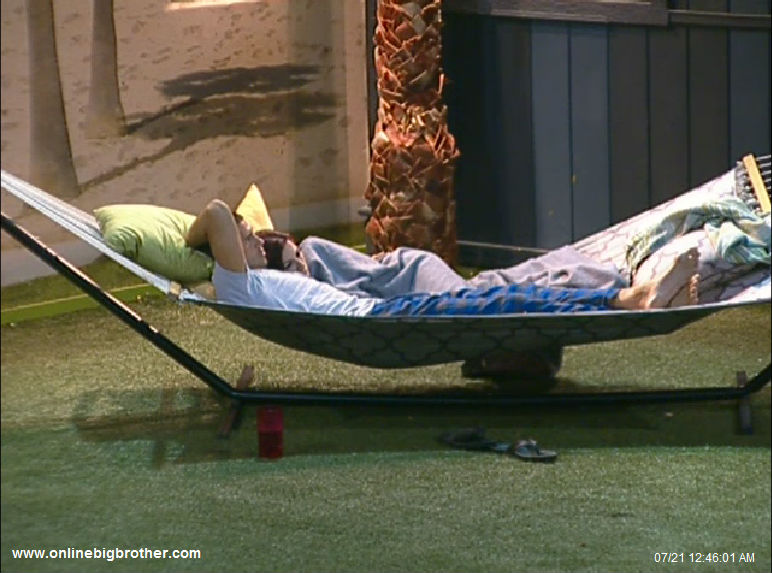 12:40am Rachel and Brendon are still in the hammock studying. They start to argue about what to study. Brendon asks Rachel what she wants to go over. Rachel tell Brendon that she wants him to stop being so impatient with her. Brendon says that he wants to study the amount of gumballs chewed. Rachel says that she thinks that won't be asked. Brendon then asks why they doing this then? Brendon asks Rachel what do she wants to go over? Rachel tells Brendon that he is being so ridiculous and impatient. Brendon says that he is trying to go over everything. Rachel tells him to study by himself and that she will study by herself. Brendon then asks her what she wants to go over, tell me what to go over. Rachel tells Brendon normal things not like how many gumballs were up on the board, they aren't going to ask that they are going to ask how many gumballs were in your jars. Brendon says okay. Rachel punches Brendon in the stomach under the blanket. Rachel says that she is so tired of him, and then says this is ridiculous. Brendon says Oh my god stop! ..why are you getting mad that I want to study everything?!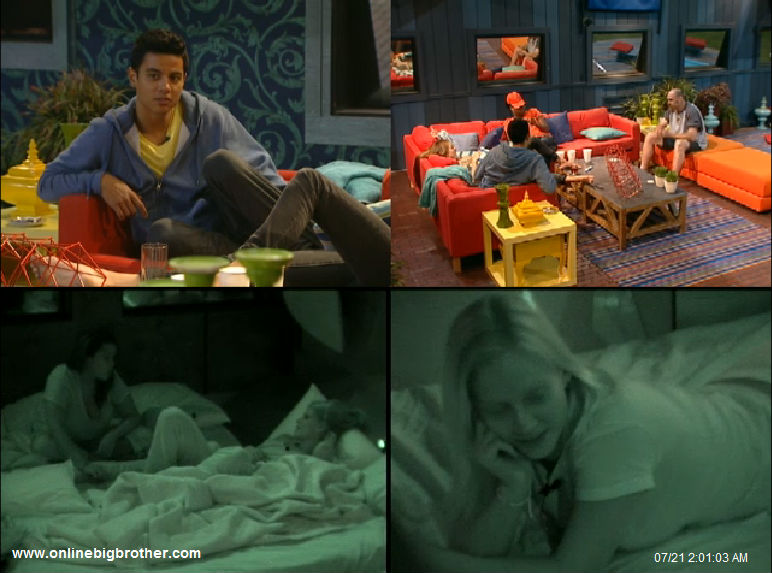 2am Kalia and Dani are in the bedroom talking about Dominic while he was outside. Dani says that she is not to be attracted to Dominic. Dani says that she would never do anything physical with Dominic. Dani says that she thinks Dominic seems too young. Dani asks can you imagine dating a guy who lives at home and has never done his own laundry? Kalia says that Dominic is cute in the way that Zac Efron is cute. Dani says that Zac Efron is hot, she would do something physical with Zac Efron but not Dominic. Kalia says that Dominic is a good flirt. Kalia says that she saw Dominic playing with Dani's hair. Dani says thats when they were upstairs playing checkers. Dani says that she likes hanging out with Dominic and flirting with him. Dani says that she will keep in touch and hang out with him after the show but that she would not date him. Kalia says that she thinks the longer Dominic and Dani stay in the house, …Dani might grow to like Dominic more. Porsche comes and tells them that Adam, Cassi, Dominic, and Lawon are all outside.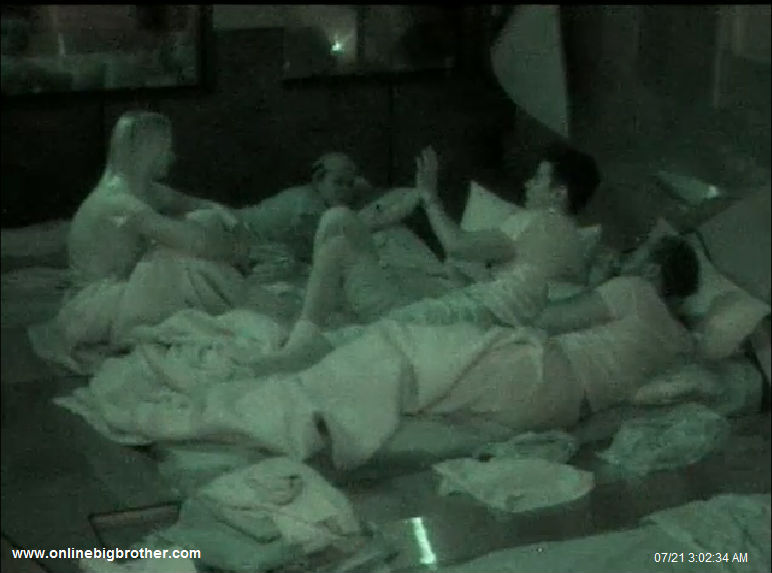 See What They Can't Show You On TV! SUPERPASS – 3 DAY Trial!
3:10am – 4:45am Dani, Dominic, Lawon, and Kalia are in the bedroom talking about what they are going to wear for the live show tomorrow. Dani tells them about her sheer black dress she wants to wear but not for tomorrows show. Kalia says that Cassi is going to wear black and that Jordan is going wearing a coral colored dress. Dani taht says she might wear her pink dress. Kalia says that she hopes one of the nominees will give a really good speech tomorrow ..like drop a bomb. Dominic asks them if they hear people talking behind the walls or is it just him? Dani tells him its people talking behind the walls. Big Brother cuts the live feeds and when they return. Dominic is asking Kalia how many times has shes flashed her chest so far in the house? Kalia tells him probably only five or six times. Dani says that she always changes under the covers. Dominic asks have you seen her bed it's so nasty. Dani says then don't get in there! They all are getting into bed now. Dani tells Kalia she just saw her boob. Dominic says well thats eight times you've flashed now! They start talking about where in the HOH room they want to sleep tomorrow when they are on HOH lockdown. Dominic and Dani tell Kalia to entertain them. Dominic says that Kalia is running out of material. Dani says dance monkey dance! They talking about the HOH competition tomorrow. Dani says that its probably questions because the backyard is still open, but that she doesn't know what the questions will be. All the houseguests finally settle into bed and go to sleep…
6:15am All the houseguests are still asleep..
If you like this site and want to help us keep it running please consider donating, Your donations go directly to paying the server and bandwidth fees. Donate Link
Big Brother 13 Spoilers POLL CAST your VOTE!
BB13 Live Feed Screen Captures , These are being updated every 10 minutes all 4 Cams 24/7
Follow: @BigBspoilers and @Dawgsbigbrother on Twitter for recent crazed out spoilers. Theres also our Facebook page.
Share it YO!!
Tweet