6:30pm backyard Jordan, Jeff, and cassi talking about the blogs out there that type mean things about the houseguess (those bastard I know) Jeff: "You're not suppose to look but it's hard not to take a peek" Jordan says they would called her Fat, Dumb, stupid.. (these feeds are pissing me off every 2 seconds they flip them what is going on today?) Cassi can't believe they called Jordan Fat. Jeff says when he gets out of the House he's not going to read anything on the Big Brother Blogs.
7:13pm Rachel and Brendon rachel asks him what him and Dani were talking about (they were chating for over a hour about their lives, Brendon really enjoys spending time with her he seems much happier with her then Rachel) Brendon says they were talking about life, she was saying that she doesn't beleive there is one single person for anyone. Rachel disagrees she believes that there's a soulmate for everyone and she found hers. Brendon asks who *they laugh..
Brendon mentions that Jordan cannot get his name right and she spelled it wrong in her HOH blog. Rachel says that it's a good thing she's with someone like Jeff it's easy for her to spell. brendon mentions how Dani thought this season was going to be Allstar and that she thought Hayden and and Lane were going to be on it. Both rachel and Brendon don't consider last years winner and runner up allstars.
Brendon says they have to get serious about studying for the quiz tomorrow.. Rachel wants to kiss.
7:20pm Dom washing Cassi's hair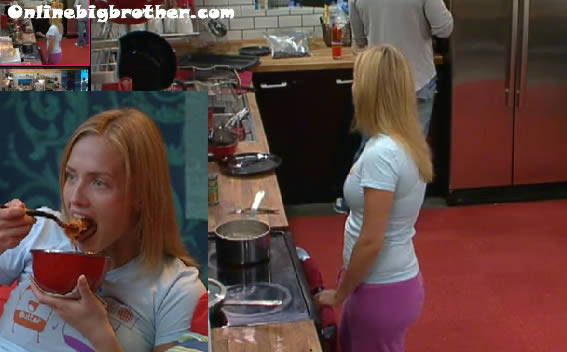 7:30pm Kitchen Porsche sighting near the food the rumors about her gaining weight and eating more then she did before are true.
7:55pm Brendon and rachel She's rubbing his head as he sleeps
8:00pm Backyard Kalia on the treadmill this shit's gotten serious yo
8:15pm Hammock Dani and Adam
Adam asks her Who her favorite person to make fun of last year. Dani smirks Rachel obviously I hated her last year and I watched the feeds. Adam says the Brigade was too cocky. Dani: " matt was horrible.. but Annie and him were my picks early on". Dani really liked Andrew she thought he weas going to do well. Adam thought it would be funny if him and Andrew where in the house together and Adam would terrorize him with bacon, put bacon in his bed. Dani: "That's horrible"
She asks him who did he like last season.
Adam really liked rachel because he saw her as honest but after she left he really liked Britney he thought she was hysterical. Dani Really liked Britney but didn't think she deserved to win.. She's glad Hayden won she thought he did a awesome job. Adam thought out of the 3 that hayden was the most deserving he felt that Lane really didn't do much. Danielle adds that surivior is the hardest game to play but Big Brother is the harder game to win. She explains that is because of the power shift you get in Big Brother whereas in Survivor once the sides are set they just battle it out. Adam agrees says that there's not as much blindsiding. He enjoys watching survivor because the competitions are so much more real. Adam adds the best move ever was Dani's dad using the veto on her and getting Dustin out. Adam remembers when he saw that Power of Veto Ceremony it blew him away. Danielle didn't think it was as much of a martyr move that it came out but she agrees that it was a great move and possibly one of the greatest in Big Brother History. They talk about the picture of Dustin leaveing and the animated gifs of him and how funny they were (Dam bb8 was fun).
Dani: "what do you think is hapening tomorrow"
Adam: "Cassi gone"
Dani: "no with the HOH"
Adam: "Q&A"
They both agree that tomorrow will not be a physical HOH competition, there basis to this is if it was they would be in lockdown by now instead of outside. Adam isn't sure he's going to try to win the HOH competition. Adam says he's sad because he's losing a friend in the house when Cassi is evicted. Dani can understand. Adam: "We're all getting along for the most part" Dani: "it's only week 2". They both agree that the game will be much better after the couple twist is over.
Share it YO!!
Tweet