Big Brother 13 Live Feeds Can be watched on your iPhone and Android Mobile devices sign up -> Watch Big Brother 13 on Your iPhone or Andriod Phone
2:29pm Backyard Pool Vets + Shelly, Kalia and Keith
They start talking about how pretty Cassi is Shelly says she looks like Angelina Jolie without the big lips (WTF Shelly) when she has her hair pulled back. Kalia says she looks like Olvia Wilde on House. They all agree that Cassi would be a great model, Kalia says she doesn't think the modelling career is as great as people think she's done modelling before and hated it (WTF Kalia)
Kalai thinks Janelle is pretty but not a natural beauty more a made up beauty. She can see why people think she so gorgeous but she never saw it. Rachel is quick to say – Janelle is a Natural Beauty… I've seen her with her makeup off she looked Stunning.
Jordan mentions that Kristen was very pretty, Brendon agrees says she was more a swim suit model whereas Cassi is more a runway model. Rachel says that Kristen is has the perfect body it's not even funny. Shelly asks if she had fake tits. Rachel says yes, Everyone in big brother does. Shelly: "I don't, Kalia doesn't Dani doesn't" Brendon brings up monet and Brit and how they are huge BLANK. He talks about the wrap party and how they showed all these clips of them saying mean things about Brendon and rachel. When it was over Brit and Monet never said anything to Brendon about it: "you now I expected them to come up to me tell me you know I got caught up in the moment sorry for the things I said" Dani: "I think Anne is the most beutiful big brother houseguest ever she the total package pretty on the inside and outside" Rachel says that Lisa from BB2 was very pretty. Lawon joins them jumps on the hammock. Brendon asks him: "You had another nap man" Lawon:"yeah" Brendon: "Awesome".
2:20pm Havenots Cassi, Dom They are wondering if they can pull the votes to keep Keith.
Lawon asks what they are going to do. Dom says he wants Porsche out because when Keith goes POrsche will join the vets. Cassi explains: "They see POrsche as this weak little twit that they can control.. they'll tell her that her partner is gone roll with us and she'll be OK" Dom quickly says to lawon that they aren't 100% sure they want to keep keith but right now thats what it's looking like. They're thinking the votes is going to be 5 to 6. They have to make sure they have all their people on board or it won't happen. Dom says they need to find out what the HOH really wants to happen. Cassi agrees but adds that there's still time they need to wait and have Rachel approach them. lawon is worried about Adam he's the most on the fence whether to vote out Keith or not. Dom isn't one bit worried about Adam he'll go with the group when the time comes Cassi: "We'll lay out the facts he'll understand". Lawon mentions that what happened yesterday helped out his relationship with Kalia they are now closer than ever he thinks after some talks they can be guaranteed she'll vote with them.
lawon: "We three got game.. he BLANK me dog he BLANK me.. you know in the end you come out like a mother BLANK bull you get taken out" Lawon says he already has his speech for Porsche planned he's going to say he tried to get to know her but she never talked to him plus he knew she was the strong player. Lawon says that nobody will expect them 3 being a group. Dom doesn't want him to say anything like that he'll jinx them. Casi: "Don't ever says that"
Dom warns Cassi to chill out with the game talk cause it could be trouble. Cassi: "what are yo talking about I only talk game to dom and Shelly" Dom and Lawon both want them to really cool it with each other when their out in the open. Lawon: "Lets just talk game until late late at night.. People will start watching us.. just be careful" .. Lawon wants them to keep up communicating if their backs are ever against the wall then come up and talk to him. Lawon leaves outside.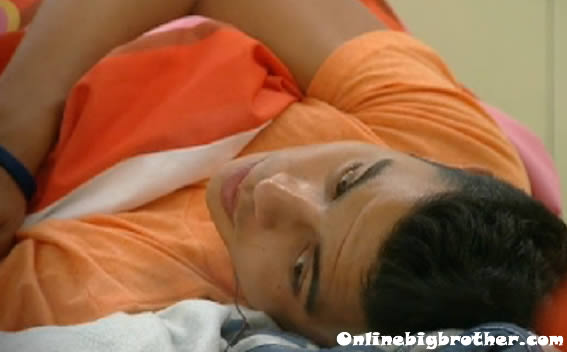 Dom and Cassi, Dom is felling good about their position. They know that if they are the last 2 newbs in a house of vet they have zero chance to make it. They worry that Kalia will flip on them if she makes it far. Dom is going to target Jeff/Jordan when he gets HOH (smart move get them split before a twist saves them) Cassi thinks it's a good idea seeing as they haven't really made any agreements with them yet. Cassi wonders what if they put brendon and Rachel up? Dom thinks it's stupid idea they have a working relationship with Brendon and Rachel. Dom brings up Jeff making fun of him. Cassi doesn't want to see Jeff go she thinks he's a lot of fun in the house, Dom agrees. Dom and cassi are thinking about making a side deal with Brendon and rachel.. their not sure if their is a benefit.. Dom wonders if Dani will side with him and Cassi or Brendon and Rachel. Dom says that Dani doesn't trust Lawon right now because he doesn't talk game to her, Dom is fine with that for now they don't lawon running his mouth. Dom mentions that every time he tries to talk to Dani he gets interrupted. The way it sounds from Dani the only ones she trusts is Dom and Cassi… Cassi: "It's such a mind screw in here". Dom: "at first I didn't think I had a chance but now I really think we do.. our side is so dumb.. dealing with the votes and stuff" Cassi says if it gets to Dom, Cassi, Jeff, Jordan, Brendon, Rachel then she thinks
Brendon and rachel will probabaly go after Jeff and Jordan, "They'll do it if their smart.. and they want to make a run for the money"
Follow @BigBspoilers and @Dawgsbigbrother on Twitter for recent crazed out spoilers. There is also a Facebook page.
3:28pm Backyard most houseguests laying out in the sun random chit chat. Adam and Cassi chatting out on the couch adam tried to start game talk but cassi told him that it wasn't the time or place… Adam starts talking music with her.
Share it YO!!
Tweet