New Hosueguest Pic
Today the standard Cast picture in front og house was shown.
There is so many rumors floating around the internets right now, especially twitter were you can find dozens of accounts tweeting out "RUMORS" and "Confirmed Spoilers" from people claiming they have inside sources or work for production. The general consensis of all these rumors is that Jordan/Jeff, Dick/Dani and Rachel/Brendon are coming back. We've already learnt that Boogie/Will and Natalie/Jessie are a no go which only leaves Harden/Enzo, even though I found Enzo entertaining Hayden was a MEGA BORE so i'm not sure CBS (unless very desperate) would bring them both back in the house. I've also heard rumors that the newcomers know that they're returning houseguests from past season, in particular they know Brendon/Rachel are coming back. Oh and just found out that rumor control featuring Ragan and Dani will have Annie sitting in for Dani, because Dani in sequester to be on BB13.
Allison Grodner tried to tell us that the potential returning houseguests could be different than the ones listed on CBS website because they didn't have enough room on the site to list more names. This is complete BS.. Rating wise it makes the most sense to cast DD, JJ and BR solely based on their massive popularity and the MASSIVE AMOUNT of awesomeness having them in the house will cause. (PLEASE NOTE JJ, BR and DD returning is just my educated guess it's still not confirmed by CBS and won't be until Thursday)
These 6 returning hosueguests are not the only BIG BROTHER 13 TWIST there's more to come apparently there is a twist that will LEVEL the playing field.. but that's all I know.
If you missed the BB13 House picks and Julie Chen Interviews here they are
Get your feeds early get them cheap $29.99 2 DAYS LEFT
New Big Brother Live Feeds Site Launches TODAY
Real has released a new live feed website incorporating many new "social" features It all looks very cool and i'm sure the users that frequent the CBS chats will like the changes. There also another product coming out called BIG BROTHER LITE which is a unbloated feed viewing client (this is what i'll be using). If you want more from your feeds and don't mind experimenting a bit then the new feed website is for you if you're looking for the feeds straight up without bloat than give BBlite a try either way this year is going to be the best (Yes I know i said that last year but come on we potentially have DICK and RACHEL in the same house holy shit!)
If you like our site buy the feeds from us we get a cut and it helps us pay the bills, sign up today or tomorrow and get a deal Live FEEDS 24/7 MADNESS $29.99 2 DAYS LEFT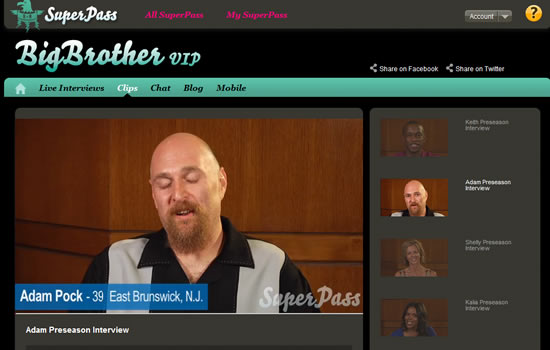 BTW no nasty nicknames to Adam he's a fan of the site :)
Share it YO!!
Tweet