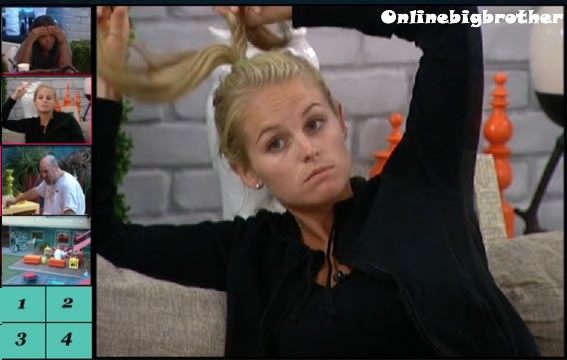 7:00pm HOH Kalia and Jordan Kalia thinks people in the house will take out Brendon first because brendon is a strong player and with him gone Rachel will be an emotional mess. Kalia doesn't think Rachel has any game without Brendon "She would climb inside of him if she could" Kalia said people have been talking about brendon and Rachel and how the only way they can take them out is they can Backdoor them, "No body will put Brendon and rachel up straight up because they'll win POV"
Kalia: "when would Shelly get out.. Shelly is someone you don't want to be in the finale out" Jordan: "I haven't thought about that".
Kalia: "really the only people out of our group that was really gunning for you guys was Dom and Cassi and once Cassi is gone there is really only one person coming after you.
Jordan wonders when they should get rid of Dom… She thinks that maybe she's getting a little ahead of her self. Kalia says week 5 will be porsche… FEEDS CUT.. when the feeds come back they're talkign about putting lawon and Kalia up on week 4 and Lawon can go home. Jordan and Kalia agree that Kalia has the votes.
kalia says that Adam will just be happy to get into the jury house.. "Adam.. you got to host a comp and now you get to spend the summer in the jury house… you can't win this game lets get serious" Kalia says Adam has tried since season 6 to get on the show.
Jordan is getting worried about Dom because lately they've been hanging around Rachel and she's been calling him her son. Kalia has noticed that to, she thinks something is up.
Both of them are worried that Dani is a very dangerous player, Jordan mentions that dani knows the game better then adam. Kalia says she thinks that inside Dani thinks Rachel is a pathetic. Kalia points out all the times that Dani jokes with Rachel but many of the jokes are nasty comments to her. Jordan tells her that dani's been acting closer to Rachel and sometimes she sticks up for her, Jordan: "I have to watch what I say around dani" Kalia brings up that Rachel has this entire basket of medicine and creams that her dermatologist gave her. Kalia told Rachel that all that "Crap" is no good for her face because it's still covered in pimples. kalia told her she needs to find one simple product and use it instead of changing.. Kalia adds that the entire time Dani was there making fun of Rachel and not in a nice way. Kalia points out that Dani is playing the strongest social game she's talking to everyone making sure everyone likes her. It's proven that Dani can win comps she won a lot during her season so Kalia thinks she's very dangerous. Jordan: "I think brendon and Rachel have it in their heads that they are in the final 3 with Dani". Jordan says she very scared that dani and dom are going to pair up that is why she was going to take Dom out because then they could of easily gotten Cassi on their side. Then it would of been "Me, you , Jeff, Shelly and Cassi". Kalia: "that's 4 full votes" . Jordan: "It would be perfect because Cassi would not be afraid to put up Rachel… Jeff said if it was a couple more weeks in then F-IT lets do it but he's thinking it's too early"…. (This is driving me nuts yo..)
7:53pm Backyard Most the houseguests either working out or chit chatting.
Share it YO!!
Tweet