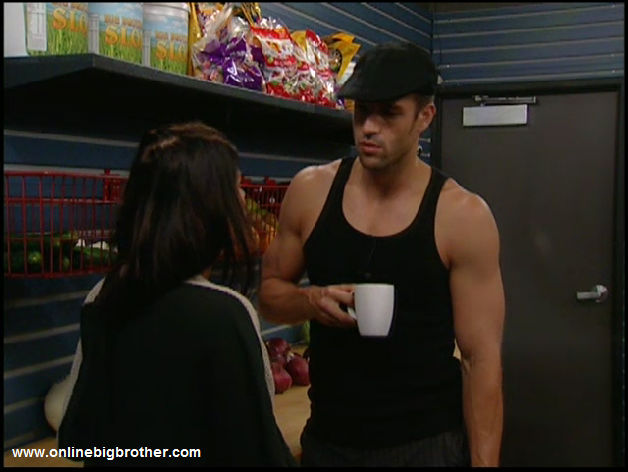 7:57pm – 8:05pm Dani and Brendon go into the storage room to grab food and talk game. Dani tells Brendon to make Dominic feel like they will take him far. Dani says you have to, have to, have to trust me. Dani says that Dominic will do what I influence him to do. Dani says that Dominic likes Brendon and Rachel a lot and for them to just make him feel comfortable. Dani says that Rachel was talking to him and was like blaa blaa blaa …and so you need to tell her and you need to just make him feel comfortable. Dani says and don't worry about it. Dani says that Kalia is waiting for the couples to end and then she will pick a side… Dani says that Kalia is way closer to them and they are less of a threat. Dani says that Brendon should be nice to Porsche and Dani says that they will try their best to get close with her. Dani says just make sure you make him feel safe… trust me, trust me. Dani says no matter what one of you three have to win. Dani says that she doesnt trust Lawon at all …he is a waste. Brendon says yeah. Dani says that Adam wouldn't be hard to get out at all. Brendon tells Dani that she needs to help him control Rachel. Dani says yeah she is out of control. Dani says that Rachel was hanging out with Porsche. Brendon rolls his head and eyes. Dani says that she keeps telling Dominic that they (Jeff and Jordan) want him gone and that he can work with Dani, Rachel and Brendon. Dani says that Brendon needs to keep telling Rachel that this is her chance to change the way people view her. The conversation end and Brendon leaves the storage room.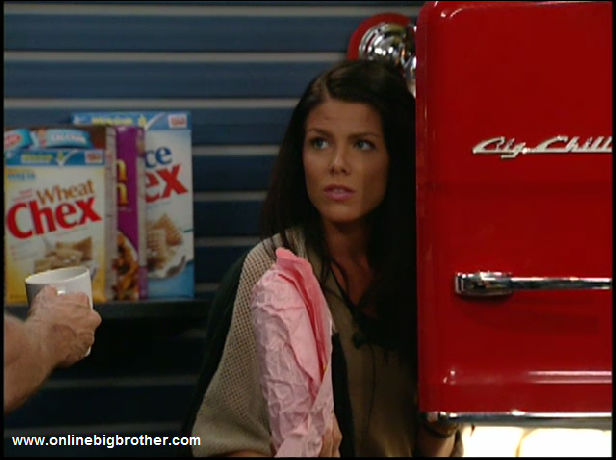 8:20pm Dani heads into the storage room and asks Cassi if she is okay? Dani says that Cassi is so quiet today. Cassi says that it sucks that she knows she is going home. Dani says that it suck that she doesn't know what to say and that she hope she knows that she isn't being catty or anything ..like certain people. Cassi says that she knows Dani isn't. Dani goes into the storage room and then heads back into the kitchen.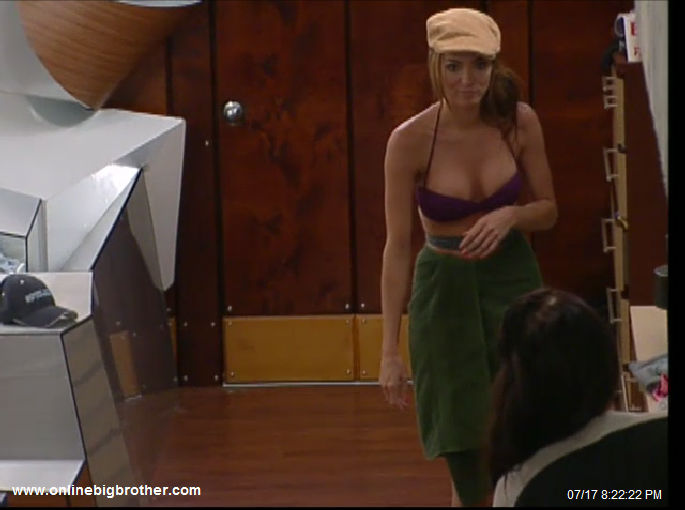 8:25pm Have nots Cassi and Rachel Cassi asks rachel what she's done to wrong her. rachel says she didn't like how play the game.
Cassi: "is that a valid reason to send me home?"
Rachel: "you are comgin after me that's a valid reason"
Cassi: "I made a deal with you all"
Rachel: "The day you made the deal you were running around downstairs telling people that they need to get the balls and take out Brendon/Rachel and Jordan/Brendon"
Cassi: "I made a deal with you all and I would stick to that deal"
Rachel: "I've heard from plenty of people that you want us gone"
Cassi: "you gotta realize thats what people are going to say around here why didn't you come to me I've been honest since day one"
Rachel: "You think you're a honest person"
Cassi: "of course"
Rachel: "you we're the ring leader of the newbie alliance.. personally I don't like your game play when you walk around complain about Porsche this Porsche That"
Cassi: "WHAT! I don't talk shit about por behind her back I'm not 12"
Rachel: "you acted lilke you're 12.. you started talking to jordan the second she won HOH I don't respect that you've played bad"
Cassi: "You are wrong there Jrodan and I have talked a lot in this game.. I think you're after me because i'm a female"
Rachel: "WHAT!!"
Cassi: "Thats word on the streets"
Rachel: "Word on the street who says that SERIOUSLY SERIOULSY I'm a female why would I want you out.. YOUR insult me"
Rachel: "I have a problem with you because you didn't want to work with me"
Cassi : "Well Rachel everyone in this house says you're coming after me because i'm a girl"
Rachel: "you have horrible game play I like you as a person but you don't like me
Racehl: "I need to look after me and my alliance and Jeff and Jordan"
Cassi: "I don't want to fight with you"
Rachel: "then why did you call me in here..you play the victim"
Cassi: "How BLANK what do you mean by that"
Cassi: "I was pulling for you last season I couldn't understand why they said the tings they said but now I get it you're catty catty girl and a ugly person inside"
Rachel tells Jordan that she was cornered by Cassi and Cassi said all these hateful things about her like she's , ugly inside, catty and doesn't like other women.
Jordan: "Some of the actions and words you use comes across as BLANK .I'm not ganging up on you.. just saying you're sounding a little BLANK"
Rachel says that people don't like her because she's nice to Porsche and stick up to her when other people are being mean.
Jordan: "I think people just don't like Porsche and having you and her as But Buddies doesn't help..I think she's crazy and she lies about things..says you come accross as BLANK.. the way you are is catty and I'm not ganging up on you o'm being honest.. cassi is just worried becuase she knows she's going home"
rachel warns here that the newbies want to backdoor her and if they keep them around they are in trouble. Jordan tell her not to worry she is not going to put her up that would be a stupid move it's only week 2. Jordan adds that she can understand how people may be threaten by cassi because she is pretty and some people are kinda threaten by her.
Rachel: "I'M NOT.. I'm confident in brendon, i'm friends with you and dani and you're gorgeous I think she comes up here and plays with your emotions".
Jordan: "don't get mad at me i'm just being honest.. people are getting tired of your mouth".
Jordan tells her that her and Jordan are 2 complelety different people they are exact opposite she's just being honest with Rachel and her mouth is getting her in trouble.. everyones emotions are going crazy"
Jordan i told her my alliance wants you out and it makes no sense to pue up lawon and Kalia.. I explained it. Jordan offers to have a meeting with her, Cassi and Rachel
Rachel: "NO SHE'S EVIL I DON'T WANT TO TALK TO HER"
Jordan keeps repeating that Rachel is coming across as BLANK.. She doesn't understand what Cassi did so wrong.
Jordan: "I swear i'm in highschool again with all this caddieness cassi is just upset becuase she's going home"
Jeff enters the room asks them if everything is OK. Jordan says that emotion are runnig high right now.. he takes a pee and leaves. Rachel Cassi is the one that is BLANK, she's mean, she's manipulative I'm the girl that is the victim and Cassi is the victim..
Big Brother 13 Live Feeds Can be watched on your iPhone and Android Mobile devices sign up -> Watch Big Brother 13 on Your iPhone or Android Phone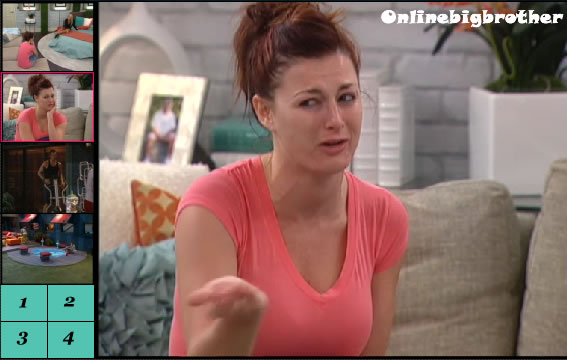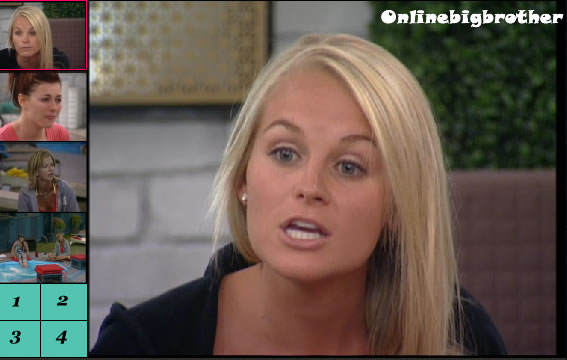 We have a new Image Gallery here's how it works, Every minute we take a screen capture from all 4 cameras inside the Big Brother house then we dump them into a Daily Screen capture post. Voila a ton of Live feed Screen captures all time and Cam Stamped Live Feed Image Gallery
9:20pm HOH Jordan and Rachel Jordan tries to explains repeatedly that Rachel that Rachel's actions and choice of words are why people think about her the way they do. Jordan spells it out that brendon and Rachel do not HAVE TO WIN EVERYTHING. Rachel says Jordan season was different than her season she had very mean girls to deal with. She says the people on her season called her a prostitute, said she was riddled with STDs, called Brendon permanently disfigured and said that they wanted brendon and Rachel's future baby to be aborted. Jordan reminds her that she needs to forget last season, she's given a fresh start to show the public that she's different. Rachel says she's tried very hard to be different but it's these "Mean Girls that come after me"
Dani joins them
rachel: "She used everyone of my weaknesses against me and that is what a mean manipulative girl does." Dani tells her to just calm down and forget about her because she's going home" rachel goes on and on about how ridiculous Cassi is saying she does't like women, "I like Kalia, Porsche, Dani and Jordan and all my friends outside the house are girls… brendon is the only guy i know" Rachel says the only reason she wanted Cassi gone was because she was after her alliance and she had bad game play.
Dani: "We don't deny she's terrible at this gamey, that's why she's on the block and going home, so just get over it!"
9:30pm hot tub JEff and Cassi Cassi says I might of just dug my grave.. Jeff: "You might of saved your grave."…
The feeds are going crazy right now 3 Day Free Trial
9:47pm Jordan and Dani Jordan is debriefing Dani about what happened. Dani is agreeing with Jordan about what she's saygin about rachel. Dani admits to have talked to Rachel before and told her the same things. Dani says she can't handle it all this Drama.. Jordan adds that rachel is a nice girl but her actions are exactly like last year.
9:52pm HOH Jeff, brendon and Rachel Jeff tells them that Cassi is going home and for them to calm down. Jeff says to Rachel that she needs to ignore Cassi from now on and just wait it out until Thursday. Rachel tells Jeff that CAssi is trying to place a wedge between JJ and BR. Jeff goes on a little speech trying to reassure them that there is no wedge and they are still playing the game as an alliance.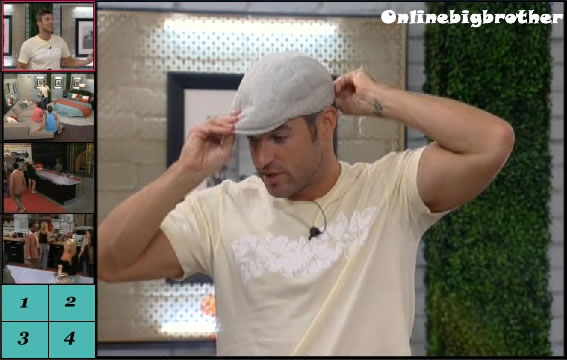 9:58pm HOH Rachel and Brendon Rachel playing the ULTIMATE VICTIM. (We've seen this display at least a 12 times but one thing BRendon said I found interesting) brendon about Cassi. "The girl BLANK's herself out with Country singers and pro athletes.. I Never call you stupid your the most brilliant person I know." (WTF )
11:00pm Backyard Everyone engaged in general chit chat.. Cassi leaves after awhile and heads inside to grab a drink. While inside Adam thanks her for stirring shit up, "A Seed needs water to grow".. CAssi says she's worried that she'll look like a asshole. Adam guarantees her that everyone outside knows the truth and she won't look like the bad person. CAssi: "I Hope thats the case"
11:23pm Pool Table CAssi and Rachel playing
11:37pm Rachel beats Cassi
11:45pm HOH Jordan and Kalia Jordan is giving Kalia a rundown of what happened today.
Share it YO!!
Tweet