5:15pm Dani and Adam Jokeing around if Rachel and Brendon had a baby they would call it "Million Votes" or "MV" for short…
Kalia joins them. Kalia jokes tells Adam if she stays on the block he needs to vote to keep her because she wants to get a b@@b lift and needs the Big Brother money to pay for it.
Adam: "I like natural b@@b.. thats the last way to get my vote"
Kalia: "I said Lift not JOB"
Adam: "Ohh"
Dani: "She meant p**** implant"
Adam: "Ohh in that case yes you have my vote"
They all laugh.. Adam wonders if the people watching the live feeds are enjoying this season. Kalia doesn't get the live feeds. Adam says he never watched them but he followed the fan sites. Kalia just cannot believe there is enough exciting things going on in the Big Brother House to warrant watching them 24/7. Dani says the feeds are not always this dull, she comments on the cast selected this year. Adam laughs says he thinks they are loads of fun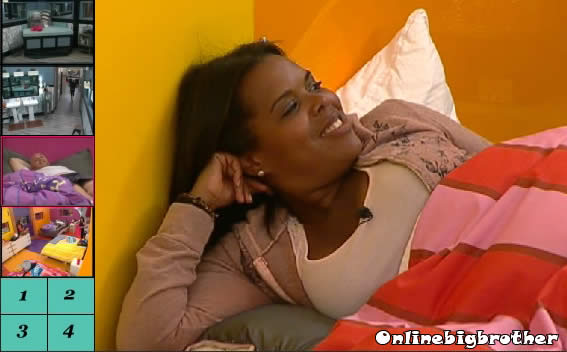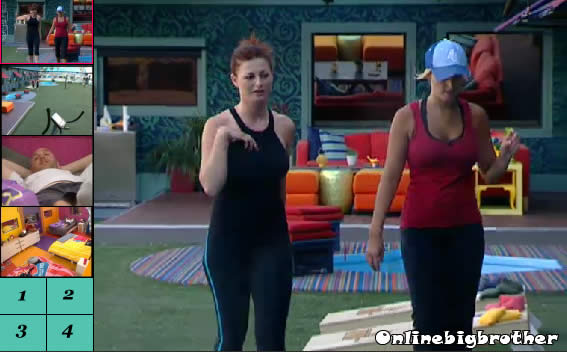 5:25pm -6:00pm Rachel and Jordan walking Rachel telling her that Dani will coach Kalia this week and tell her what to do. Jordan is sure she will… rachel adds that it really doesn't matter what is Kalia going to do take JEff, Jordan and Rachel out all in a row.. Feeds cut..
Feeds come back.. Jordan is saying they would be safe if Adam or Shelly are winner of  HOH. Rachel still is nervous about those 2 says she only will feel safe if Jordan or herself wins HOH.
They start talking about how boring and stupid the live feeds are.. rachel: "Live feeds are hit or miss.. showtime is better I think" (LOL 9.9/10 what the show on afterdark sucks)
They start going through the HOH competition and how close Porsche was to winning it. Rachel thinks that Porsche would of probably won it if Jeff wasn't playing.. Jordan agrees, "Jeff is really really worried about next week because his season a floater got him out" Rachel doesn't think it will happen like that this year.. Rachel is convinced Kalia and Prosche have no chance. Jordan brings up the possibility of the other side (LOL here we go again with the other side comment from Jordan) keeping Dani and voting out Kalia.. Rachel has thought about that says that would be the worst thing to happen. Rachel says all they need is Shelly so they are safe.
Jordan starts talking about Adam's detailed knowledge of all the dates. Jordan says he basically has all the dates for the entire season memorized
Rachel: "If Adam wins this season I will DIE"
Jordan: "I want a vet to win"
Rachel: "I want 2 vets in the final 2"
Rachel thinks it will be amazing if Rachel, Jeff and Jordan can make it to the finals. Rachel draws the conclusion that Rachel, Jeff and Jordan are like the brigade they have the numbers as long as 2 of them don't go on the block.
Jordan says it going to be tough the still have a lot of people.. Jordan keeps saying she's really worried about the double eviction.. Rachel keeps telling her to relax about it as long as the 3 of them stick together.
Rachel is back to framing this season as Newbies VS. Vets
Rachel: "I don't count Dani as a vet she's a traitor.. I never liked her in Big Brother 8"
Jordan starts bringing up more evidence about being good at questions.. Rachel keeps warning about him.. Rachel starts explaining double eviction to Jordan (This is now the 6th time she's explained this.. )
(Rachel is feeling very confident that they have it in the bag)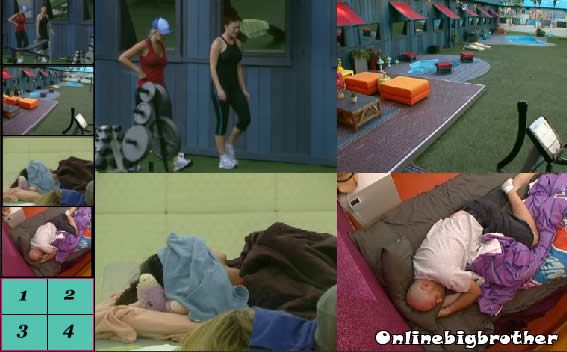 6:14pm quad Most the house is sleeping JR walking random chit chat now..
6:20pm Jordan says she didn't think Brendon was Mexican but after he told her she noticed he had really small eyes like a Mexican.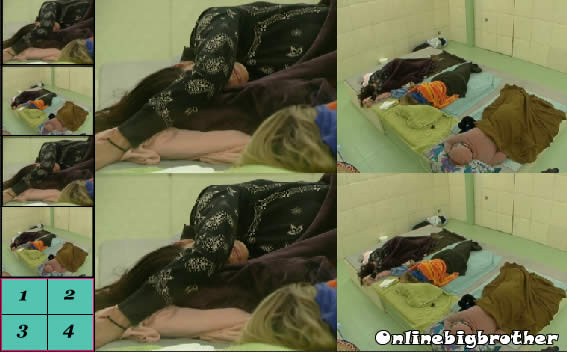 6:55pm Huge updated I know.. nothing has happened in the last 30minutes
7:02pm Still walking Jordan and Rachel Rachel says the biggest threat now on the other side is Prosche and Adam. Rachel: "The thing is with Me and Jeff in it we're better then all of them so we'll win the HOH's and POV's"
Jordan comments on how she needs to pick up her game and start winning stuff she feels like a 3rd wheel this season. Rachel tries to make her feel better tells her the game is not only about winning competitions.
Share it YO!!
Tweet