If you like this site and want to help us keep it running please consider donating, Your donations go directly to paying the server and bandwidth fees. Donate Link
7:30pm Backyard Shelly and Dani
Shelly: "Did you hear her period is 2 weeks late"
Dani: "Yeah I did… Rachel isn't even acting different"
Shelly: "How can she not be worried about that"
Dani laughs whoever goes to jury this week will tell brendon and he'll freak. Shelly howls with laughter.
Dani points out that Rachel is so attached to whoever has power it's disgusting, Shelly agrees says she could never play that type of game.
Kalia joins them they start talking about Rachel saying she thinks she's pregnant but why was she asking for alcohol last night. Dani thinks Rachel should have to take a pregnancy test, Brendon has the right to know. Porsche joins them.. They all start talking about the BB Baby in Rachel.
pORsche: "Rachel can't drink if she pregnant it'll be bad for TV"
Porsche: "She can't say she's pregnant on TV then be seen drinking that's bad for CBS"
They all laugh.
Shelly says she shouldn't be allowed to compete in the HOH if she's pregnant she could fall and hurt the child. Shelly asks if Rachel is on "BC" (Birthcontrol) KAlia says no she wasn't on it, Kalia adds that she wasn't on it before she came on this show. Shelly: "What the hell is she doing having unprotected sex… " Dani: "It's called the pull and pray" They relive the huge c** stains left on the sheets from BRendon and Rachel last month.
7:50pm DAKP backyard Porsche
Porsche brings up her 29year old friend who still sucks their thumbs.. She does it all the time even at Clubs. Dani is shocked.. "WHAAT at CLUBS… she your friend? WHAAAT" they all laugh. Shelly's take on adult thumb suckers, "I would rather have a dick in my mouth"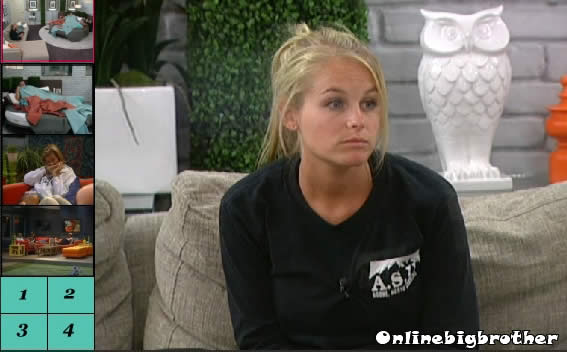 7:55pm HOH Jordan and Jeff
Jordan thinks they need to bring Shelly and Adam into the HOH and tell them they HAVE to vote Dani out if she's going up. Jeff doesn't think it'll be a problem, Jrodan knows she just wants to make sure they are all on the same page.
Jordan saying that Rachel is really only mean when she's not in power. Jordan talked to Rachel about Brendon masturbation on Skype with a another man and it going public for the world to see. Jordan is amazed that Rachel is still with him after he would do such a thing. Jrodan feels sorry for her.
Jordan explains to Jeff that the entire other side of the house hates rachel.
Jeff: "I can't believe Dani hasn't come up here to talk to me"
Jordan: "I think she knows"
8:16pm Jeff alone in HOH Random chit chat in the backyard
8:36pm Dani tries to go talk to Jeff but nobody answers.. she says she hears the blow dryer (Jordan is in there Jeff may be sleeping)
8:38PM we see JEff and JOrdan in the HOH bathroom with the blow dryer on.
9:05pm food prep chit chat.. Dani alone outside.
Check out the Big Brother 13 Polls
Share it YO!!
Tweet