If you like this site and want to help us keep it running please consider donating, Your donations go directly to paying the server and bandwidth fees. Donate Link
3:25pm HOH Jeff and Jordan Jordan says she talked to Rachel and instructed her not to bug Dani if Dani goes up. Jordan explained to her that if Rachel starts messing with Dani and Causing fights other people in the house might what her gone. Jeff mentions when Porsche was trimming his hair she told him she didn't want to be on the block because she doesn't want to have to pack her stuff. Jordan and Jeff laugh.. Jordan: "who says that?". Jeff adds that she told him she would put up Rachel and Shelly. Jordan kind of agrees, says they all hate Rachel.
Jeff says if he does pull pull the trigger and take Dani out it's going to be a long 4 days.. Jeff has warned Adam if Dani says anything to him to go tell Jeff right away because Jeff hasn't said any shit about anyone. Jrodan also told Shelly that Dani is going to try every angle. Jeff mentions dani was talking to Adam and tellign him the same shit she was telling JJ except for she changed the names. Jeff: "Dude She's offering everyone the same deal dude"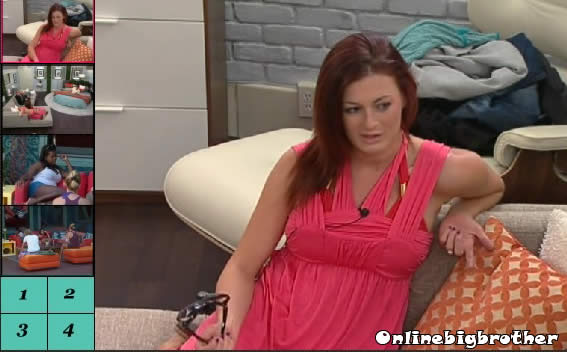 Rachel comes up asks him what he's going to do… Jeff says he has thought about it still won't know until tomorrow. Rachel warns that Porsche has Adam and Dani… Rachel doesn't trust Kalia at all but she personally thinks she the weaker of the 2 girls on the block. Rachel recommends they put Dani up she's by far the bigger threat. rachel adds with Dani gone Kalia and Porsche will be lost.. rachel rpushes hard for Jeff to put Dani up she's convinced that if Dani goes home POrsche and Kalia will not be friends and they can work with both of them. (LOL Rachel pitches the idea of a JJSARKP alliance) . Rachel goes on in depth about What will happen if Dani goes and how they can get Adam to influence Prosche and Kalia will just be a lost soul.
Jeff: "Yeah that's the same thing I was thinking…" Jordan adds that Jeff will make the right decision that will benefit them 3. Jeff tells rachel not to worry there good in this game. Rachel thinks they can convince Kalia to take out porsche if she wins HOH this week.. Jordan is pretty sure if Dani is gone Porsche will be buddies with them again claiming they have an alliance from week 2. rachel laughs.. Rachel says she doesn't feel safe with anyone in the house, she feels like she the number one target..
Rachel starts pushing that the Adam/Shelly alliance is real and a huge threat.. she points out that Adam is very close to Porsche/kalia/dani so there's a threat with Adam making a move. Jordan agrees says that she knows adam will turn on them. rachel thinks that Adam has done shit in this game if he wants to have a chance to win it he needs to make a big move and she thinks there's no bigger move than taking out Jeff. Jeff doesn't think Adam and Shelly will do anything big this season. Rachel warns that Adam/Shelly are going to start trying to play the game and come double eviction they will make a power move. Jeff doesn't think so he doubts SA will do shit, He mentions if Adam lucks out and wins HOH during the double eviction he would stupid not to put Jeff up.
Jeff points out that SA have done next to nothing in comps all season.. Adam will be flustered and collapse under pressure. Rachel disagrees.
Rachel thinks they can talk kalia into throwing the next HOH. Jeff: "Cmon now I don't think they're that dumb"
4:00pm HOH turns to the POV comp puzzle
4:02pm Backyard COuch Adam, DKP Chit chat 4000
4:07pm Trivia for Dani's bday party
5:00pm Still Trivia
(The house is going to look totally different after Thursday .. My new prediction is Dani is going up only a miracle or twist will save her. Is it the end for Team Dani? probably :( but house alliances shift daily and you never know Kalia could go insane and find herself going home)
Check out the Big Brother 13 Polls
Share it YO!!
Tweet