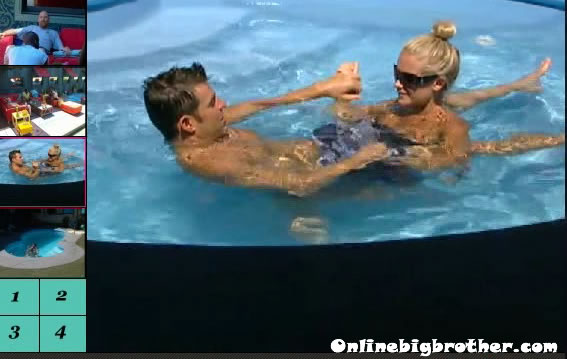 3:00pm Jeff Jordan pool time A bit of game talk they both are feeling at a disadvantage in the game. Jeff tells Jordan that the word in the house is that if the newbs win HOH Jordan and Jeff are up on the block. Jordan "WHAAAAAT… Brendon and Rachel are better choice" Jeff doesn't think it means anything he thinks they need to get a small group on their side because right now they don't have a group. Jeff wants to pull in Shelly and Cassi. Jeff says he's been thinking of group lately and if you put adam/dom, adam goes home. Kalia/lawon lawon goes home. His plan is if the newbs win HOH get them to put kalia and lawon up with the thought that everyone is taking kalia out then take lawon out instead. Jordan says she worried about Dom he talks about backdooring alot. Jeff says he's going to start taking it easy for a bit he thinks they've all scared the newbs too much.
Uncensored Live Feeds Free Trial
3:10pm Adam comes out does a impersonation of Jerry BLANK it was funny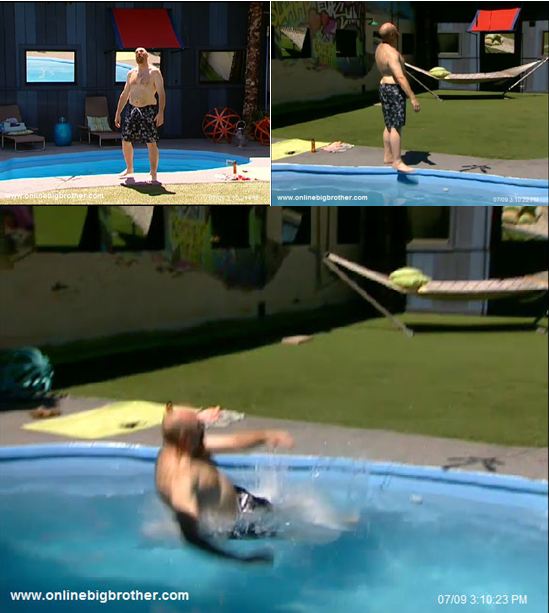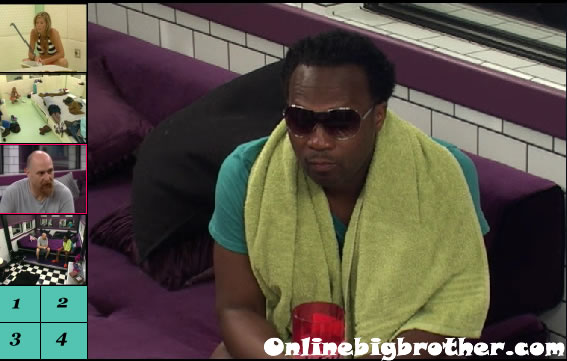 2:55pm Purple Room Lawon and Adam Adam is telling him how annoying Keith has become saying he doesn't trust Keith at all. Adam points out Keith's recent flip floping and his constant questions "Do I Get your Vote… Do I get Your Vote" Adam says when a person who is constantly asking you that it means they don't trust you. Lawon says that he knows for a fact that Keith is out there throwing lawon under the bus and trying to get lawon ass on the block. Lawon says he's still going to vote to keep Keith because early in the game he made a deal with Keith and he's going to stick behind his word because that's what he does. Adam mentions that it won't matter either way because Keith has too many vote against him. Keith says he's playing a very mental game he thinks people underestimate him but they shouldn't "My Mental Game is OFF the HOOK…. And physically I'm good to.." Lawon tells him he's cool with adam and then bump hands Adam tells lawon that he's glad he's met him because it reminds him that there's still good people out there.
3:00pm Have Nots Keith Shelly
Keith saying Lawon got between me and porsche and he's going to call him out. He wanted to do it in private but is now thinking about hauling them in front and Brendon and Rachel. Shelly smiles thinks its a great idea. Keith adds that he's talked to Cassi and Dom and they both think it's a bad idea, they think it'll put a even larger target on his back. HE's gone to Porsche and she's not completely against it she thinks it'll jeopardize her. Shelly is telling him he needs to not get to angry and down he's gotta use his charm, his looks and his great personality.
3:25pm Backyard Lawon and shelly Lawon is explaining to Shelly why he is going to vote for Keith to stay. Shelly says she's not sure if Keith is the target it could change.. Lawon doesn't think so. Shelly reminds him that the POV hasn't been used. Lawon is shocked he Completely forgot about the POV. Shelly thinks Lawon has nothing to worry about, if he goes up with kalia then hr'll get the golden key… but he's gotta behave until after the POV is used. LAwon is excited to hear this from Shelly. CAssi joins them. Lawon asks her if there's much talk around the house about him. Cassi is starting to think Rachel will use the Veto because Porsche and Keith have become such pains and have basically turned into everyone's target. Lawon asks if she has any ideas who would go up.. he's still worried it could be him and kalia. Cassi isn't sure she thinks it might be DOM, she adds that her and Dom are not in an alliance like so many people think. Lawon leaves. Cassi whispers to Shelly the vets want her and Shelly to talk with them tonight about something. Cassi is happy says it very good for them. Lawon comes back they start talking about Keith's GIANT BOMB he's been talking about droping on everyone. Cassi says she knows what it is he's going to tell everyone he's a human resource manager and not a matchmaker. Lawon "OH MY GOD is that his bomb?" they all think it's pretty funny. They start joking about their expressions will be like if they get put up on the block, LAwon "WHAAAAAT… we'll i never". Cassi follows the same lines.
We have a new Image Gallery here's how it works, Every minute we take a screen capture from all 4 cameras inside the Big Brother house then we dump them into a Daily Screen capture post. Voila a ton of Live feed Screen captures all time and Cam Stamped Live Feed Image Gallery
3:55pm POol Chit chat
Share it YO!!
Tweet