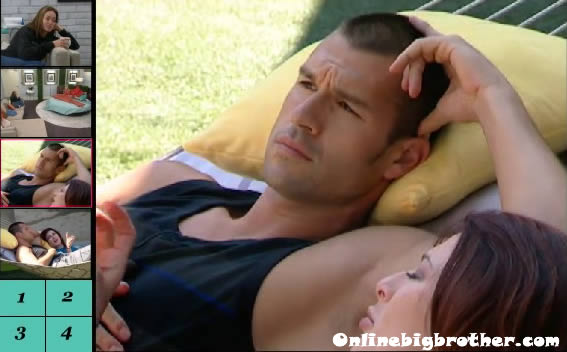 Big Brother 13 Live Feeds Can be watched on your iPhone and Android Mobile devices sign up -> Watch Big Brother 13 on Your iPhone or Andriod Phone
4:25pm Hammock Brendon and rachel
Brendon is scolding Rachel for getting too close to Por and defending her. Rachel says that Por told her everything about Cassi and what she is trying to do. Brendon warns Rachel that Por is trouble, she's not smart nor is she looking out for them. Rachel disagrees she thinks that after the golden key is over her and por will be very close and Por will be a valuable friend in the game. Brendon thinks that Por will be the reason they get evicted. Rachel tells him that Cassi is basically the worst person in the house. She is a disgusting manipulator that is trying to get everyone against us. Rachel: "This isn't personal it's very strategic.. I have done nothing but try to be Cassi's friend.. I'm Cassi's biggest threat that is why she's coming after me.. She's a BLANK" Brendon tells her she need to reign in this BLANK with Cassi because when rachel fights her in front of everyone else it messes up her game play. Rachel doesn't think there is anything wrong with sticking up for a friend. Brendon thinks there is because all this fighting that Rachel is doing will cause to much negative attention. Rachel now warns that Cassi is getting close to Jeff/Jordan and all the rest of the guys in the house, Cassi wants to get rid of the girls so she runs things. Rachel believes that Cassi manipulated Dominic and Keith to do what she wanted them to do. Rachel: "When Cassi doesn't get her way she pouts.. if cassi wins HOH she'll put us up or backdoor us"
Jeff joins them, tells them that Cassi is up there talking to Jordan. Rachel: "Ohh so is she crying to jordan right now" Jeff: "no she's not crying it was a decent conversation… dude not one single person BLANKsuspect that it was Shelly that flipped.. they all think it's Adam and Kalia". they have a little chuckle.. Jeff: "Nobody trusts Adam so if we do get rid of DOm then they all will be gunning for him" Brendon: "Por and Cassi are ready to explode it's not if but when and i've been telling Rachel to stay out of it". they starts rehashing the Have nots COmp saying that production was a bit pissed at what happened.
Brendon asks Jeff if he thinks cassi will keep her word. Jeff thinks that everyone is telling him what he wants to hear. Rachel: "Cassi is going to be good at quizzes" Brendon: "Yeah she could be" Jeff: "it doesn't matter we have the numbers now" Brendon tells them it's time to start studying for quizzes they are in "quiz territory now" Jeff thinks that there number one priority will be to split up Cassi and Dom. Rachel wonders what will happen if Lawon wins. Jeff: "If Lawon wins we're BLANK"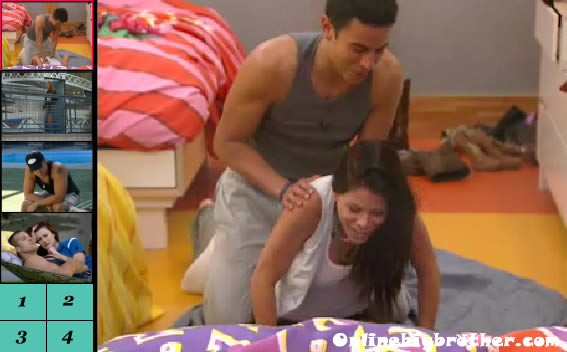 4:55pm Dom cracking Dani's back (dani might be the only chance for dom to stay)
5:56pm NOMINATIONS
Share it YO!!
Tweet