Follow @BigBspoilers and @Dawgsbigbrother on Twitter for recent crazed out spoilers. There is also a Facebook page.
3:00pm HOH Dom, Jeff and Jordan Dom is saying they were never targeting JJ that brendon and Rachel were their targets. Dom explains to them that his entire side is BLANK and he feels like he doesn't have anyone that will make it to after the pairs are over. Jeff offers him a deal that they will give him the golden key this week if he votes with them and guarantees that Dom's crew does not put up JJ or BR. They ask him about his relationships with Cassi. Dom tells him to be honest he is very tight with Cassi and Lawon. Jeff says that he's not thinking about the end game all he's thinking is that him and Jordan do not want to be separated for the summer so they're playing the game with that in mind. After the golden key twist is over they will start planning for the final push. Jeff reminds him that whoever doesn't go home gets the key and he wants to make sure that person is with them. Dom asks what do the Repeats want from him votes? Jeff is getting a bit annoyed says he wants the newbs to not target BR/JJ. Jeff smiles says Dom and adam are going up that's what is happening. Jordan says lawon and kalia are a waste to put up. Jeff: "Kalia and Lawon are the targets next week" Dom: "You mean Lawon is" Jeff tells him that no one is a waste to take out next week they will take out the person who is a threat to them and is not with them (it's funny that jeff talks like he's got the next HOH already locked in) Dom smiles "you guys are in full control here you siting back running things". JEff: "no we're up against the wall you guys have the numbers" Dom argues that they have BLANK their team is fractured. He points out that every newb will probably be coming up here cutting deals with JJ. Jeff says it doesn't matter who comes up here to cut a deal jeff only wants to deal with certain people. Dom says he's looking to at least stay int he game until the Couple are broken up then after that the game will change so much it'll be like a new game.
Dom says Lawon thinks Kalia has flipped so he'll be looking for a deal shelly and Cassi are very loyal to each other so if they go up they'll probably just fight like heck for Veto… feeds cut
Dom tells them he can sway Cassi and Lawon's vote and maybe Shelly's bit the others he has nothing to do with them. He's pissed at Adam and says he cannot work with him anymore. Jeff tells him the repeats want to pick off the players that are coming after them. Dom: "If your looking for those players then your looking at Cassi/Shelly and me and Adam to be perfectly honest" Dom: "I can understand why you would put up Cassi/Shelly because they are so close. Jordan tells them that she isn't involved in the Rachel/POR Vs Cassi thing she thinks it's stupid and she won't put Cassi up just because the other girls "hate here" Dom says Cassi is willing to sway.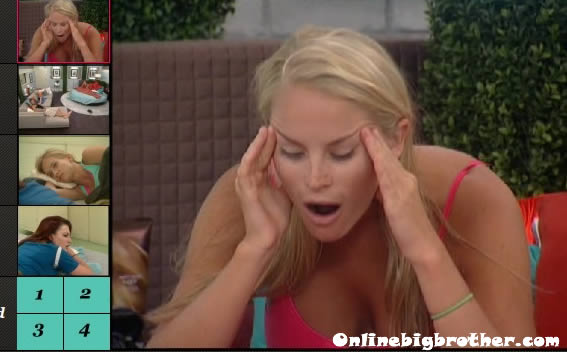 Jeff : "would you put up cassi"
Dom: "yeah of course I have no one right now I trust her but it's all messed up right now" He tries to explain that he's close to Cassi and Lawon but at this point he need to protect himself like 2 people in his group did yesterday by voting to evict Keith, "there's no showmances here". Dom: "how about this what if I threw the last HOH and you don't put me up that way that last couple gets the last golden key" Jeff: "That's a good option" Dom remind them that he never talks game to Shelly and as far as he knows she doesn't trust anyone but Cassi.
Jordan: "i'm betting it'll be a newer person that wins HOH next week"
Dom leaves.(No deal was hashed out bu they agree to keep talking).
Jordan: "I dunno he makes it sound like it's Cassi" Jeff: "of course he's going to say that" Jordan :"I don't know who to put up…" Jordan is super worried that she's going to get backdoored next week
Jeff: "They totally don't think it's shelly at all…. " Jordan and Jeff both agree that Dom has the best grip of whats going on.. Jordan says that if Cassi leaves then Dom will pair up with Dani. Jordan: "I think Dom has to go" Jeff agrees. They start to wonder why Cassi hasn't gone up to talk to them yet.
3:50pm Cassi, Jeff and Jordan
Jeff says that they are not going to put her up because of the BLANK with Rachel he just wants to know that if she puts up rachel and Brendon and they win POV then they will not back door JJ. Cassi says to her they're are no teams any more. Cassi says if I tell you that i'm good you're all good. Jeff says that she plays the same type of game that they do.
Cassi says that she would rather have JJ int he game then BR, "If I went to the finals with you all and I lost and an hold my head High then i'm all good" Jeff tells her that he's not their target. cassi says she's not going to lie to them her target is Brendon/Rachel and JJ are completely off her radar. Jeff says all he wants to do is make it to after the gold key so he's looking for a guarantee. Jordan tells her that Dom and Adam are most likely going up. Cassi understands she likes Dom but can understand. Cassi: "Just between us I swear on my father that I will not talk about this outside this room and I hope you don't say anything about my plans against Rachel because I haven't even told Dom and LAwon that" Jeff agrees.
Jordan says she's not happy with how Rachel and Por are acting and she feels that they are behaving the way they are because they are intimidated by Cassi's looks. Jordan: "Let face it your beautiful and girls like that are insecure"
Cassi says to them that if they hear anything then just walk up to her and ask her Cassi is shooting straight with then she'll work with them under no circumstances is JJ on her radar. She points out that no one in the house has the balls to put up Brendon and Rachel but she does and will.
They ask her who she will put up, Cassi says that after what is happened on thursday she wants to take out the 2 players that wronged her and those are Adam and Kalia she also wants to target Rachel because of all the BLANK she's starting. Cassi adds that she's willign to put aside rachel for Adam/Kalia if she can work something out with JJ.
Cassi tells her don't say anything about it but I know you guys don't like Brendon and Rachel but in this game it was a smart move for you.. You 2 are more like me, we're good people. Jeff says that nominations are tonight, he gets up tells Cassi good talk and walks out.
Jordan asks her if she was crying. Cassi says she was crying in the DR because she misses her Dad so much. Being in this house with Rachel and Por is just like High school and that was nasty. Jordan tells her not to worry those girls are only acting that way because she's so gorgeous. Jordan is glad Cassi is dealing with Rachel the way she is, Cassi is looking like the Mature intelligent one. Cassi says she wants to walk out this house and have her father tell her he's proud of how she acted and how she acted like a lady.
Jordan tells her that a bunch of people are coming up to her saying they do not trust cassi and they need to put Cassi up. Jordan: "I'm not going to put you up because Rachel and Porsche are jealous your so pretty" Cassi tells her that she campaigned like crazy to keep Keith but that was week one and now everything has changed.
(I see the rift already forming between Jeff/Jordan and Brendon/Rachel/Dani)
Share it YO!!
Tweet