7:15am – 9am Jordan wakes up and goes down to the downstairs bathroom to grab some stuff and then heads back to the HOH bed. 8am Shelly wakes up and heads to the kitchen to make coffee. 8:20am Big Brother wakes up the house guests. Dominic and Rachel are in the storage room. Dominic tells her that he has to work with them because he can't trust the newbies. Rachel asked Dominic if he talked to Dani. Dominic says that he has. Rachel says that she needs to talk to Jeff. Adam comes into the storage room and breaks up their conversation. Adam, Shelly, Lawon, Brendon, Dominic Porsche and Rachel are in the kitchen talking about 9/11. They talk about how crazy it would have been to be part of big brother 2 and in the house when it happened. The conversation changes to talking about basketball, and .
9:20am Lawon heads back into the have not room to sleep. Kalia, Cassi and Shelly are all in the havenot room laying down. They are moaning about how uncomfortable the Big Brother House is. Cassi comments that the people watching the live feeds have no idea how much the have not room sucks.  Adam, Brendon and Porsche are in the kitchen. Adam and Brendon are talking about ivy league schools. Porsche leaves the kitchen and Adam and Brendon are the only house guests awake in the kitchen talking about 90210 and Star wars. Shelly gets called to the diary room.

9:50am Adam and Brendon continue to talk about movies and actors. Shelly comes back in and says give me something to do …anything .. competition, clean… anything.. Adam tells her there are dishes in the sink that are dirty. Brendon and Shelly whisper by the sink about the havenot competition and how they should try and balance it out who is a havenot. Brendon says maybe they should split up people to make it more fair for others. They talk about how its too early to compete for food and say that it must be happening later. Shelly then leaves and says that she wants to make sure Lawon knows we need to split up for today. Lawon agrees its more fair to split up everyone. Brendon says that it might even be individual. Lawon says that he just wants a fair shot. Lawon thanks Brendon to be willing to split up the teams. Lawon says cool, I'm down with that. Brendon says its more for your benefit. Shelly and Dominic start pulling off the bed sheets to wash them.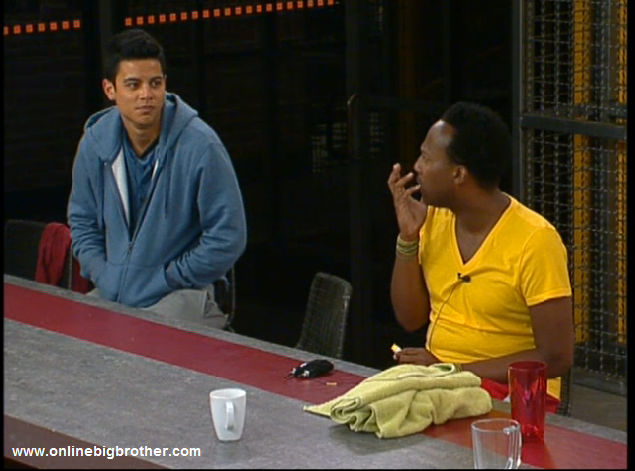 Share it YO!!
Tweet