Get the BB13 on your Android and iOS devices. Sign-up for the 3 Day Free Trial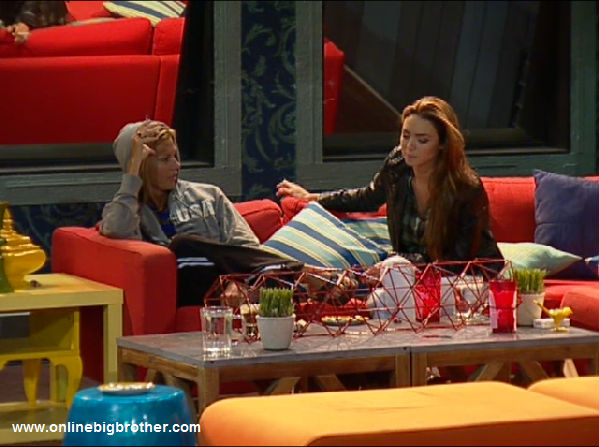 12pm Cassi and Shelly are talking in the backyard on the couches. Cassi tells Shelly that she thought Brendon would talk some sense into Rachel and that she would apologize to Cassi for what happened earlier. Cassi says but it's apparent that Rachel is not apologizing for anything. Shelly makes a comments about Dominic and Dani who are in the hammock. Shelly says that Dani is toying with Dominic. Shelly says that Keith told Shelly that Dani had a crush on Keith.
See What They Can't Show You On TV! SUPERPASS – 3 DAY Trial!

12:15am Dominic and Dani are talking in the backyard hammock. Dominic says that you guys know that I am the head of the snake over here. Dani says yeah of course, but I can pull some strings says Dani. Dominic says that he wants to work with Dani and Cassi. Dominic says that he has to trust her, she says why cause your back is against a wall? Dominic says why yes of course, but I told you last week I wanted to work with you. Dominic says he doesn't care about any of the others anymore. Dominic tells Dani that he told the newbies not to be cutting any deals with the vets before the HOH because it was six to three. Dominic says that two people didn't listen and went running to your side and Keith left. Dominic says that he can control four people. Dominic asks why would you help me, she says cause she likes to hang out with him. Dominic says that Dani is the only one who has a shot against Brendon and Rachel or Jeff and Jordan. Dominic says that they will try to get rid of Dani week seven. Dani says you think you have a lot of power? Dani tells Dominic that the vets want him out this week and not to tell anyone. Dani asks if I could pull some strings, what would you want me to do for you? Dominic says he wants to stay off the block. Dominic says that you guys obviously know that I'm the head of the snake, I'm not stupid. Dani asks Dominic if I could do something, what do you want A: you and Adam go on the block or B: you not go on the block and you vote one of your friends out? Dominic says B and says duh! Dani tells Dominic don't tell anyone I told you this and I'll know that the others want you out this week. Dominic says that he wants to know what deal with the devil he has to make. Dani says oh so I am the devil? They laugh. Dominic says that he wants Adam gone.

12:35am Up in the HOH room, Rachel, Brendon Jeff, Jordan, are talking about how the week will go now that they have the power again. Jeff says that they need play Adam and Dominic. Jordan says they will make Dominic think that Adam is the target. Jeff and Brendon agree. Jordan wonders about who's best to leave in the game. Rachel says that Cassi and Dominic together is the worst combo and the others agree. Jordan says to get rid of Dominic and Cassi won't know where to go. Jordan says it's good that Dani gets info from down there. Brendon says he knows people want Cassie out, but Dominic is a bigger threat. Jeff agrees. Brendon says that nominating Cassie and Shelly could be dangerous because Dominic and Adam could win POV and take them off and then they'd have to vote Lawon out and waste a BLANK week. Rachel agrees and then starts talking about Cassie talking BLANK about Porsche. Brendoon tells Rachel that she has to stay calm in those situations. Brendon tells Rachel that she made a mistake getting into a fight with Cassi and that she can't be doing that. They discuss how Rachel needs to smooth things over with Cassi even if she doesn't want to. Jeff says that maybe he could scare Cassi by telling her that because of the earlier tiff with Rachel, she could have gone up on the block but they're not going to nominate her because they're going to keep their earlier word that Shelly and Cassi would be safe. Jeff says that later Rachel can smooth things over with Cassi. Rachel likes the idea. They discuss how they totally have Kalia and Shelly on their side and that they can trust them. Jordan says that both Kalia and Shelly want to go all the way with them.
TRY the out the for FREE! SUPERPASS – 3 DAY Trial!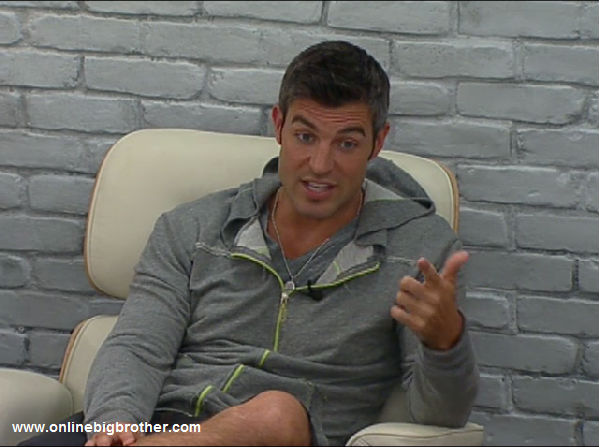 1am Up in the HOH room, Adam joins Jeff and Jordan to talk. Jeff says alright, let's get down to business. Jeff asks him what happened. Adam says that his competitive side got the better of him, that he was flattered by the offer but that he came there to play a game. Adam says that Keith would have been a bigger target to give him another week. Adam explains why he voted to keep Keith. Adam says that he made peace with Porsche. Jeff asks Adam ..so where is your allegiance/alliance now? Adam says that the alliance he thought he had, is obviously not there. Jeff says that he wants him to see that it's not old versus new. Adam says that he fell for the other people's word. Adam tells Jeff that he knows that the vets can play the game better than the newbies can. Jordan tells Adam that they'll keep him safe if he goes with them. Jordan says she wants to know he won't flip on them the next week. Adam says that if he is nominated and is still safe, he will vote how they want next week. Jeff tells Adam that he's going to tell Dominic he's safe, but that it is Adam who has the numbers to stay. Jeff says Adam telling him straight up that he wasn't going with them last week showed he had balls and that he respects him for that. Jeff says that he wants Adam with them because of that. Adam says he will owe them a lot if he gets the golden key and will give them what they want for the next few weeks. Jeff said that they wanted to all just get to the jury house stage and then just play real Big Brother when the golden key twist is over. Jordan agrees that they just want to make jury. Jordan swears to Adam that they have the votes to keep him. Jeff again saying he will tell Dominic he is safe, but it's really Adam who is safe. Jeff talks about how Cassie and Dominic are a threat. Adam agrees that them being together was a bad game move for Dominic and it put him in a bad position. Jeff asks Adam to keep this between them and not tell anyone. Jordan asking him to act surprised when he's nominated. Jordan tells Adam they feel they can trust him over Dominic. Jordan tells Adam that she plays honestly and is dead serious. They tell him again that he is safe. They hug and Adam leaves the HOH room. Jeff asking Adam to not tell anyone about their talk.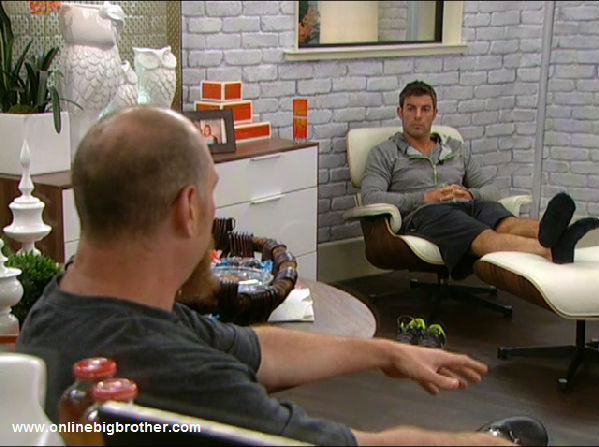 1:30am Jeff, Jordan, and Dani in HOH room talking. Jeff tells Dani the plan to nominate Adam and Dominic and then to vote out Dominic. Dani says that she sees their point, and then starts defending Dominic. Dani says that Dominic has no clue about the game. Dani says that Dominic will come to them and try to make a deal. Dani says Dominic realizes he has no power now. Jeff says he still has Cassie. Jeff tells Dani about his conversation with Adam in HOH. Jordan says plan is to nominate Adam and Dominic with Cassie as the replacement target if the POV is used. Jordan says she feels better if Dominic goes though. Dani says she doesn't care who goes, but thinks that they can manipulate Dominic the easiest. Jeff says he sees what she's saying, but is looking at the numbers. Jeff says that taking Cassie out would leave an extra person for the newbies because Shelly couldn't play for them and taking out Dominic would take two players out. Where Dominic is gone and Adam doesn't play because of the golden key. Dani asks about a deal with Adam. Jeff says he has already talked to Adam. Dani questions whether they know for sure Shelly voted with them. Jeff and Jordan say yes. Dani says she trusts Kalia more then Shelly.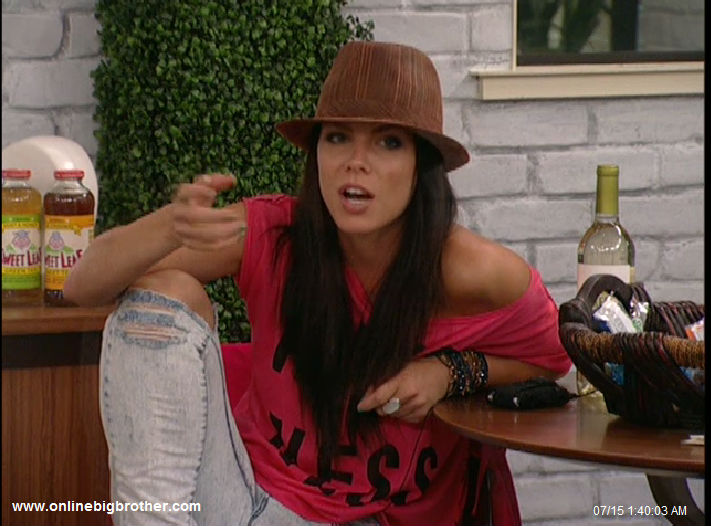 2:20am Rachel and Dominic are in the kitchen. Dominic asks Rachel if the nominations are in the morning or at night. Rachel tells Dominic that he should talk to Dani, Jeff and Jordon. Dominic says that he is going to do that tomorrow and that he has too. Dominic asks if Jeff and Jordan are up? Rachel says that she doesn't know but that he should talk to Dani. Rachel leaves to go to the bathroom. Dominic whispered to himself saying that maybe he does have a shot.
24/7 UNCENSORED Big Brother 13 !
SuperPass Live Feeds – FREE 3 Day TRIAL!
3am Jordan and Jeff are up in the HOH. Jordan says that she is happy that she can spread out in the bed now and have her space. Jeff says that he is glad they don't have to listen to the snoring. Jordan tells Jeff she was so nervous today, and that she thought Jeff would be mad if she didn't win and he tells her he wouldn't have been. Jordan says that she just wanted to contribute to her team. Jeff tells her she did and now he and Brendon need to step up. The conversation changes to talking about the competition today Jeff asks Jordan if she believes in positive thinking now? Jordan tells Jeff that she does… Jeff tells Jordan that no matter what happens in the game they can't get down and out, they need to stay positive. Jeff says that soon enough we'll be down and out. Jordan she knows.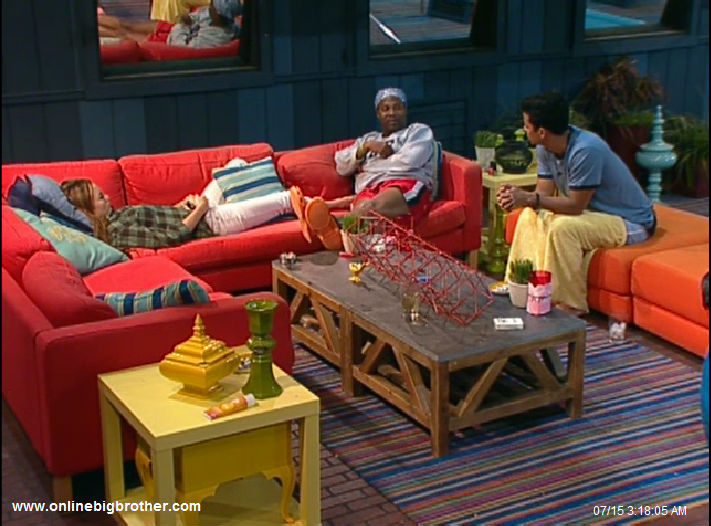 3:20am Dominic, Lawon and Cassi are talking game in the backyard. They talk about how they think it will be either Dominic and Adam, or Lawon and Kalia, up on the block. They says that its all based on whose deal is sweeter. They talk about how Dominic or Lawon will have to fight for veto. They say they don't trust Dani, and says that they think she's a spy. Dominic says that Dani is useful if you want to pass information on, that's why he talks to her. Cassi says she was explaining to Dani about what happened with Rachel Cassi says that you can tell Rachel this, to let Dani know that she was on to Dani. Cassi starts bashing Rachel. Cassi and Lawon say that she didn't change her image this like she went in saying she wanted to do. Cassi says that she doesn't see what a smart, ambitious guy like Brendon sees in her. Dominic says Rachel really loves Brendon and that she is the fun party girl. Dominic says he will be talking to Jeff and Jordan. Cassi says don't be surprised if they try to get a deal with y'all, and if it works for your best interests, take it, but they are cutting deals all over the place. Dominic jokes that he and Lawon would be partying in LA soon. Lawon says that he is not to count him out yet, he was going to bust his ass. Dominic says that he wants to know what they can bust their ass doing. He thinks this was unfair, bringing in three couples who knew each other already against the eight of them who don't trust each other. Cassi suggests that Dominic and Lawon play up their charisma, that they are people who you would want to spend summer with. Cassi brings up again the confrontation she had with Rachel after the HoH about the sides and not liking Porsche.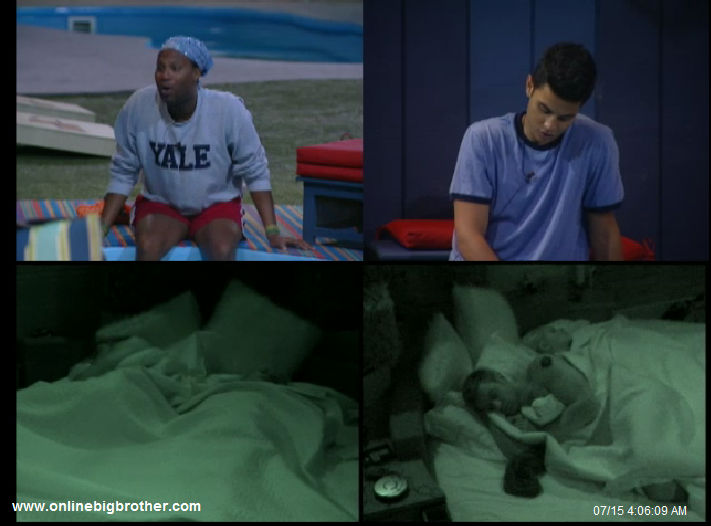 4am – 4:30am Dominic says that they just had a two hour BLANK session and that he loved it. Dominic says that he doesn't blame the vets but that he blames the newbies for not sticking together. Cassi and Dominic agree and think that Keith was the worst player. Dominic says that he wants to BLANK slap him when he sees him at the wrap party for being such an idiot. Cassie does her impression of Keith last night telling her that it was his own fault, he fell for a girl. Dominic saying that people shouldn't try and hook up in the house, and that they should wait until they're out of there but Keith had to go around and hit on every girl in the house. Cassie starts talking about his Keith's Angels strategy. Dominic says that all he had to do was not be stupid. They talk about how now all three of them have targets on their backs. Dominic says that the three of them have the balls to put up one of the vet duos. Dominic says that Adam is dead to him, completely dead to him. Dominic says he will talk strategy to him and act normal but he'll throw him under the bus any chance he gets. Lawon thinks that if him and Kalia are put up it is to back door Dominic and Adam. Dominic tells them that he wanted Lawon and Cassie to pair up on the opposite team from him during the upcoming have-not competition. Dominic says that he wants it to be himself, Adam, Brendon and Rachel on a team so that can throw the competition and sleep next to Brendon and Rachel to make them all miserable for the week with the slop and his loud snoring! Dominic says that he will make them all bacon every morning just to make Adam crazy. Cassi says that they haven't done anything together in the diary room yet. Dominic tells Cassie and Lawon that he hasn't talked BLANK about either of them. Cassie says that it is getting to the point that she doesn't really like hanging with Dani anymore because she feels like she has to mind her p's and q's when she's around her. Dominic agrees and says that Dani is a spy. They head inside and start getting ready in the bathroom. Dominic asks Cassie how she ended up with the best partner? Cassie says that she was just lucky. Dominic says that he wishes him and Lawon were partners. Dominic says that he is going to feed fat boy to the wolves. Dominic says that he predicts that him and Adam are going to have a fight soon. Cassi, Dominic and Lawon head off to bed…..
ReWatch all drama on FLASHBACK! FREE 3 Days TRIAL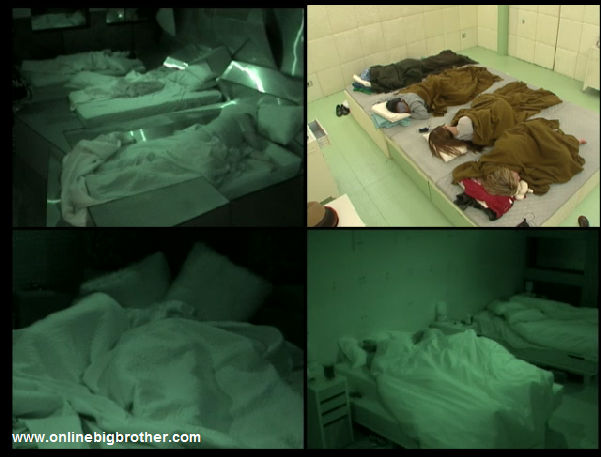 6:45am All the are still sleeping..
Big Brother 13 Spoilers POLL CAST your VOTE!
BB13 Live Feed Screen Captures , These are being updated every 10 minutes all 4 Cams 24/7
Follow: @BigBspoilers and @Dawgsbigbrother on Twitter for recent crazed out spoilers. Theres also our Facebook page.
If you like this site and want to help us keep it running please consider donating, Your donations go directly to paying the server and bandwidth fees. Donate Link
Share it YO!!
Tweet