8:35pm Lawon and Adam Backyard Lawon says he remembers Adam telling Keith to stop playing the game so hard. Adam laughs says you can't play the game like that from the get go it always ends badly. Adam: "my goal today was not to eat JElly Beans… the blessing and the curse is I love Jelly beans and beef jerky.. oh man i'm starting to get hungry again.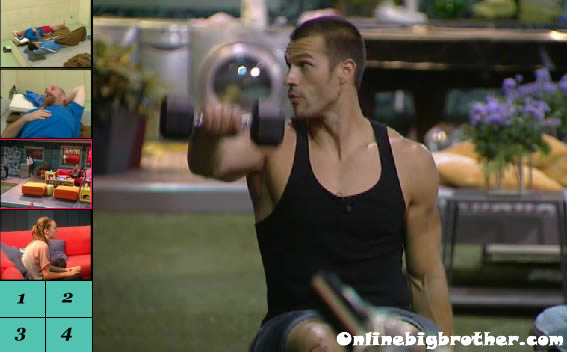 8:41pm Backyard Working out Dani and Brendon Dani is telling him that Jeff and Kalia are getting really paranoid about BLANK. they seem worried that Rachel is going after them. Brendon: "this is coming from people that were directly schemeing with cassi". Dani says that perception is very important in this game. Brednon agrees, says he's been trying to reassure them. Brendon: "Jordan is BLANK blind… Cassi and Kalia are Jordan's best friends as soon as she gets HOH cmon…its doesn't take rocket science" Dani thinks Kalia and Jordan were a little close before she won HOH. Brendon reminds her that sooner or later everyone will be scheming about each other. Brendon is happy that Kalia is staying around she pisses everyone off and is useless, "Por has the mentality of a 13 year old she honestly thinks she's a good manipulator" Dani laughs says Por is a pathological liar, she's dumb and she lies about stupid random stuff it makes no sense.
Brendon: "Kalia is going to
Dani and breifly talk about how the split between the repeats will go. dani: "It's going to be which side has it's first minion to make a move" Brendon agrees.
8:55pm HOH Jordan and Jeff They are talking about rachel putting them up.
Jeff: "I swear I will ruin Rachel if she backdoors us I will cuase such a noise she'll cancel her twitter account.. I think we're getting a little out of cotrol here" Jrodan agrees. Jordan is regretting putting up Cassi she's tinking that maybe they should of put up lawon and gotten rid of him. Jeff says there is so many what ifs going on you just need to stick with what they did. Jordan runs through some scenarios if Lawon and Kalia go up and Adam uses the POV they could go up. Jeff thinks they can trust Brendon and rachel (Jeff better hope on getting a wizard power these 2 are a bit behind the curve)
9:06pm Dani and Dom Dom says that both sides are already fighting over where dom and Dani will play. Dani :"that's what we want" Dom: "yeah but it's stupid" Dani: "they're both stupid thats good for us"
Dani asks him if he saw their seasons both of them? "Jeff and Jordan got no game their strategy was terrible" (talking about JJ i think). Dom says that Adam wants to have a secret alliance with him, Shelly and Dani. Dom: "adam is neither here nore there I don't think he know what to do… either way you will not go up" (it was Dom that asked Adam that). Dom says he wants to keep Adam until after Por goes he wants him in the jury.. Dani doesn't know if she wants Adam or Lawon. Dom tells her that Rachel is telling him there not putting him up. Dani says there's a chance they'll have no choice. Dani: "my butt itches like my crack" (Is it too late to jump onto Team Dani)
Bring together all the onlinebigbrother.com spoilers right to your browser using our BB13Spoilers ToolBar
Share it YO!!
Tweet