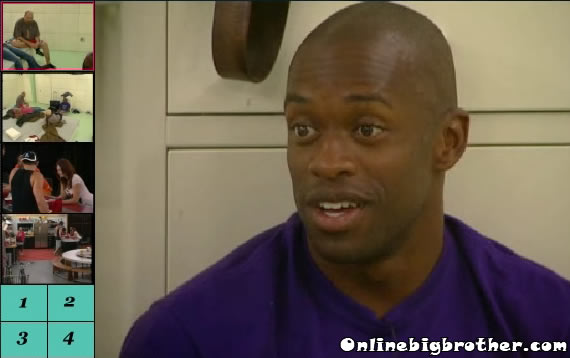 7:10pm Havenots Keith, Shelly and Cassi Keith is filling them in on what he knows about the house. He's sure he's going home so whatever he has to saw is just to help them out. He starts of by telling them that if the repeats win HOH then Shelly and Cassi are going up. Keith: "Cassi.. i'm sorry hun but they want you to go home". Cassi knows they are in danger but wonders why they would go after her and not DOM, Keith flat out says Doms is making deals with them or at least is trying to. Cassi asks about Kalia and Lawon, Keith says theres no way the repeats will waste their HOH on Kalia and lawon those 2 are not a threat to them. He point out that Kalia has been up in their face for the past week and all she does is sleep and eat.
If one of you new players win they are going to try to get yo to put up Kalia and LAwon and take Lawon out. He warns them that Dom is making deals with the repeats. He rehashes hearing Dom talking to Jeff and asking Jeff what he has to do to be safe and make jeff trust him that he's not going to be put up. This is after Jeff told him that he thought Dom and Adam will be targets of the repeats. Keith: "He (dom) showed us his cards with that.. he could of just said if that's what the way you feel than so be it" Shelly tells cassi that she heard some of it to. Keith continues to warn them that it's a waste of time to make deals with those people at this stage it's only week one the only thing they can do is keep winning HOH or POV. Adam joins them
adam joins them HI guys. They ask him were Dom is he says he upstairs playing chess with Kalia. Adam is telling them they are in lock down for 30 hours they may let them out for a bit. Shelly says no they won't if theres a game out there and they're working on it nobody is going out.
Keith: "Shelly .. Cassi you gotta win it and when you do you gotta put somebody up… I sure wish I was not on the block" Kieth says the hard thing for the next HOH is to put up a repeat the wasy route is to put up Kalia and Lawon this week then a repeat the following week (LOL that's if you can win back to back HOH) Adam says no way they cannot get rid of a newb cause that will kill their number advantage. Keith: "Exactly you need to take out one of them (repeats) but will anyone have the guts to do it" they count their numbers Dani, Jeff, Jordan, Brendon, Rachel and porsche SIX. Keith tells them that Porsche hasn't packed her bags yet she so confident that she'll be staying and rightfully so.
Dani comes in BUZZ KILL game talk ends.
Dani: "its like so weird during my season they would tell us what was going on"
Adam: "its big brother they can do whatever they want
Daani: "Well obviously "
Adam: "Big brother can you please be nice to me"
Cassi leaves and Keith tells them all that Cassi and Dom are siding with the repeats. Dani isn't sure that is happening she thinks that Keith has the votes right now and he shouldn't worry. feeds cut
7:40pm Havenots Cassi and Dom Dom is asking her what is wrong she looks devastated. Cassi says that the newbs are so stupid they are all so scared to stick up against the repeats we have the numbers this should be easy. Dom: "if you me shelly and lawon win HOH one of them are going up if Adam wins I'm sure I can get inside his head to put them up" Production tells them that the lockdown is over. cassi saying that porsche is getting under her skin. Dom agrees says he hates POrsche… feeds cut
8:04pm backyard Keith and Dom in the hottub. Cassi, lawon, Dani, rachel, Porsche on the couch the rest are practicing. They couch bunch is looking round the backyard trying to figure out what has been changed. Shelly points out a bunch of the cameras have been moved and some have been added. My man Adam starts working out he fills 2 jugs with water and starts pacing back and forth while curling the jugs. Adam says this is what he did in the hotel with bags of pop cans. Jeff blurts out you drank the pop? Adam says no he filled the bags with pop and curled them.. there was nothing else to do in the hotel room.
8:30pm Shelly and Porsche on the couch Shelly is commenting that Kalia is pretty much hogging the golf game. Shelly: "I thought we're only doing 10 shots she's done 16 now" Porsche tells her to go say something. Shelly says no if it doesn't bother the other people it doesn't bother me.
8:50pm Dani, Cassi and Rachel They're laughing about how Cassi says pineapple. Jeff is in the bathroom, he was taking a shower and they heard him Hock a loogie while in there. They look outside and notice Adam still workign out with whatever he can find since production took away their weights for the HOH comp setup. Cassi: "Good for him for losing all that weight" Rachel: "Yeah and being so committed to keeping it off" Dani: "Oh my god I can't believe they took our weights" Rachel: "All dani does is complains OH my God I have the golden key it so sucks.. Oh my god they took my weights… Oh my god theres no food.." dani: "No I don't". (Keep your eyes on these 2 cause the tensions building it still may take a couple more weeks but sooner or later I'll bet a bottle of Canadian beer these 2 are going to fight)
Share it YO!!
Tweet