Get the BB13 on your Android and iOS devices. Sign-up for the 3 Day Free Trial
10am Adam and Shelly are talking in the backyard about the votes this week. Shelly tells him that she has his back. Adam reassures Shelly that he hasn't heard anyone say anything bad about her. Adam tells her that if one of them from their side wins, we will see if they have the balls to put up a vet. Adam and Shelly talk about how neither of them have promised Porsche their votes when she came campaigning. Meanwhile, Brendon and Rachel are having a fight in the hammock. Rachel forgot to make sure their car was registered in California and that she forgot to pay a ticket. Rachel says that she is a lot more laid back than him. Brendon says yeah thats good for a party but not for making sure we don't get charged extra money or making sure bills are paid on time. They start to make up. Brendon tells her that he is glad she is all talk and no bite. Rachel says thank god you are easily manipulated and controlled. Brendon says WHAT?! Then a plane flies over head and he yells GET ME OUT OF HERE!!
24/7 UNCENSORED Live Feeds! FREE 3 Day TRIAL!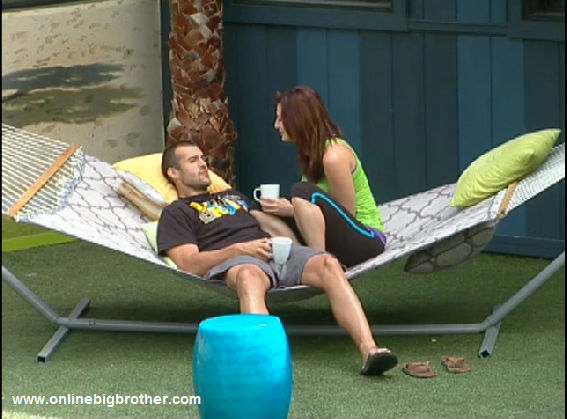 10:20am In the backyard Adam and Shelly are still talking game. They are talking about how Cassi has been asking who should go home. Shelly and Adam say that they both told her that they didn't know. Shelly warns Adam not to say anything that could come back at him. Shelly says its best not to ruffle anyones feathers. Shelly says both Dominic and Cassi will protect each other before they protect them. They talk about their situation and how it can all change in an instant from week to week. Adam tells her he doesn't want HOH this week. They wonder where Porsche's loyalty will be at week 10. Adam heads inside to shower. Brendon leaves Rachel to go talk to Shelly again. Brendon tells Shelly again that they want her to tell the newbie's that the vets are voting out Porsche and then at the last minute they will vote out Keith. Brendon says that he can't wait to see their faces when Keith gets voted out. Shelly says okay. Brendon says that all they need is five votes. They talk about how the newbie's are playing the game all wrong. Brendon says that he doesn't know what they are thinking. Shelly says they are trying too hard. Brendon tells that Cassi, Dominic, and Keith are a three headed snake and they are going to cut the head off. Brendon tells Shelly that he called it about Cassi and that she should have kept her mouth shut. He says that she talks too much. They then compared her to a used car salesman. Shelly says that its all about Storm, Norm, Perform. In the beginning people are storming, then they norm …find out where they are and at week 10 you have to perform. Shelly talks about how the young'ins think they got game. She says they are gonna be shocked when whatever it is they are planning does not work. Brandon says that you have to play this game on several different levels, ..by the hour, by the day, and by the long haul, and how the next HOH is gonna determine a lot. Brendon heads inside.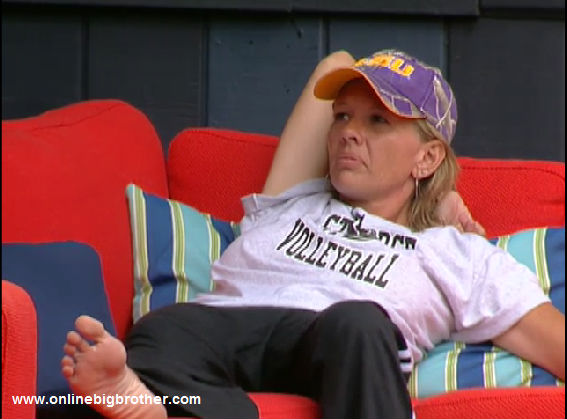 10:30am – 11am Keith heads out into the backyard to workout. Shelly asks him if he is sleepy? Keith says that he wants to stay and asks her again if he has her vote. He says that he can tell her anything. Shelly doesn't really answer back and then changes the subject to his workout clothes and where he got them. Keith then jumps on the elliptical. Shelly helps him out with his laundry then heads inside. Brendon and Rachel are making breakfast, Shelly is getting ready for the day in the bathroom, and the other are still sleeping. Keith finishes up on the elliptical and goes inside to take a shower. They are on an indoor lockdown. Shelly comes into the kitchen and asks Brendon and Rachel how the others can sleep ALL DAY!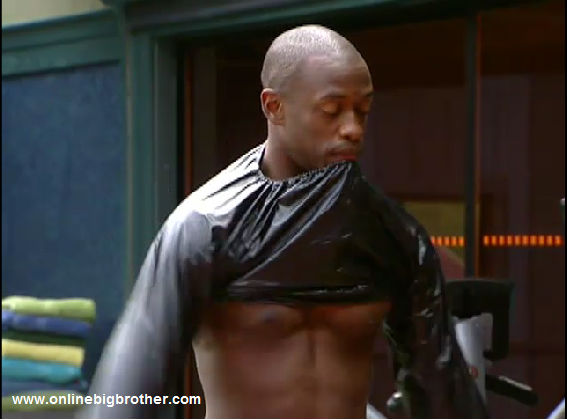 TEST out the Live Feeds for FREE SUPERPASS – 3 DAY Trial!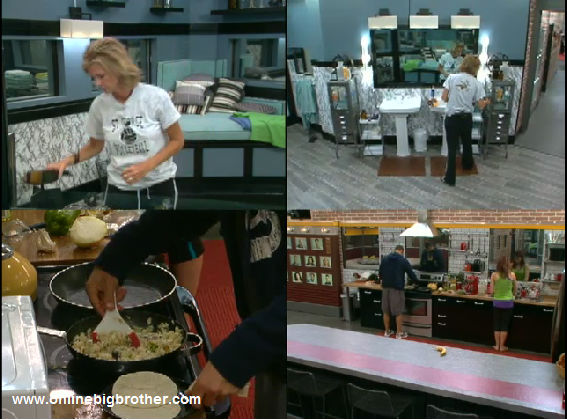 BB13 Live Feed Screen Captures , These are being updated every 10 minutes all 4 Cams 24/7
@BigBspoilers and @Dawgsbigbrother on Twitter for recent crazed out spoilers. Theres also a Facebook page here .
Share it YO!!
Tweet