Get the BB13 on your Android and iOS devices. Sign-up for the 3 Day Free Trial
7:15am – 8:30am Shelly wakes up and goes to the kitchen to make coffee. All the other are still fast asleep. Shelly has her morning coffee, then starts cleaning. She does laundry, and then starts cleaning up the backyard. Someone in the house just farted really loud twice. Gross! Shelly is now sitting on the backyard couch having a smoke after cleaning for the last hour. After a while, Shelly then heads over to the hammock to lay down.
24/7 UNCENSORED Big Brother 13 Live Feeds!
FREE 3 Day TRIAL!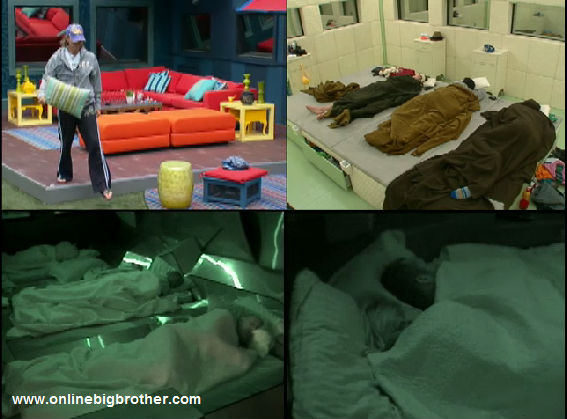 8:40am Big Brother tells the houseguests it's time to get up for the day. When the live feeds come back, Adam is in the backyard talking to Shelly. Shelly tells him that the hardest part of being in the house is missing music. They talk about how bad the havenot bed is on your back. They talk about the back meds the take and brought. Adam says happy birthday Chris. Shelly asks who Chris is and he says its his friend down in Kakalaka. Brendon and Rachel come downstairs change their batteries and Brendon heads out into the backyard. Brendon heads over to sit by the hammock with Shelly. Brendon asks if people were talking last night. Shelly says no. Brendon says that he is worried about being put up. Shelly says they are talking about wanting to put up Jeff and Jordan. Brendon says he is worried about being back doored. Shelly says that no ones talking about that. Brendon what's them (newbie's) to be shocked this Thursday. He says that they really need to win HOH this week because this week is how the numbers can flip. Shelly says that everyone of them are scared of Brendon and Rachel. Shelly says that she would never put up Brendon and Rachel. Brendon says that he doesn't trust Dominic, Cassi or Lawon. Shelly says that they won't stop talking. Brendon says that they wouldn't go after her (Shelly) only Cassi. Shelly says thank you. Shelly says that they come to her for counselling …like mothering advice. Shelly says that she will not give them an answer. Brendon says that he is more than happy to give some false info and see how far it goes. Brendon says that he will NEVER trust Cassi or Dominic in this game. Brendon says that if the newbie's put Brendon and Rachel on the block he will pay tribute to Dick and go nuts. He says he will bring out the pots and pans and just make their lives hell.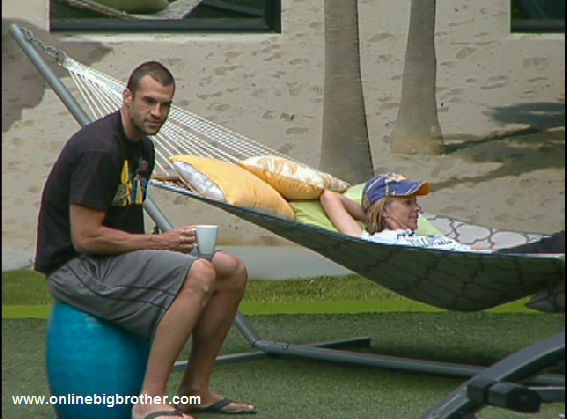 9:10am Rachel and Dani are up in the HOH bathroom talking about upcoming competitions and how the week will play out. What happens what days and when and how this week is all messed up compared to how it regularly goes. Dani says that she is going back to bed. Rachel stays in the HOH bathroom putting on her makeup.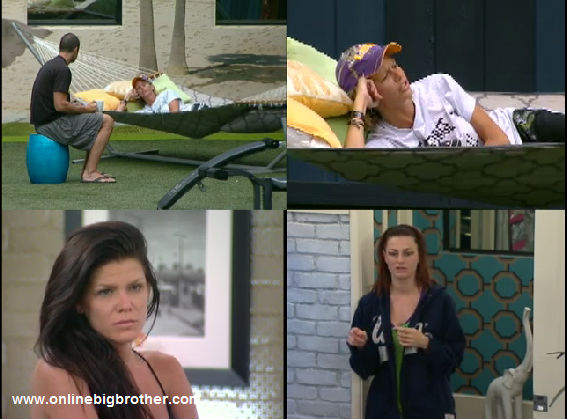 Watch the first few days of Big Brother 13 for FREE!
3 Day TRIAL!
9:20am – 9:50am Shelly and Brendon are talking about Brendon and Rachels relationship. They talk about the fights they have and how they have gotten better at understanding each other. Brendon brings up his internet cheating and how it really tested their relationship. Brendon says that it would never happen again and that he regrets it. Shelly says yeah everyone has their moments of weakness and need validation. She says that your name is know around the world and they will try and exploit you. Rachel comes out to join them. Shelly start talking about her husband Tony and how similar her and her husband are to Brendon and Rachel. They talk about how Tony and Brendon are detailed orientated people and how Shelly is impulsive like Rachel . Meanwhile Adam is working out in the backyard. They talk about grocery stores like Costco, Dollar General, and others.. Rachel starts talking about their wedding registry. She talks about how her and her sister got engaged the same weekend. Brendon and Rachel talk about when they will have their wedding. They say that they don't have any dates set yet but were thinking maybe on Brendon's two week break at Christmas. Rachel says that they don't have the resources right now so it would be small …maybe a destination wedding. The conversation changes to talking about the Twilight and Harry Potter movies.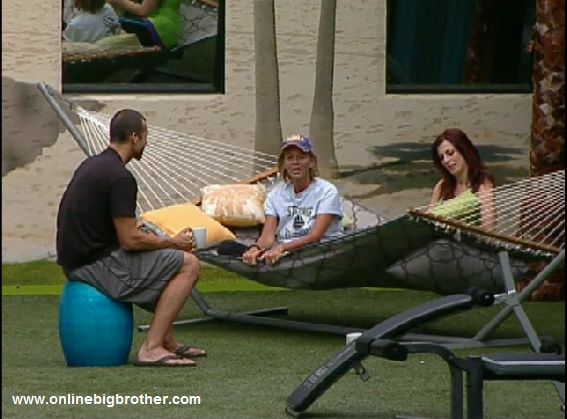 SEE what they CAN'T show you on TV! 3 Day FREE Trial
BB13 Live Feed Screen Captures , These are being updated every 10 minutes all 4 Cams 24/7
@BigBspoilers and @Dawgsbigbrother on Twitter for recent crazed out spoilers. Theres also a Facebook page here .