Get the BB13 live feeds on your Android and iOS devices. Sign-up for the 3 Day Free Trial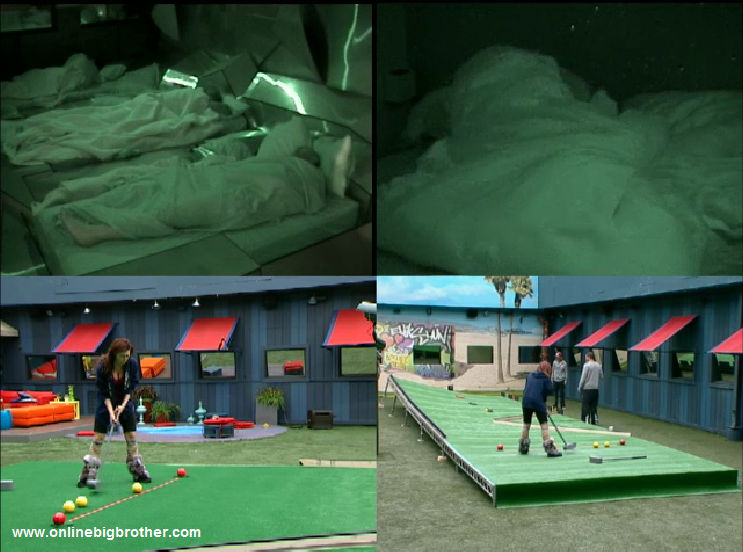 8am Shelly, Brendon, and Rachel are out in the backyard playing the mini golf game trying to get better. They set up bean bags as obstacles because they think the actual competition will be similar. Brendon gets mad and tells Rachel to take it more seriously. Brendon asks Shelly who she is most afraid of in the house. Shelly says that Cassi is talking to much and next it would be Dominic. Shelly says that Kalia is getting annoying with all her complaining. Brendon complains about how Cassi was hogging the golf game last night. They remove the bean bags because they are worried the other houseguests would see. Rachel starts to sing and Brendon yells at her to stop .. if she wants the other houseguests to wake up to Big Brother announcements …then thats a great way to do it! Shelly asks what did Porsche promise for being able to stay and get a golden key? Brendon says that she is going to vote the way we want. He says that he doesn't like her and that people will be so annoyed with her, they'll want her out ..no one trusts her. Brendon says that this Thursday they'll let it slip Keith is going home and then they can watch them scramble. Rachel doesn't want to let the newbies know. Shelly says that the newbies are going to go nuts and that they already said they wont be strong armed and will come out and tell the vets that they have the numbers to vote out Porsche. They all laugh. Let them think that! Shelly tells Brendon and Rachel that she will do whatever the vets want. Brendon says that he doesn't trust Adam, Cassi or Dominic.
TRY the out the Live Feeds for FREE SUPERPASS – 3 DAY Trial!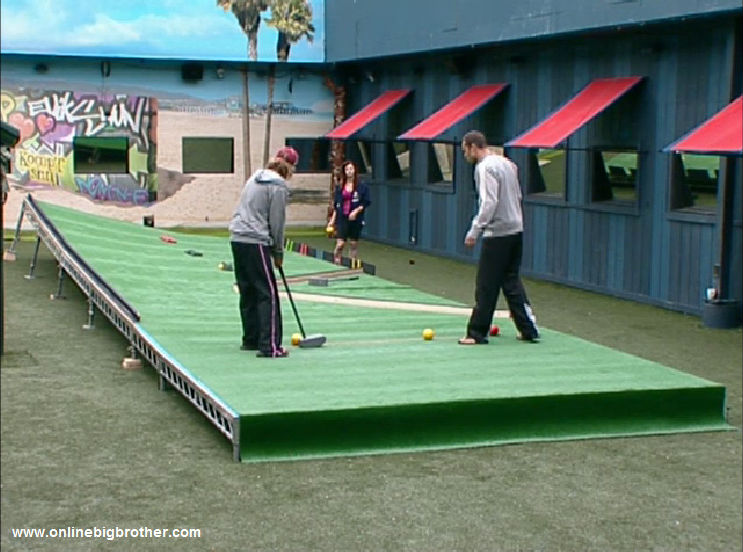 8:35am – 9:15am Shelly is playing while Rachel and Brendon collect the balls for her. Rachel throw a ball at Brendon when he's not looking and it hits him. He freaks out at her and tells her to stop throwing them at him and just roll them. Rachel says shes sorry and that she thought he was looking. Rachel goes back inside. Shelly tells Brendon that they 100% have her loyalty. Shelly asks Brandon how he will feel if Rachel gets voted out. Brendon says that he will be a lot stronger this year. Brendon says that Shelly has a good chance of winning this HOH. Brendon says that then all four of us vets could compete for the next. Shelly says yeah ..and they are going to be surprised when I put up one of them and the see that I can think for myself. Brendon says that they only think one dimensionally.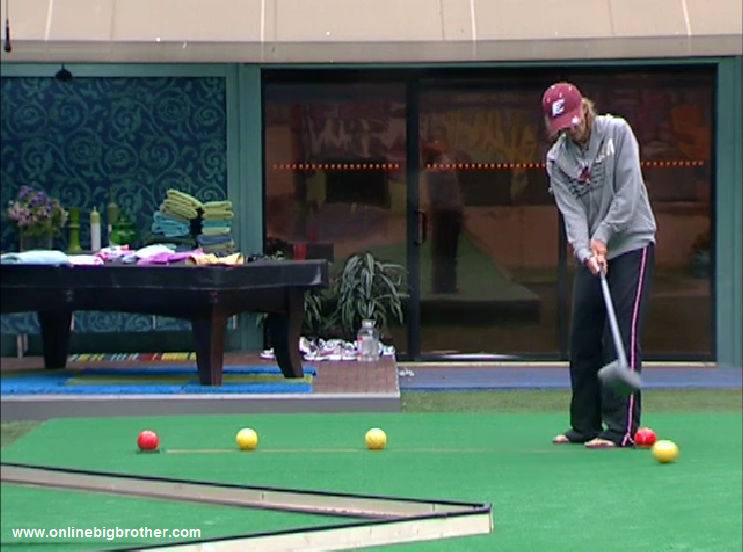 Big Brother 13 Spoilers POLL CAST your VOTE!
BB13 Live Feed Screen Captures , These are being updated every 10 minutes all 4 Cams 24/7
@BigBspoilers and @Dawgsbigbrother on Twitter for recent crazed out spoilers. Theres also a Facebook page here .
If you like this site and want to help us keep it running please consider donating, Your donations go directly to paying the server and bandwidth fees. Donate Link