Big Brother 13 Live Feeds Can be watched on your iPhone and Android Mobile devices sign up -> Watch Big Brother 13 on Your iPhone or Andriod Phone
9:30pm HOH Kalia and Dani Dani is explaining what she said to Shelly. She told Shelly Straight up that her target is Brendon she doesn't want Shelly it be mad she wants shelly to win POV. They mostly chit chat a bit light bashing like this about Rachel: "She's your little dumb sister that you love to death"
9:40pm Backyard Shelly and Bacon Adam tells her they need to win POV tomorrow, "I'm telling you now bust your ass tomorrow girl" Shelly is talking like she's quitting the game. Adam: "last week I said 2 balls short this week I'm 2 balls to the walls"… Shelly just sitting there..
Adam: "You Ok? "
Shelly: "No i'm not actually.. I'm just trying to figure out what to do.."
Shelly : "I'm not play a game with People like rachel runing around saying saying lies"
Shelly to adam: "Out of everyone in this house you are the only one thay I can trust"
Shelly: "It's stupid adam you can help people as much as you can and you get kick in the teeth" (WTF she's still shooting straight)
Adam goes on and on about nobody listening to Rachel right now and for Shelly to know give up.
Jeff joins them: "Shell don't get so worked"
Shelly: "I'm not worked up about what you think about"
Shelly:" I'm worked up about Rachel saying that to Jordan" Rachel told Jordan that Shelly offered Rachel a final 3 in teh event that Jordan got evicted 2 weeks back.
Jeff: "Don't even talk like that nobody beleves her"
Shelly asks if nobody believes her then why didn't Jordan mention it to anybody. Jeff swears they didn't think it was a big deal that's why they never mentioned it.
Shelly: "I have played loyal to a fault in this game and have done everything I can to move forward with my team" Shelly starts to cry.. says she's done.
Shelly goes on and on about rachel how much of a liar she is, "I want to Choke her"
Shelly starts talking about quitting , it's really into this type of game anymore (you got caught) Jeff really trying to get her to stop talking like that, they need her to focus nobody cares about rachel, "I know where BR are at, I know Rachel will sell you out in 2 seconds"
Shelly shoots straight to Jeff tells him that if she makes it to final 3 with JJ she'll throw the game for them because she loves them that much. Shelly gets up to put away the window shades near the hammock, "I went to that damn interview thing as a joke.. .."
If you like this site and want to help us keep it running please consider donating, Your donations go directly to paying the server and bandwidth fees. Donate Link
10:04pm Hammock Rachel and BRendon
Rachel: "Brendon… you should of heard some of the things Porsche told me that Shelly has been spreading" Brendon: "I don't believe Porsche"
Rachel brings up that she heard it from Dani and Kalia that Shelly has said these horrible things.
Brendon: "But you understand those 3 are working together" rachel brings up that she heard Jordan and Shelly talking about a final3. Rachel says she warned Jordan last week about Shelly.. She adds that itls "so obvious" that JJ have something with Shelly. rachel was wondering today why JJ trusted Shelly and because it was apparent that shelly was the on working both sides.
Bring together all the onlinebigbrother.com spoilers right to your browser using our BB13Spoilers ToolBar
10:30pm Jeff, Brendon and Adam playing pool. Rachel by herself in the hottub
10:45pm DK Hammock Talking about how they only have evicted 4 people in the house and how full it still seem.
They talk about how miserable Jordan is this season. Kalia brings up that Jordan told her she cried in the DR. Kalia: "Jordan says I'm so ready for this season to be over" Dani: "Who said that" Kalia: "Jordan"
Dani: "Looks like Jordan and Shelly are pretending they are not talking.."
10:55pm Shelly is hunched over on the couch drinking a 2L of coke and Smoking. rachel siting in the hottib staring at Brendon playing pool.
11:25pm quad Chit Chat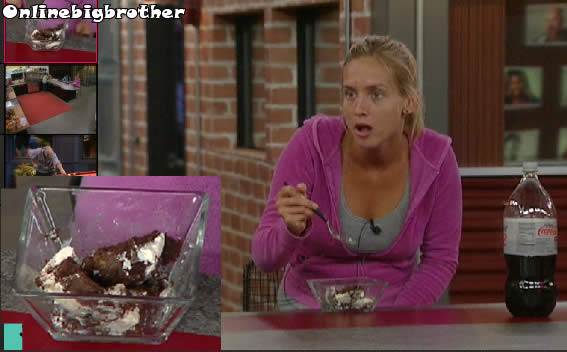 12:02AM DKP eating frozen cake talking about being pre menstrual
Check out the Big Brother 13 Polls
Share it YO!!
Tweet