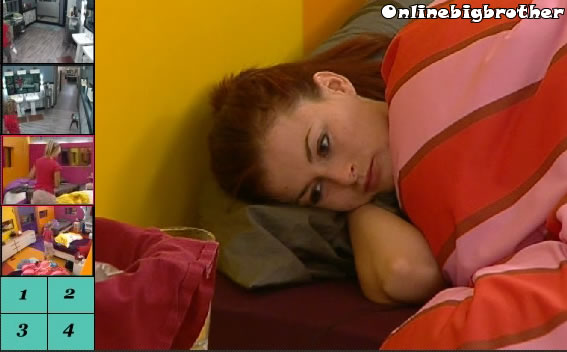 2:57pm Bedroom JR Jordan: "nominations are at 5.. right.. so I better start getting ready can't look like shit all the time.. Rachel: "I don't care. anymore"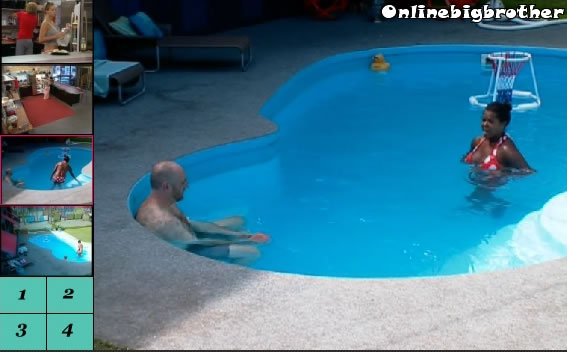 3:07pm Pool Kalia and Adam Kalia is saying when she makes a deal she's stands up for it. She says the 2 deals she's made are with dani and JOrdan and she's kept them right to the end. This is what she wants to. She brings up that SKAP will get together in the HOH and agree to a final 4 and shake on it. Adam says this is what he always wanted to be in a final 4. KAlia adds that she didn't want to make a million deals in this game she wanted to make a few and stick bu them. At this point in the game Kalia feels she can say to people that her deals can be trusted. Kalia: "I genuinely believe the remaining 4 people (SKAP) here can be trusted" Porsche joins them..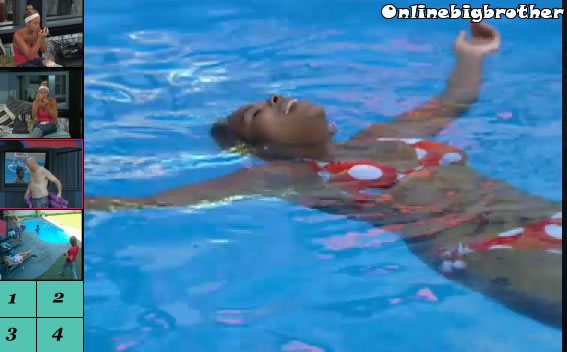 (3:16pm cam 3) They start talking about how Jeff talks to Jordan. Adam mentions during the "ball" Comp Jordan was trying to help Jeff while he competed after when he didn't win he got mad at her for talking to him during the comp. Jordan had defended herself telling him he had asked her to help him after which Jeff yelled at her to "shut up". Kalia brings up another time when Jeff was yelling at jordan for not helping him, "No one was telling me were I was..
They talk about the looks on Rachel and Brendon's face when they didn't get picked for the POV.. Adam mentions how the first bit was strange but it really happened… Adam is sure the people at home think it's rigged but it really happened.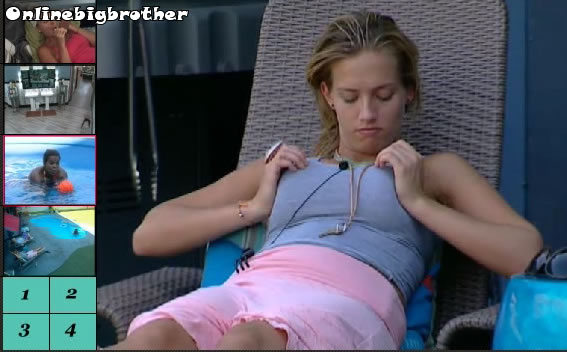 Shelly joins them
They start talking about rachel and how her butt is "flapping out". Kalia says that the Head of Household camera was filled with rachel pictures. Porsche mentions that Dani had to delete a few because they're was so many that one week.. Kalia brings up the Rachel picture with a cooch shot on it and Brendon made them delete it. Kalia thinks it's funny that the day after Brendon goes home Rachel is show her "tits" to people. POrsche: "Brendon didn't like your crotch showing but one day after he leaves you're showing us your 2 tits"
Kalia: "who stands front centre and does a toe touch.. with a dress one" Shelly scoffs: "Well she said she had a bikini on"
Porsche says every time Rachel sees a mirror she looks and "Sets her Butt" (she does do it a lot.. ) , "everything she does is a stripper move.. Every move she makes is a stripper move"
Kalia mentions how Rachel was always saying that Brit (BB12) was so mean to her saying she's filled with STD's with her ass out.. "We'll you ass is always showing". Adam: "it's not STD's this year it's weather or not you are pregnant". Kalia: "Rachel.. your butt is out every single chance you get.. I don't think she realizes how short her clothes are"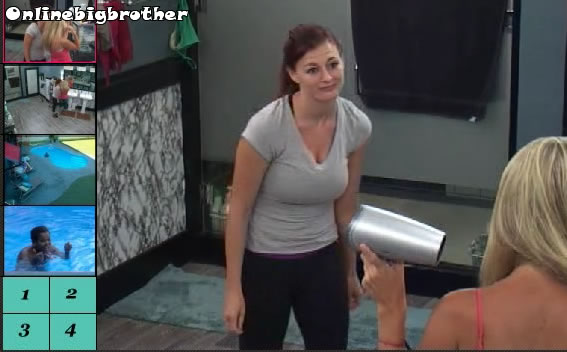 3:40pm Bathroom Jordan and Rachel
Rachel says she thinks she's pregnant. Jordan: "ohh.. well are you one anything" Rachel shakes her head. Jordan: "Umm.. Maybe sometimes when your stressed you don't get your period.. it comes late"
Jordan: "so you did do it"
Rachel nodes and Smiles : "Yes"
Rachel smiling "Not the smartest thing I've ever done in my life"
Rachel says she feels nauseous in the mornings.. Jordan: "you can tell you're baby you were conceived on Big Brother". Rachel: "It just sucks that they…. FEEDS CUT
Jordan and Rachel agree that SKP are sucked onto Adam..
Jordan: "Jeff was like maybe we were drinking the koolaid". Jordan explains that people were telling them so and so were after them. Jrodan wonders if only they had won that HOH then Jeff would be here and one of them (KP) would be gone.
Jordan: "So basically all we did was get rid of the strong players and these floaters float through" Rachel: "It happens every year.. the only reason I didn't leave during double eviction is because it's been awhile since I won anything"
Jordan is pissed about what Dani said during the eviction.. "You're handing Jeff a paycheck.." Jordan thinks they are not well liked this season because of the reaction Jeff had when he left.
Rachel: "If JJBR had stuck together we all would be here right now" Jordan agrees says she was drinking the Koolaid along with Jeff. Jordan thinks Dani is really good at manipulating people..
4:00pm Backyard Porsche and Shelly Porsche doesn't 100% trust Adam because he has always been with the other side. "How do we know he'll hold to a last minute alliance when he never held true to our allaince since week 2" Shelly agrees says they still need to watch him. Porsche thinks the best case is to have Adam win HOH next week as long as he's going to take out Jordan. If he wins next week then SPK are the only ones playing.
(They want rachel->Jordan->Adam gone)
4:20 Yo trivia .. Nomination ceremony or Jordan is getting the coup de'tat and Jeff is coming back.
Share it YO!!
Tweet