Big Brother 13 Live Feeds Can be watched on your iPhone and Android Mobile devices sign up -> Watch Big Brother 13 on Your iPhone or Android Phone
8:46pm Bedroom Jordan and KaliaKalia says they have to be like white on rice with brendon and Rachel for the next 2 days. Kalia adds that Adam was approached by Brendon today and they started giving him reason to keep brendon over Jordan. Kalia thinks as long as there is always one of them around Brendon and Rachel then they won't be able to get into anyone's head.
Jordan thinks it's really weird that brendon used the veto because he told everyone he wasn't. Kalia says that brendon is going around telling people if they keep him then he will go after Dani, Kalia and Lawon and Adam will be safe for 3 weeks. Jordan says you can never tell what people will do when they are on the block. Kalia warns that is back to her old self again. Jordan frowns.
If you like this site and want to help us keep it running please consider donating, Your donations go directly to paying the server and bandwidth fees. Donate Link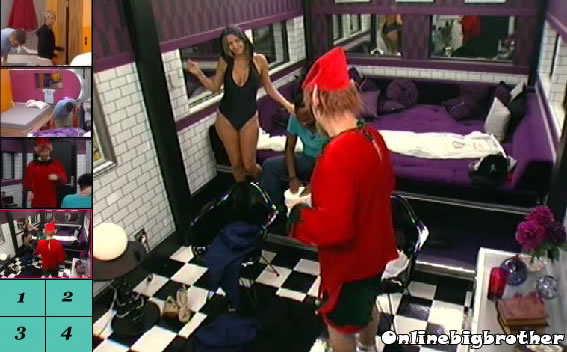 8:50pm Lawon, Adam and Por Practicing their strip show dance.
9:10pm Dani working out, Kalia walking laps and Rachel off to the side working out.. Rachel doesn't acknowledge them.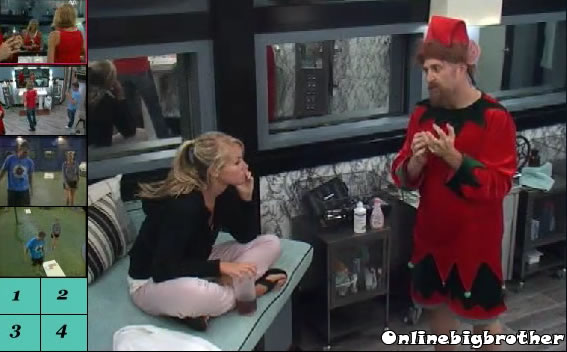 9:15pm JJ Kitchen Jordan is saying that Brendon was working on Adam. She fills jeff in on what kalia said. Jeff thinks Kalia is right they have to be close to Brendon for the next couple days and keep him from talking to other people. Jeff says he can't handle Kalia anymore he's going to lose it on her. Jordan brings up they have to talk to Shelly and adam soon jeff agrees. jeff adds that Rachel is going to be a Mess on Thursday. He mentions that after brendon is gone if Rachel wins anything she's going to be all like "I won this for Brendon.. I did it for my fiancee".
Jordan cannot figure out why Brendon did not use the veto on himself.. she thinks that maybe Brendon thought that Jeff was going up and he felt he might have more votes than Jeff. Jordan thinks that Rachel doesn't have a very good chance in the game compared to Brendon. Jordan: "Not many people like her they're going to target her". Jordan doesn't think Brendon really cares to go home he's got all his research. Jeff says he can't wait to see Kalia after the next HOH comp it'll be like night and day she'll be so far up their asses.
JJ head to the bathroom to talk to Shellu and Adam. they are going over their agreement and for them all to stick to it this week, Jordan tells Adam "No BackStabbing.. we have Shelly to keep you in line" Shelly warns them that her and Adam are going to be hit hard this week by Brendon's vote they should probably talk to Lawon and Kalia.
Jeff and Adam agree rachel will be "Coo-coo for coco puffs". Adam thinks there is a good chance Rachel will be to out there to win the HOH. Adam: "WE have to step up and win" They decide it'll be a knock out or a eliminator. Jeff: "As long as we take out Lawon and Kalia we're Gold" Jeff tells Adam and Shelly to knock Porsche out next. Shelly jumps in to "remind" Adam he's saying too much to Porsche it always goes back to BR. Adam says he knows that. Jeff worried about what Porsche is going to do.
Jeff: "Porsche scares me because I dismiss her in my mind .. and she's still here.. I don't want it to bite me in the ass.. be like ahh man I dismissed that girl the whole trip"
Jeff leaves tells them he's biting his tongue with Kalia because they need her vote but after Thursday he's saying something. Adam follows.. Shelly tells Jrodan not to trust Lawon or Kalia if Shelly wins HOH she's putting them both up..
10:13pm hasn't been much going on.
Share it YO!!
Tweet