Big Brother 13 Live Feeds Can be watched on your iPhone and Android Mobile devices sign up -> Watch Big Brother 13 on Your iPhone or Android Phone
10:41pm Team Bacon Getting ready for the Dance
10:47pm Purple Room POrsche getting ready
10:50pm Kitchen Dani and Lawon Dani is warning him that BR are starting to offer people deals. She wants him to make sure BR is never left alone every time he see them with someone get in the middle of it with some outrageous thing to say. Lawon says he can handle no problem. "No body came to me with a deal yet?" Cani: "Because they're selling you out" Laonw: "Thats good isn't it?" Dani tells him just make sure he's always engaging BR in conversation.
If you like this site and want to help us keep it running please consider donating, Your donations go directly to paying the server and bandwidth fees. Donate Link
11:00pm They start the Dance.. Eveyone has a great time lots of complements to POr and Adam for doing it. Everyone is asking where por got the hooded one piece. Por says she brought it with her. Rachel:"Seriously guys that made the big brother experience"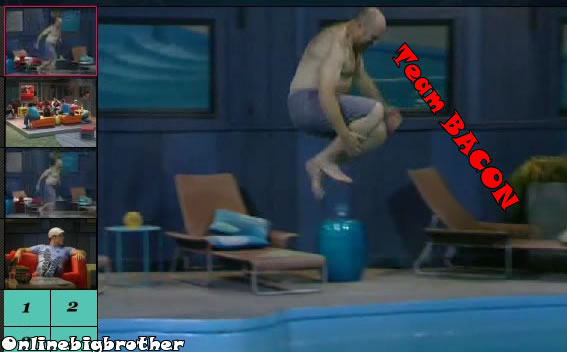 11:15pm Team Bacon takes the plunge (BR are being VERY friendly and nice to Adam)
11:30pm Backyard Brendon, Jeff and Jordan Brendon is telling them it's a knock out comp this week. brendon tells them to take out Kalia, Lawon then Adam. BRendon also reminds them that if he leaves this week he really want them to stick with her and keep with the plan rachel will need them. Shelly joins them.
11:44pm HOH Kalia and Dani Dani is scolding Kalia for walking around with that I HATE RACHEL look on her face for 3 days. Dani says she needs to reign that shit in be mad for a day but after that she needs to be nice.
Kalia starts talking about her one liners about Brendon in the DR. "Why would I vote out America's sweet heart when I can vote out out America's *********"..
Dani tells Kalia to go grab POrsche and offer her cheese to come up to the HOH. Kalia does just that and Porsche runs up to get her cheese. Dani tells Porsche that her eye look awesome. she wants her to be like that for Thursday.. Dani brings up how sweet the one piece says Por boobs like great in it. ASks her if she's a Big C or small D size. Por says she's a small D… rachel joins them goes and tries the cheese, "Why did you get this". Dani: "What do you mean where did I get this.. I'm HOH.." Everyone laughs.
Dani wants to play secret lesbian crush…
Porsche say her is scarlett johansson or Halle Berry, Kalia says janet jackson, rachel says she doesn't have a secret lesbian crush. rachel leaves..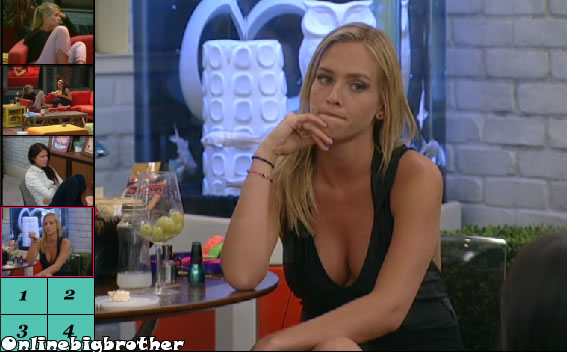 midnight Porsche says as soon as BRendon leaves the house its going to get really intense with Prosche. Dani asks her where Porsche is with this whole situation. Por: "Nervous about the gripping.. She (rachel) has no body to hang out with but me.. it's going to look bad" Porsche is really worried what will happen to Rachel after Brendon leaves. Por thinks it'll be bad for her game if rachel will attach to her. Porsche: "She's going to play an emotional game and she's going to drag me down.. What do you do when your all the girl has"
Dani says she knows that BR hate her and think she's trying to ruin their relationship. DAni really isn't doing that, they are the strongest couple in the house and they are not on her side it's basic BB strategy.
Porsche she'll be hurt with me up here talking to you guys.. Porsche: "we better head downstairs before we're the new alliance"
Share it YO!!
Tweet