Big Brother 13 Live Feeds Can be watched on your iPhone and Android Mobile devices sign up -> Watch Big Brother 13 on Your iPhone or Android Phone
7:37pm Backyard Adam and Brendon chit chating Adam jokes about his time in boy scouts: "Whats wrong with me why didn't I get touch". brendon asks if a comedian once said that. Adam says it was on "its always sunny in Philadelphia" (Awesome show BTW) Brendon now remembers they both are fans of the show and talk about their favorite episodes.
8:00pm Backyard Lawon and Jordan Lawon is ramping up his social game with Jordan. Asks her why she likes country music so much.. is it because it tells a story. JOrdan says yes she like the stories but also it's becuase it's sad and Happy. She adds that her mothers boyfriend says that country music has moved too far away from it's roots like Willie Nelson and Dolly Parton. Lawon tells her he can sing but he doesn't do it in the house.. When they get out he'll sing for her.. Jrodan is excited.. Lawon: "My father toured with earth wind and fire and…" feeds cut.
Lawon says his mom has a natural beauty she doesn't even wear any makeup. Jordan says her mom doesn't wear face stuff.. just eye liner, mascare and eye shadow..
If you like this site and want to help us keep it running please consider donating, Your donations go directly to paying the server and bandwidth fees. Donate Link
8:25pm Everyone eating the diner Kalia made. They are all liking it Straight shooter makes a big deal about how much she loves it. (At first I thought she was lying and over compensating, I then though that she was trying to be extra nice incase Kalia wins HOH next week but I actually think Straight shooter is shooting straight she really likes Kalia's dinner.. just look at her hunched over her food like she's scared someone will snatch it up)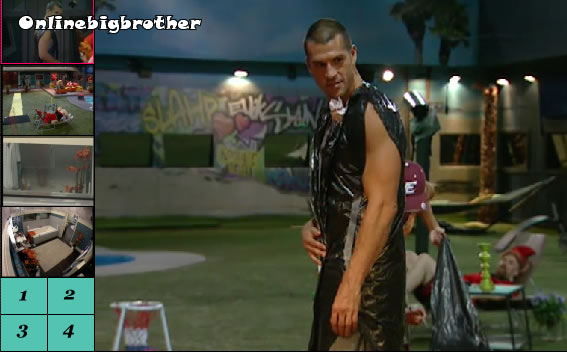 9:03pm Backyard people are starting to get ready for the mock wedding tonight.. Brendon gets fitted for his tux. They mention that Production wants to use the mock wedding for the broadcast so they are telling the houseguests in the DR what they can and cannot say (LAME hopefully someone says something) Straight shooter doesn't think they will be allowed to read from the bible during the wedding.. she says that the bible is a published work… and people might say we're using the lords name in vein in a "trashy wedding".
9:05pm Dani in the shower..
9:26pm rachel getting ready for the Mock wedding. She excited that big brother game them a bottle of campaign, wine and beer. The Mock Wedding starts ar 10.
9:45pm Wedding rehearsal ( God damn I can't take the excitement any more only 15minutes until the FIRST BIG BROTHER MOCK WEDDING between these 2 beautiful people… I'm tearing up)
10:15pm Everyone getting ready for the big wedding
Share it YO!!
Tweet