Big Brother 13 Live Feeds Can be watched on your iPhone and Android Mobile devices sign up -> Watch Big Brother 13 on Your iPhone or Android Phone
5:36pm Shelly, Jordan and JEff Shelly is telling them about her house. They have a pool, and a attached hotub, Ourdoor bar, ottdoor kitchen, fully furnished guest house… (Lifes hard for Shelly) She invites JJ to come see her and Tony when the show is over.. Jordan tells about her townhouse and how she needs to get a fence because of the "nosy neighbors"
5:45pm Backyard Shelly and Brendon Shelly saying that she's talked to Porsche about whats going on. She asks porsche what she's been about with dani all the time. Shelly reports that there was "a whole lot of nothing" said in HOH last night. Porsche's main concern is how BR are treating her now that she's talking to other people. Shelly had asked her if she's still friends with Rachel and POrsche said yes. Shelly add that says she tried to explain to Porsche that her friend rachel was put up by the people she's spending all night talking to. Shelly now reports about her conversation with Kalia and Lawon by the pool. Shelly went up to them and asked them straight up (like a straight shooter) if they were coming after her because she heard they were and they never talk game to her. Kalia and Lawon acted startled they told her there was no plan to put her up. Shelly: "Lawon does nothing in this game he told me everyone he ever talked game with is out of the house" Brendon: "lawon is a idiot" Shelly adds that the person Rachel has to look out for is Kalia because Kalia will put her up.
Shelly: "They are not very smart there game play is not smart at all.. they all think we're fools"
Brendon: "well there fed by mother-bird" (Dani)
6:18pm brendon And Shelly Chit chatting… After Brendon is done his career with science he's going to open a Mexican restaurant. Rachel wants to start a animal website with her sister and is looking for venture capital. Jeff is working out in the distances and Jordan is walking laps. Shelly keeps saying how skinny Jordan has gotten these last couple days. Jordan yells she's trying to get hot so when she jumps in the shower it's not soo bad.
If you like this site and want to help us keep it running please consider donating, Your donations go directly to paying the server and bandwidth fees. Donate Link
6:29pm Jeff, Jordan and Brendon There all working out talking about bodies. Jordan asks Jeff if he typically dated bigger girls before. Brendon: "Were you a chubby chaser? " Jeff says he likes girls with a little meat on them.. "I like a bit of gunk i the trunk" Brendon: "He likes big butts and he cannot lie" Jeff: "No no not like that". Brendon asks about Laura from bb11 and if she was really skinny on the show. Jordan says she was but has gotten very skinny now because of her bikini modeling. Brendon has said to Rachel he doesn't want her to be a model and try to be skinny, "I've been into skinny girls.. I don't like skinny girls" Jordan doesn't like real buff guys.. or guys that wear tight shirts to show off their muscles. Brendon: "So you didn't like Keith's wardrobe" Jordan: "whose keith wardrobe?" they laugh and explain to her
Brendon: "I'm not into skinny girls with big fake boobs", Brendon adds that if you have big fake boobs you should be curvy so they look natural.. Jeff doesn't like it when theres 90lb girls with double D's. Brendon says that it's scientifically proven that skinny people are more unhealthy than people with some meat on them. Jeff: "Big Jeff has some meat Big Jeff is healthy"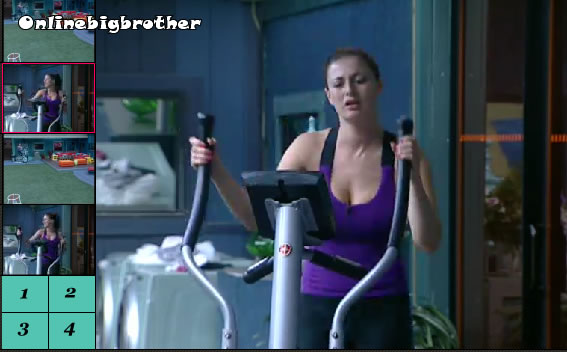 6:47pm Rachel on the elliptical She's super excited about her mock wedding she wants to have it at 10:00pm "They've never done that on the feeds… Jordan aren't you excited… they've never had a real or fake wedding on big brother before…"
6:50pm Backyard working out alone Brendon and Jordan brendon says he's worried about rachel when he leaves.. Jordan says he shouldn't be everything will be fine.. plus Jordan isn't sure that she's staying anything can happen. Jordan now goes on for a bit how BR were not like she thought they were and she feels bad for thinking they were like that. (I know for a fact Jordan does not feel that way about rachel.. Brendon she probably does). Jordan brings up how weird Lawon has been today, he's hung around the backyard looking at people but not saying anything. Brendon: "He's there little spy.. why does he think that is even natural obviously we know he's up to something.. he's the creeper"
(BR Remind me of Team Rocket)
7:20pm Porsche and Rachel Rachel is thinking if there was a twist it would happen this coming week. Por thinks that they've had enough twists, Por thinks that the fortune teller will say something soon. rachel thinks it'll happen when they are down to 4 players..
Share it YO!!
Tweet