Follow @BigBspoilers and @Dawgsbigbrother on Twitter for recent crazed out spoilers. There is also a Facebook page.
4:58pm Rachel on the hammock, Jeff Schroeder on the Elliptical, Dom in the pool, Shelly and Kalia chattign on the couch, Jordan laying in the sun. Dom and Rachel are talking about DOm's little sister. She asks him if his sister would like Dani and Rachel. Dom doesn't know because it depends on what they show on TV. Dom then adds that she probably likes you guys because she sees me hanging out with you and knows then you're cool. Dom jokingly says "But she'll probably hate Jeff.. cause everyone hates JEff" rachel says NOOOOO Jeff is America's favorite they are going to vote for him. (in case you missed last nights spoilers Rachel said a similar remark causing Jordan to get really worried she pulled Rachel up in the HOH and hey talked it out"
5:05pm HOh Jordan and Kalia Jordan is telling Kalia that Rachel told her that she wants Either Brendon, Jeff or Her self to win HOH. Jordan mentions that Rachel wanted them to try and get Shelly and Kalia to throw the comp. rachel Said she thinks it's weird that rachel is fighting for them to get the 2 people close to them to throw the comp.. Rachel never mentioned preventing Dom to win so Jordan is worried that Rachel wants Dom to get HOH and backdoor JJ.
Jordan explains that last night she asked Rachel if she's still sticking to the plan and Rachel said she was so Jordan kinda feels like she's getting too paranoid. Kalia thinks Dom will put Lawon and Kalia up.
Kalia is telling her that she thinks Dom is not as close to BR as Jordan thinks.. "that little brother thing she says is soo obvious and is a play" Kalia says that they are all giving Dom too much credit he's not as strong of a player as they all think. She points out thta Dom is changing gears now that Cassi is leaving he's just trying to prevent going up. (Feeds are going in and out like mad right now) one brief flash when it went back on Jordan says that she knows they will eventually they will go against BR but they want to make sure they are the ones that fire the first shot.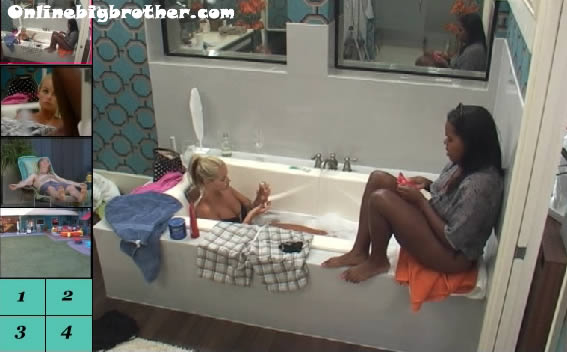 Kalia is saying that Adam is annoying but she doesn't dislike him she just feels like he's not the type of person she would hang out with.
Kalia says Porsche wants to get as much time as she can so she can spin her Big Brother experience into a high paying Career. Jordan says Por is a nice girl but a little bit annoying. Kalia fills her in that Por is saying she doesn't want to be in the jury house which Kalia thinks is stupid if she's trying to get more Camera time. Kalia says that none of the newbie 8 made a connection with her that's why she went to the repeats.
Kalia is nervous about going up even if Lawon is the target. Feeds cut…
Kalia I need to watch what I say to Lawon because he's not going to go down easy
Kalia there is 3% piece of me that is scared that Lawon will lie and make something up.
Jordan tells her not to worry because everyone knows he's a liar. Jordan just wants to prevent Lawon from winning HOH. Kalia has been hearing that LAwon is saying he has the votes so he's not going to try for the HOH comp. Kalia i'm not going to say you don't have to worry about dom but I think your pretty safe. Jordan: "he better not flip", she wonders who they should keep Dom or Adam. Kalia says DOm she's starting to trust him more.. he's somebody they can get on their side. (I wonder how much of Kalia BS Jordan believes.. I bet most of it)
Kalia goes on about how she's getting really close to Dom and how Jordan should trust him. She points out that Kalia is starting to talk game with him and she feels he'll be easier to turn on their side. Kalia thinks Adam needs to go because they have no idea where he's going. Kalia doesn't have any insecurities and she knows she's pretty but when she comes in here everyone is really pretty white girls. Jordan: "last time when I left here I was BIG GIRL"
Jordan says that Rachel has gotten so paranoid it's getting a little much.. Kalia mentions that rachel always singles people out in a room wonders why she can't interact with people normally. Jordan thinks after being in the house with her that it's just her personality, "I think her mom babied her and stuff".
Kalia: "I don't think shes a mean girl or a bad person at all I think it's in the execution of what she says"
They talk about Rachel saying she wants to come back and show everyone she's not the bimbo cocktail serving girl. Kalia says that this week is going to be brutal for rachel on TV because they will show her as being jealous of cassi. Jordan: "That's totally the reason" Jordan explains that Rachel didn't want Cassi to steal away Brendon. Kalia adds that rachel needs to act differently if she wants to appear different.
5:52pm Kitchen brendon telling Rachel don't get the slop ticket next time
5:55pm Backyard couch cassi and Adam Cassi telling him that she thinks that Dom is the repeats target because they think he's strong all this playing nice with him is just for show in case he wins HOH. Cassi thinks the order will be Dom, adam. lawon, kalia then Porsche and shelly. Adam: "We'll see" cassi: "One of you gotta win, it'll be a shit show in here if they win again". Cassi: "How nice it would of been if it was 13 strangers" Adam:"Yeah, i'm just pissed off that I was thrown into this" Cassi tells Adam to stick with Shelly she's smart. Adam isn't worried about Shelly.
Adam what I said I was going to do and what i'm going to do is two different things but keep that to you (yeah adam is going to put up Jeff and Rachel and make the feeds awesome to watch)
cassi says just remember you don't want to leave here and be upset with yourself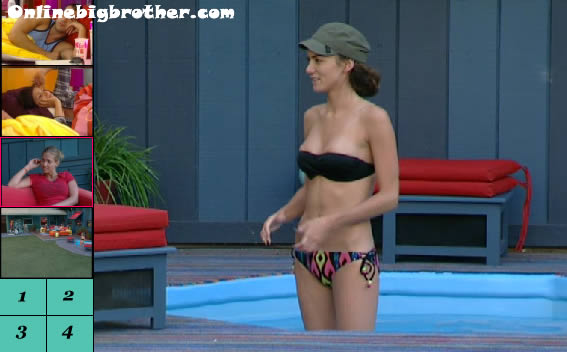 6:17pm ( I hate it when the hot girls leave early..)
6:55pm Backyard lawon on the elliptical, Shelly, Dom and Cassi around the hottub Shelly is saying that when he won the POV he showed everyone that he can compete. (just random shit being said like Shelly thinking Lawon looks like James Brown)
Check out the BB13 Polls
Share it YO!!
Tweet