Big Brother 13 Live Feeds Can be watched on your iPhone and Android Mobile devices sign up -> Watch Big Brother 13 on Your iPhone or Android Phone
3:30pm Backyard Couch dani LAwon
Lawon says shelly came up to him and said that she's been hearing that him and Kalia want to put her up on the block (We can only hope).. Lawon: "I was like WHAT" Dani: "Who told her that Brendon and Rachel probably…. " Lawon says he told her straight up that Shelly's name has never been mentioned. Dani: "Who did she take it" Lawon: "She was coo.. so I've been trying to talk to her more today". Dani points out that BR will try anything at this point this is just the beginning of the craziness.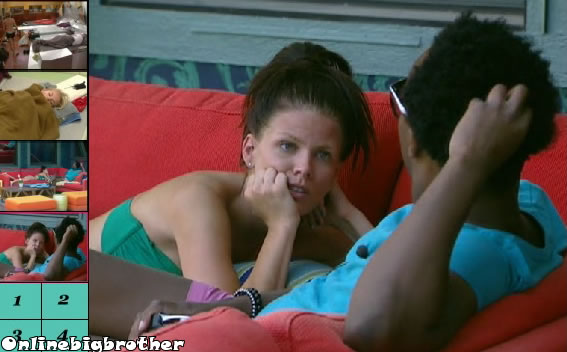 Lawon mentions that Shelly was questioning him that he never talks game with her. Dani points out that Lawon never talks game with many people, he should tell her that. Lawon already has and he feels like things are cool with Shelly now. Lawon: "I told her everyone I cared for and talked game with is gone… and she said I could talk to her" dani: "Shocker… BE VERY CAREFUL what you say to her" Lawon: "I know that you told me that". Dani stresses how Shelly cannot be trusted.
Dani warns him that Brendon is going to say a really nasty speech directed at Dani when he's evicted.. she expects him to say that she's attacking her personally and that she's trying to split up the BR marriage. Lawon thinks Rachel will be gone in 2 weeks. Dani thinks depending on who wins POV rachel will be a disaster the first week but after that it'll be game face on, "this is why we need to get her out next week". They start talking about how bad the smell is in the Havenots from BR farting so much. dani: "It's literally like dead people trying to crawl out of you it's so bad"
Lawon: "I'm still going to play the roll that I don't trust anyone and I was reallly close to DOM and right now i'm just trying to see here everyones head is at" Dani starts instructing Lawon to tell Shelly that with BR lying all week about using the veto on himelf it's hard for him to trust them.
Lawon: "ok ok i'll do that… She gave me a BLANK you face this morning" Shelly joins them.. they start talking about when they would hang out at night and never talk game.. Shelly says that no when people stay up late all they do is talk game.
4:05pm Backyard Rachel, Dani, Shelly and Lawon They are talking about books. Rachel is saying that her parents are very religious and she's read the bible front to back but hasn't read it completely in awhile (Because they always burst into flames when she tries… ohhh) Shelly tells them that if she had a theme book it would be the valentine rabbit. Rachel adds that in her sorority she would read them that book when they were pledging new members. (Dani laughs). Shelly leaves to grab coffee, Rachel leaves, Dani leaves to take a nap.. Lawon goes to the pool side to chill.
4:11pm HOH Kalia and Dani They are sharing notes about Kalia's conversation with Shelly. Kalia tols her she is a little pissed at BR because they lied for the entire week that Brendon was going to use the veto on himself. Kalia points out that Rachel's entire thing during the POV ceremony was a act. Kalia says that all shelly keeps repeating is shes a straight shooter and she needs to act appropriately because she has a job to go back to after the show. Dani agrees fins it a little much. Kalia brings up that Shelly heard that Kalua was going to put her up which isn't true. Kalia tried to explain to shelly that isn't her plan and Kalia thinks Shelly understands now. Dani: "shelly said that me and POrsche had a deal which we don't.. somehting is fishy with Shelly..were is she getting this stuff from".
Dani is shocked with how Brendon is treating Porsche when she talks to other players, "You know both of BR scolded Porsche for hanging out with me last night… Brendon yelled at her said GUILTY BY ASSOCIATION" Dani says that early today Porsche told Rachel that when brendon leaves that rachel will not leave Porsche's side and she doesn't want that to happen, Porsche said because you (rachel) are mean to everyone now and not wanting to have fun with them it doesn't mean I can't. Porsche wants to have a fun summer hanging with people. Kalia: "Did Porsche really say that" Dani: "Yes" Kalia: "Good for her"
Kalia talks about when she listened in on Shelly and Porsche in the purple room. Porsche was asking Shelly advice about what to do with the Rachel situation, "I listened in for 20 minutes". Dani thinks Porsche and shelly are closer than they all think but she also thinks that POrsche doesn't trust Shelly 100%. Kalia says she over heard them talking about getting rachel out. kalia and Dani both agree that it's finally sunk in that brendon doesn't have the votes and that is why they are hiding from everyone. Dani: "I'm not going to lie take the Rachel out of Porsche and I like her"
They can both understand why porsche attached to rachel early in the game but it's obvious that Porsche is trying to find a way out.
Dani starts to explain that in brendon's mind he was going to win bb13 they all felt they were guaranteed final 4 they truly did. Dani adds that every year on big brother the strong players talk about go to the finals together and have the best compete with the best, that never happens and that is now how you play this game, "you want a trustworthy player and a weak players with you near the end" Kalia and dani cannot predict what Adam will do in the game if he gets any power…
Kalia asks if it's better to have lawon for Jordan in there final 4.. Dani: "lets have both.. but seriously we won't have control over it"
Dani says she talked to Jeff for a "hot minute" today and he said that BR came in trying to change their image and Jeff thinks that they really have.. Dani doesn't believe that and thinks it's odd that Jeff does. She asks KAlia what she thinks. kalia: "You can't run from who you actually are" Dani: "I don't think BR are like this outside of the house it's just while there in it… it brings it out of them"
If you like this site and want to help us keep it running please consider donating, Your donations go directly to paying the server and bandwidth fees. Donate Link
5:30pm Havenots They are talking about Porsche and how she's "BFF" with Dani and Kalia. rachel points out that Dani has no power in the house so why is she even being nice to hear after all she did to us. Brendon changes the subject before Rachel can continue..
Brendon pleads with Rachel to not campaign too hard for him… Rachel says she won't. Brendon gets called into the DR.
Share it YO!!
Tweet