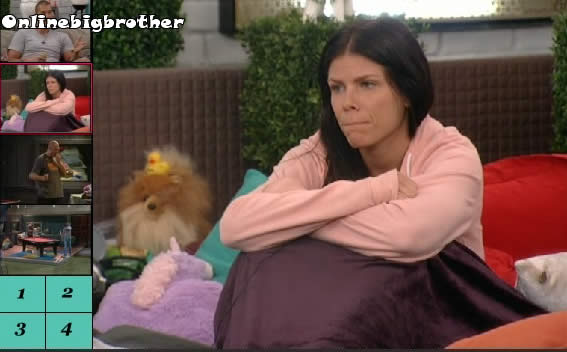 9:20pm BR HOH
Brendon can understand why she would put him up he's not going to hate her because right now he knows Dani is making decisions based on game. Brendon wants Dani to know that if Brendon goes home then Rachel will have nobody in this house and he wants to help set her up for the following week. Dani: "Your working with Jeff and JOrdan.. your in an alliance"
Brendon: "we're not in an alliance.. We don't think they would vote us over Shelly"
Brendon explains that Shelly is up JJs ass Shelly is always going to bat with JJ and Adam will do what Shelly tells him. Dani agrees. Brendon says he's not scared to be up on the block if she thinks she has the votes to keep him but he's positive they don't have the votes. Rachel says that Jordan and Shelly are "Life long best friends" they are sure that Jordan will throw Shelly a pity vote. Brendon adds that Jeff will probably vote for them. Rachel asks dani if she has a deal with Jeff. Dani says there's no deal with Jeff. Dani explains her deal 2 weeks ago with Jeff but thats really the last time she talked game with him. Rachel recaps the conversation Jordan had with Shelly in the havenot. Shelly told Jordan that "the 3 of them" (JJS) had it to the end and that Shelly controlled Adam and Rachel was tagging alone. rachel adds that Shelly said she would put up Porsche and kalia and backdoor dani. Brendon: "it's my feeling that they are on our side once Jeff has a equal chance of going up but when we're on the block they throw us away".
Rachel explains that if brendon goes up then he'll get Jeff's vote but not Jrodan's if rachel goes up she won't have any JJ votes. BR are really nervous about Shelly, rachel wants to know if Shelly ahs been telling dani everything about JJ. Dani says Shelly never talks to them about JJ, rachel: "We'll she was telling us everything you guys were planning" Brendon interrupts, I think she jsut tells us what she wants us to hear. Brendon: "She's a very dangerous players, she a great lady but I do not like her style of play" Dani and Rachel agree.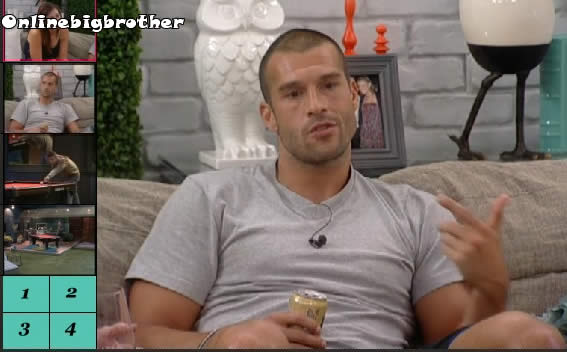 Rachel says that Jeff has a group of 4 people downstairs, Shelly is 100% and Adam will soon be. Dani mentions that they told the whole house that BRJJ were an alliance. brendon explains that they were but not anymore. Rachel: "you're right we have an alliance with JJ but they will not support us.. it's obvious" Rachel says they regret not listening to Dani week three.. they're biggest mistake was to take out DOM. Brendon says that Shelly is wedging herself in with JJ, "She really does own Jordan's thoughts" Rachel: "Jordan eats it up" Dani: "Jordan really doesn't talk to many people in the house"
Rachel what are you thinking straight up, Brendon: "I swear to god we won't tell anybody"
Dani: "well I mean.. umm I don't know.. obviously you guys have to understand because i Keep making new enemies.. " (didn't make much sense)
Brendon: "do you think Porsche would vote for Rachel or I if we're on the block.. we don't know"
Dani: "doesn't know either.. she votes based on how she feels not strategically.."
Rachel: "will you consider putting Jordan up"
Dani: "if I put Jordan up Shelly will go home"
Brendon: "where do you stand with Jeff?"
Dani: "I'm 100% honest I have no idea where Jeff and I stand" Dani points out that JJ never talk game to her and Jordan almost never talks to her period. Dani thinks jeff will put her up if he wins HOh but she's not sure he will win it might throw it, "I never talk game with Jeff and you know how the sayign goes if your not talking game with them they're talking game against you"
Rachel says that jeff is building an army and after this week he'll they'll have 4 votes.
Brendon: "if one of us goes I really want the other one to work with you dani it's our only chance.. I won't get mad if I go I still want you to work with Rachel she's loyal"
Rachel: "Shelly and me butt heads.. the thing with that type of player she says she wants to win stuff and do stuff but will she really do it.. "
Dani agrees she
Big Brother 13 Live Feed Image Gallery
Brendon: "The thing that is dangerous with Shelly is she's in Jordan's head she can get Jordan to flip her vote"
Rachel says that if brendon goes home she wants the girls to form an alliance, "It'll be us 4 girls against JJSA" Rachel points out that Porsche is very much a wild card with votes.. with nominations she won't put dani or Rachel. Brendon brings up that Kalia doesn't want to nominate Jordan, "we're going to have Jordan being dragged to the end again"
Dani is as worried about Shelly as they are she thinks she kind of like a lawon. Dani points out that nobody trusts her anymore she's useless. Brednon thinks shelly is moredangersous that lawon says Shelly is trusted by JJ.
Rachel: "Jordan believes what shelly says 100%… she's controlling what jeff thinks"
Brendon: "no no she doesn't control jeff's thoughts the problem is Jeff trusts her"
Rachel: "If jeff gets HOH he's not going to nominate JJSA…. If you leave us in this house we are alone we don't have a alliance we win HOH we'll take out Shelly and Adam"
BR says they had an alliance but JJ has done nothing for them. Rachel: "we will stick to our deal with you we have nothing else.. your in control right now Dani.. we fight for every comp.. we're big targets.. we won't put you up.. "
Rachel and Brendon give piles of evidence that Shelly and Adam are working together. Rachel brings up that BR ruined their relationship with dani for JJ and when they were up on the block JJ didn't lift a finger to help them. Brendon points out that Jeff threw the POV comp when they had begged him to go for it and to keep the nominations the same. Brendon: "He didn't want to win the POV because he wanted a nominee to so you would put up Me as a repalcement"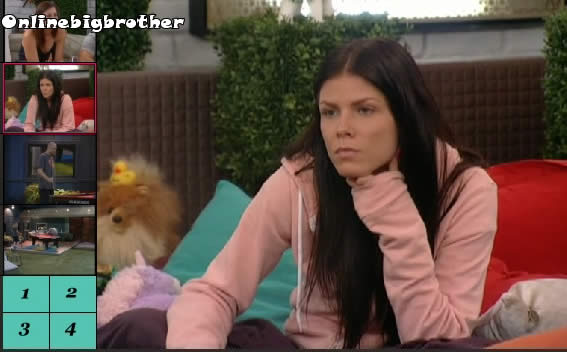 Brendon points out that Jeff will win competitions only if it benefits Jeff, "he'll throw the HOH's to Jordan, Shelly or Adam.. he doesn't want the blood on his hands".
Dani says if she does put on of them on the block they still can fight for the votes they could get them.
Rachel breaks down how it will go.
Adam will vote shelly to stay
Jordan will vote Shelly to stay
Kalia will vote shelly to stay
rachel will vote Brendon to stay
Jeff will vote Brendon to stay
the only person they have to work with is Porsche.
Brendon says that JJSA won't win a lot of comps but they have all the numbers and will control who goes home from here on in. Dani knows that and that is one thing she is worried about.
Rachel: "you have us and Kalia that's 3 votes.. next week if you go up all you need is 3 votes"
dani points out what if it's DK up on the block then they only have 2 votes.
Brendon: "Consider the idea of putting Jeff up on the block"
Dani: "It's something I have considered.. If I out Jeff up then Jordan and Shelly will be pissed at me… it's definitely something I would consider. Obviously I've tried it before".
rachel also suggests putting Jordan up as a pawn to get Shelly out. Or perhaps get Jordan out.
BR leave…
(what does everyone think of this deal?)
10:43pm BR making food, rest of the house hanging out in the backyeard couch.
11:20pm BR made queso dip for the other houseguests. They make a massive bowl and everyone is loving it. Rachel tells them they used 4 bags of cheese to make the dip, Jeff: 'You wasted 4 bags of cheese!".. everyone laughs the dip will give them all diarrhea because of all the beans in it.
12:00Am random conversations going on. Everyone gettign along.. Shelly is talking up a storm (Dani, Shell, Kalia, Porsche, rachel and Jordan) all having laughs. The 3 guys playing pool..
Check out the Big Brother 13 Polls
Share it YO!!
Tweet