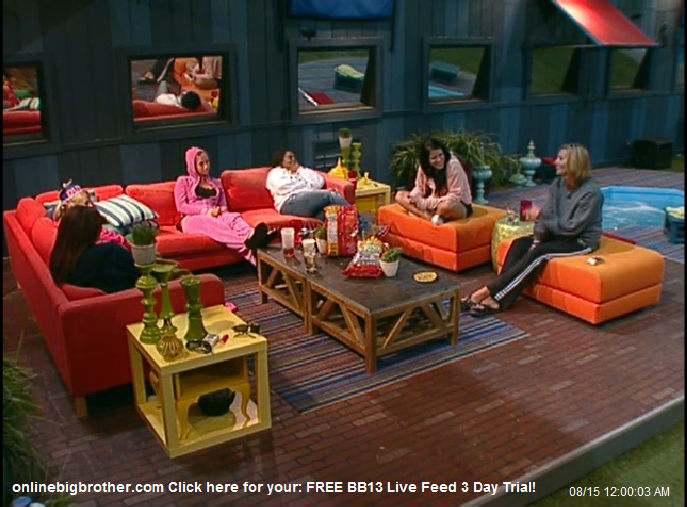 Get the BB13 live feeds on your Android and iOS devices. Sign-up for the 3 Day Free Trial
12:10am Out in the backyard, the guys are playing pool. Over on the backyard couch, Jordan starts talking about how Dani's father looks so different in the picture up in HOH. Dani tells Jordan about Dick when he was young he used to model, he was such a good looking guy with a bone structure like mine. Dani says that Dick has smoked since he was 12 years old. Shelly says that he must have strong lungs. Shelly says that she doesn't look like her parents and luckily for her daughter ..she looks like tony. Shelly says that he is way more handsome than I am, I got really lucky, he looks like a professional volleyball player. They ask her if he looks like Keith? Shelly asks who's Keith? They all laugh. The houseguests continue to laugh and talk about random things. They talk about how when Jeff and Jordan came back last season on BB12 to host a competition and Brendon threw a ball that almost hit Jeff. Rachel says that it wasn't even like that. Dani says that Janelle come on her season BB8 to host a competition and says that she whispered to them stuff and she wasn't supposed to. Dani talks about how Eric was calling her Miss Piggy. Dani says that it would be nice to come out of this season and not be referred to as Dick's daughter. Shelly says that she will probably be known as Josie's mom. Talk turns to talking about smoking. The conversation then switches to talking about myspace and facebook. Shelly heads off to bed. Brendon and Jeff finish playing pool and join the girls on the couch. They start playing the celebrity guessing game.

See What They Can't Show You On TV! SUPERPASS – 3 DAY Trial!
1:35am In the backyard, Adam is all alone and smoking. Adam says that he has doubts about Shelly. Adam says that his secret PB&J alliance and the alliance he has with Porscha is still in effect. Adam says that he feels he is moving up the target list, so he needs to step up his game and says that he has already started too. Adam says that he feels he knows the events of the house better than anyone else. Adam says that if we can get Dani and Jeff out, then I will be the strongest player in the game. Adam then mentions that will then make himself a bigger target. Adam says that if Shelly still has his back and Porsche, then we can work together and that they would just need to get Kalia and Jordan out. Adam say that he will be in the final three. Adam then says that he is getting way ahead of himself. Adam says that a lot will happen between now and then, but if he can make it to the final six then he can play for veto every week. Adam says stay focused and keep it up, build up some strength and start with going to bed. Adam says goodnight to the camera and goes inside.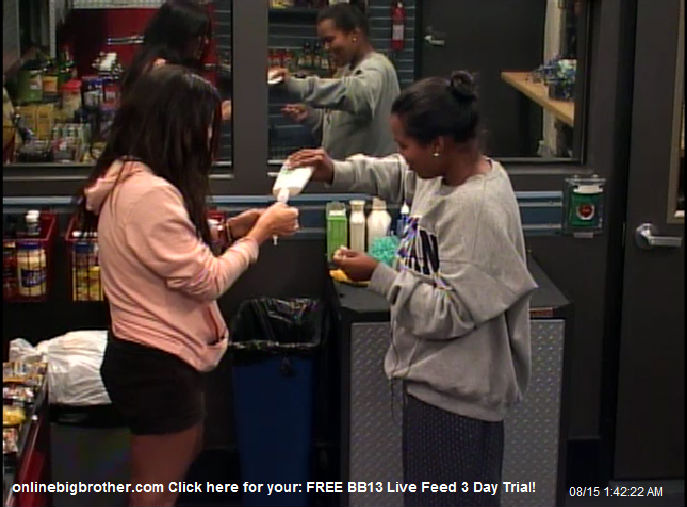 2am Meanwhile in the bedroom, Porsche and Kalia are talking about how gross Brendon and Rachel public display of affection is. They tell Jeff and Jordan about their plan to prank them with a fake sperm filled condom in their bed. Jeff suggests they put it on Adam's bed. Dani and Kalia go to the storage room and filling a condom with lotion. They then head to the metal bedroom and place it next to Adams bed. They go into the candy room and tell Jeff. Jeff tells them where a better place would be to place it. Then Jeff wonders if Adam will even see it so they go back and move it to lay on the edge of Adam bed. Adam comes into the candy bedroom. Adam says that he will play the guessing game with them. They tell Adam he should go to bed. Adam wonders if they are trying to get rid of him. Big Brother cuts the live feeds.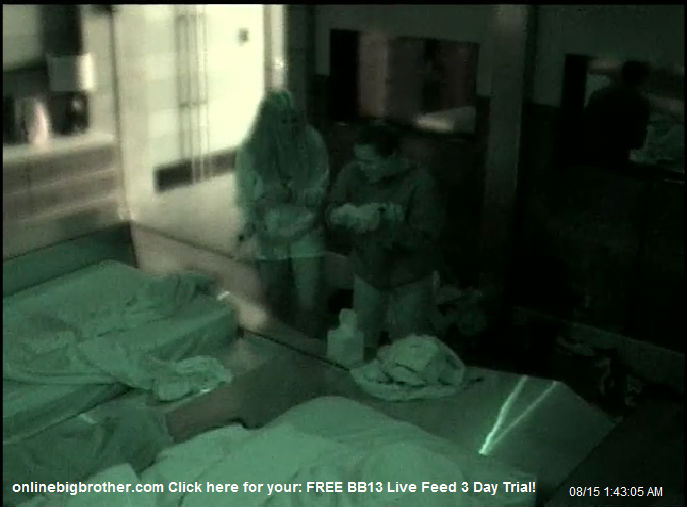 Sign-up NOW and watch the houseguests live!
Click here for your: SUPERPASS – 3 DAY Trial!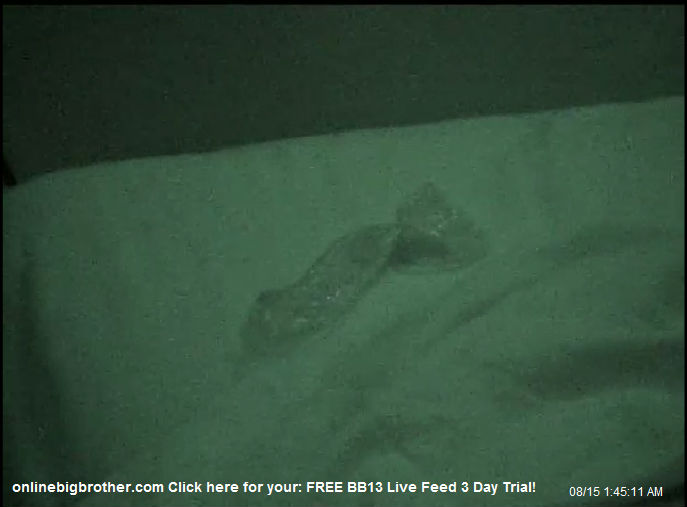 When they return, Brendon and Rachel have finished getting ready to go to sleep and get into bed without noticing the condom. Brendon and Rachel then start making out under the covers right next to Shelly and while the others are in the candy bedroom playing the guessing game. Talk turns to talking about Adam's pubic hair. He says that he has never had an ingrown pubic hair because he has never shaved. Jeff says so you're 70's down there? Adam says that he's not hairy down there. Jeff replies yeah you're not hairy down there buy your back is covered in hair. They all laugh. Adam says that he will show them if they want to see.. The girls tell him to show Jeff.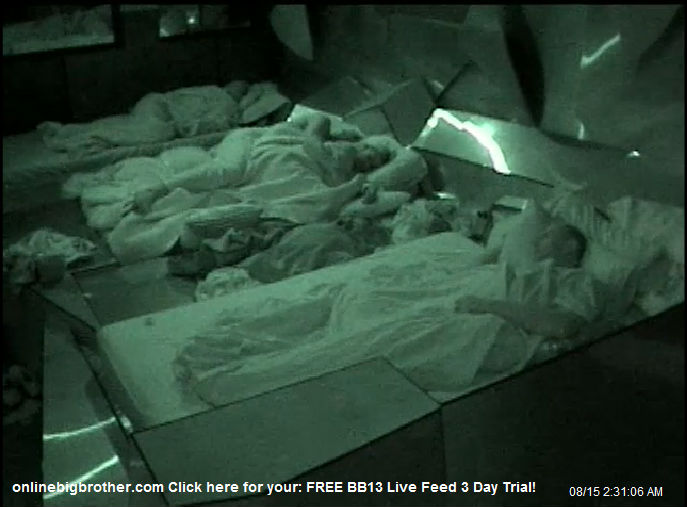 2:30am – 3:20am Adam heads to bed and climbs in without noticing the condom next to him. In the candy bedroom, they talk about past big brother seasons. Kalia talks about how BB9 was a winter season and says that they did it to see if it would work twice a year. Jeff tells her no, they did it because of the writers' strike. Porsche agrees. Jeff says that Kalia is trying to make up lies. Kalia stutters and says that she didn't. They all start laughing. They all decide to go to sleep… Jeff and Jordan argue about the blankets he tells her to stay on her side. Jordan says that she always does. Jeff says yeah right. Jordan says she does because you always push me away. Jeff says that he pushes her away because she always plays with his belly button, it gives me a stomach ache! Jordan and Kalia laugh. They all are now asleep…
6:20am All the houseguests are still sleeping..
9am Shelly is the only one up; she is in the backyard smoking in silence. Everyone else is sleeping.
If you like this site and want to help us keep it running please consider donating, Your donations go directly to paying the server and bandwidth fees. Donate Link
WATCH all DRAMA unfold LIVE on SuperPass! FREE 3 Day TRIAL
Big Brother 13 Spoilers POLL CAST your VOTE!

Big Brother 13 Live Feed Image Gallery
Follow: @BigBspoilers and @Dawgsbigbrother on Twitter for recent crazed out spoilers. Theres also our Facebook page.
Share it YO!!
Tweet