Get the BB13 live feeds on your Android and iOS devices. Sign-up for the 3 Day Free Trial
5:05pm Havenots Porsche and Rachel
Rachel tells P that BR are on her side and will not put her up. Prosche brings up that last week rachel wanted nothing to do with her and that is even after she voted for Brendon to stay. Porsche feels a bit pissed about that and it shows her that BR are with JJ.
Rachel: "I heard Shelly says she is going to put up POrsche and Adam… Jordan will confirm it.. Brendon and I are not coming after you " Porsche just agreeing with everything. Porsche: "why are you campaigning for BRendon he should do it himself". rachel says Brendon will she just wanted to talk to Porsche first.
Rachel: "brendon is a strong guy and he's going to win the next HOH and he'll protect you"..
Porsche: "last time I gave Brendon a vote look were that got me and that was only 2 weeks ago" Porsche brings up that Berndon is perhaps too strong of a player to keep in the game, he's mental and physical.
Rachel says Shelly has been causing all the BLANK in the house. Porsche isn't worried about Shelly anymore, "I've dealt with women like that.. My Mom" Porsche knows shelly can't be trusted and she's pretty sure Shelly won't do good at the comps so why not let her stick around for awhile. Porsche adds that last week Rachel was awfully close to JJS. Rachel says she was alone last week. Prosche disagrees says that Rachel only talked to JJS and she casted Porsche aside so Porsche had to change her game. Rachel says she never talked to shelly, Porsche: "yes you did.. cmon Rachel you know are with them".
Rachel what kind of deal can brendon and I offer you. Porsche says she really hasn't thought about it yet. still waiting for brendon to come talk to her.
Rachel: "it's going to be 3/3 vote and you (porsche) will be the swing vote."
POrsche: "We'll then dani will decide"
Prosche says that she's the 5th person in the JJBR alliance and Shelly isn't going to win HOH, "it doesn't benefit me in anyway to have Brendon I cannot beat him in the finals.. you'll never put up JJ so why should he stay it's a bad game move"
Porsche gets up to leave asks rachel for a smile.. Rachel doesn't give her one.. Porsche: "Well a fake Smile at least" rachel gives her a fake smile.. after Prosche leaves Rachel give her the death Glare (HAHAH looks like devil rachel is back)
Brendon comes in.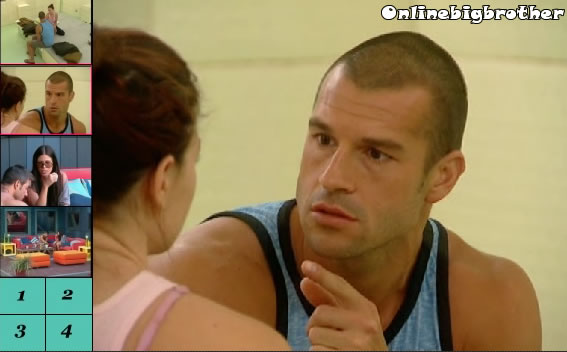 Rachel: "that BLANK isn't going to vote for you".. rachel give BRendon a recap of her conversation with Prosche. Brendon hopes Rachel didn't say anything thing about JJ. rachel says no. rachel is pissed at POrsche right now.
Brendon: "DON"T LET THIS BLANK UP YOUR GAME.. "
rachel whispers 'Do you thinks Dani will vote to keep you here if it's 3/3″
Brendon: "Duno.. I'll talk to dani and Porsche soon"
Rachel: "I want to BLANK PUNCH PORSCHE"
Brendon: "NO calm down"
Rachel: "Don't worry I won't do anything"
Brendon pleads with her to have some self control if he goes home Rachel needs to keep her game intact. "If I go, so what you have to be ready to fight and win"
5:41pm Backyard Dani and brendon
brendon says that Rachel talked to Porsche and it didn't go we'll. dani says she'll talk to Porsche tonight and find out what is going on. Dani Cannot figure out where Porsche's head is at right now. Brendon says that Prosche seems worried that she can't beat him until in the finals but Brendon doubts Prosche will even make it that far since she hasn't won anythign yet.
Dani: "I promise you 100% if you go home this week I will have rachel's back and So will Kalia"
brendon appreciates that says he's been trying to get Rachel to calm down about everything. Dani brings up that Brendon will find out where JJ stand on Thursday, "People you've been allied with since the beginning may not ne as close as you think" dani swears that If Brendon leaves Rachel does not have to worry about Dani and Kalia, she wants Rachel to know that.
dani about JJ's vote "they probably vote for you but if they don't at least we'll know where everyone stands"
6:00pm Jeff and Adam working out. BRKD on the couch joking that Adam will have a HUGE ebay auction because of the stuff he's bringing back.
Dani mentions that BB8 Zach was ebaying phone calls with him. Everyone is shocked.. they wonder if he actually sold them. Dani says that everyone in the house hated him but Dani and her dad liked him and they dragged him along, She mentions that after the show he turned out to be a major "jackhole".
Brendon: "I met him once and we hung out I thought he was cool"
Dani: "He's not cool"
6:20pm Rachel and Dani rachel is telling her about the conversation she had with Prosche. rachel is pissed about all the players in this game. Dani says she will talk with POrsche later tonight. rachel says she was in the DR for the last hour BLANK about Prosche and this game.
7:05pm Jeff
Big Brother 13 Spoilers POLL CAST your VOTE!
Follow: @BigBspoilers and @Dawgsbigbrother on Twitter for recent crazed out spoilers. Theres also our Facebook page.
Share it YO!!
Tweet