SEE what they CAN'T show you on TV! 3 Days FREE No Commitments

2:00PM Backyard Enzo and Lane
They are talking about the nominations and how if Brit and Ragan go up they are going to take out Ragan, Enzo thinks Kathy is getting a little big int he head. Lane: "Theres no way that women is a deputy". Enzo is getting a little excited they are nearing the end, one of them will be winning 1/2 a million dollars and it'll change their life forever. Enzo: "I'm going to retire yo". Lane wants to pull out the brigade right now. Enzo agrees he thinks it would make life in the house easier, they woulnd't have to bullshit with Brendon all the time. Lane says next HOH the brigade comes out. Enzo: "tell them to go stick to there side of the house we'll stay in our side and we'll just battle it out every thursday" Enzo: "Brit will cry, Brendon will bitch, Ragan will yell at Matt and Kathy will be like whats the brigade is that like the saboteur". Enzo: "After the pov the brigade comes out yo… it is time". Lane joking about how deep everyone is getting with their side alliances and they need to all come back to the brigade. enzo says Brendon told me he'll carry Enzo to final 2. Enzo: "I thought he wanted to hug me yo.. I'm like am I the new Rachel"..Enzo: "We gotta come out soon the side alliances will still want to be side alliances".
Lane: "we got fans they are wondering where the brigade has gone". Enzo: "Its operations Donnie Brasco right now yo" Lane laughs says that Brit has been asking him what she should wear. Enzo: "next time one of us gets into a fight with someone in the house the others get in their face and go YO BRIGADE ". They agree the Brigade has to stay hidden until at least the POV competition is over.
2:40pm Lockdown over Eggplant and Escargot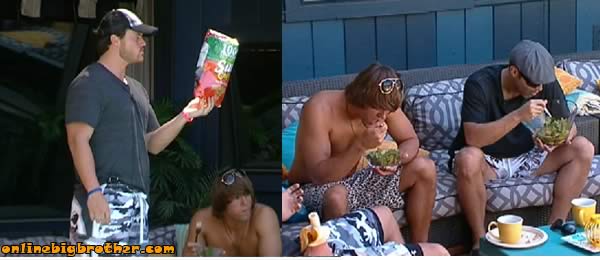 2:47pm Lane, Hayden and Enzo Lane telling them that he's sure Brit hasn't made any deals with Bredon. They are discussing coming out. HAyden thinks they should wait till next weeks POV. Enzo:"Why!! who are we coming out to Ragan and KAthy.. argh Brigade" hayden tells them matt doesn't have to worry even if he goes up, He thinks the only thing they have to worry about is if Brendon is the saboteur. Lane goes on to tell them about his conversation with Brenodn how he told Brendon he wanted to keep him but the entire house flipped at the last moment, He told Brendon he appreciates not being on slop …
2:55pm Hayden and Enzo They don't want to put up Brendon if they win HOH next because Brendon has their backs, Enzo is worried that another brigade member might get made and put them up if they keep Brendon in. Enzo: "that really pisses me off because I would never put up a brigade member if there was still other people in the house. Hayden thinks they should just let someone else in the house take out Brendon. Hayden says they will tell Brendon they want to back door matt and we'll tell ragan/brit and Kathy they will backdoor brendon.
Enzo: Nominations at 5o'clock Hayden: I'm going to go talk to brendon.