SEE what they CAN'T show you on TV! 3 Days FREE No Commitments

3:10pm HOH Brendon and Hayden Brendon saying how stupid the house was for keeping him over Rachel they all knew that it was going to be physical. Hayden explains that everyone was so threaten by her. Hayden telling him that beside enzo the rest of the house thinks he's after Brendon and they want to keep it that way. Hayden had heard Ragan and brit talking about how enzo isn't trying to win the HOH comps. Brendon can see that he thinks Enzo is holding back in all aspects of the game. Brendon lane isn't a threat to either of us he's strong but thats it, there is a good chance that Lane has really been trying in the HOH's.
Brendon doesn't think enzo is as close to him as HAyden, Brendon really wants to see enzo start trying. Brendon: "the time of idle players is gone he'll need to pick the side". Brendon says the power is going to shift again next week and they're going to put up Me with either Hayden or Enzo. hayden says that once Brit goes down they might be able to pull Lane in so keeping Lane close might be the best idea. Brendon: "we can't leave Lane in this house because he'll float to final 3..Lane is the saboteur but i'm OK with that this week". Hayden asks him what his choices are. Brendon says Matt/ ragan, ragan/ brit, brit/ Lane I don't want to backdoor anyone but at this point I might backdoor Matt or ragan. hayden if i was in your shoes you don't want to put someone up there that you don't want to see go home i don't think you'll want to put up lane. Brendon agrees but thinks if lane goes up he's safe unless they want him out. Hyden thinks they should maybe keep lane off the block and use that to pull him in. Brendon: "I would rather have lane upset with me going into he quiz comp then
ragan and matt gunning after me" Brendon is sure the other side will get a HOH the following week and brendon will go up against Enzo. Brendon doesn't think lane is intelligent enough to win a quiz he thinks he'll just float on and win nothing at least ragan and matt can win. if lane is pissed at Brendon it doesn't matter he's not a threat. Hayden: "worst case you put up lane and brit she wins POV.. will you out up ragan or matt".. Brendon doesn't know. They start talking about who the sab is, HAyden explains that the only way production would of been guaranteed the player would of accepted the position is if it was Matt. Hayden thinks that if they picked BRit and she said no they couldn't keep asking people, but they could say because Matt opened the pandora's box that he's now the saboteur. Hayden doesn't think anyone would pick the roll this late in the game.
Brendon says i'm putting Lane and Brit up but I don't know how i'm going to tell him. Hayden thinks he should just tell Lane he's going up as a pawn and he's safe. brendon says he won't tell Lane the plan is to back door Matt or Ragan because he doesn't want it to get back to them. (I bet the DPOV is played this week)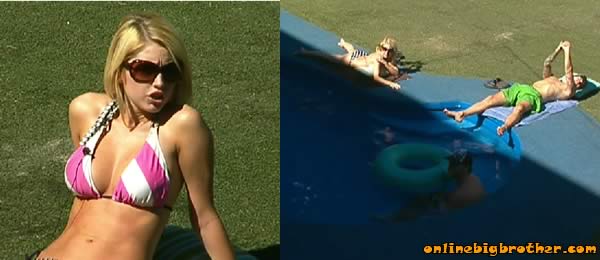 3:40pm backyard Enzo, MAtt, Lane and Brit Talking about how useless Kathy is. Earlier today they kahty told them her mind just isn't in the game this week so she would like them to carry her through.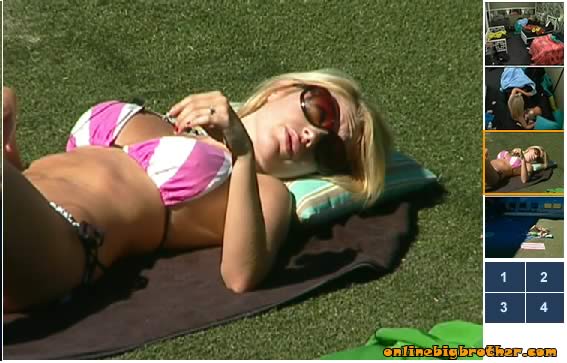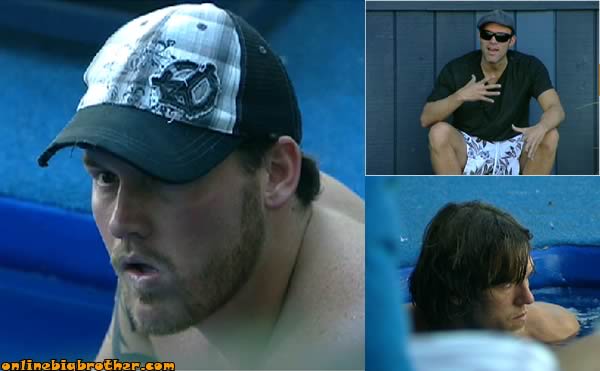 3:55pm Hot tub Enzo, HAyden and LAne Hayden telling them that Brendon is going to put Lane and Brit up. Enzo: "He's gotta go yo I don't care about side alliances what if POV is used Matty goes up yo" Enzo says he's ready to bust out yo he's tired of being sneaky. Enzo gets out of the tub whispers to Lane "no matter what happens your safe". They go through all the scenarios of people going up and winning POV. hayden doesn't think Brendon is the sab, Hayden says brendon thinks it's Lane. Lane knows theres no SAb in the brigade. HAyden explains his theory about Matt being the sab because there is only 1 ways BB can impose a power on a person and that is Pandora's box