11:52pm Kitchen Lane, Brit, Monet, Hayden
Brit asks Ragan: "would you consider someone who bleeched it"
Ragan: "umm no" (shaking his head)
Lane: "what! Bleach What"
Ragan "Your ahole"
Lane: "wwuwuuwuw why would you do that"
Ragan: "to make it look whiter"
Lane "what do you mean"
BRit: "Sometimes people don't want the chocolate star they want the white and chocolate star" (WTF)
Monet:"Not the hair the skin they bleach the skin"
Ragan: "You know what makes it dark… it has nothing to do with poo"… "i know why this is i researched it the darkness comes the abrasion of taking all those poos"…
Lane: "I've never heard anything like that in my life.. the bleaching"




Lane's shocked … Ragan" I wonder what commercial Lane is going to get when he gets out of here" Brit starts doing the commercial (for ****** bleaching) she says it'll start with him down saying "down set hut hut" … "well your going to be in compromising position like mine you can't be going around with dark stains"…"I knew I saw a unsightly chocolate star and I new it was time to take my destiny into my own hands"…"If I can do it you can do it".."the Process is easy…as he walks to the exam table"… "in a few short sessions you can look as good as mine heres a close up" she explains the close up being zooming in on different pigments in his skin before and after.. (funny funny funny .. If you have FLashback check it out 11:52 cam 3 and 4) LOL she keeps going "My life is so much easier now I have a boast of self confidence and I can take on the world in step at a time" she gets back down in her football stance. Lane "thats stupid" everyone is laughing… I think Ragan is going to piss his pants. .





Lane asks them "is popcorn made in a bag" (apparently they had a debate about this earlier today)
Ragan you keep going on lilke this"
Lane: "I rest my case"
Hayden "it is made in a bag"
Lane Exactly"
Brit "you do **** bleaching we don't believe a word you say"
Lane "that **** bleaching came way after the popcorn thing"
Brit "uh LANE I've known about your **** bleaching for some time now"
Lane "is popcorn made in a bag"
Brit "NO"
Lane "Popcorn is made in a bag!" (this is so stupid it's hilarious"
Brit "popcorn is made in a corn kernal"
They go back and forth arguing this silly point, it's almost like their a couple and this is this seasons 3rd Showmance, Ragan jumps in and joins Briteny. This is the same kind of flirty arguing they been doing to each over for the last little bit.
Brit "what if I put Corn kernals in a machine… is that a bag…hmmm..is the machine a giant bag"
Lane just shaking his head "The seed is mad… Brit interrupts: "Thats it i'm not talking to you"
Brit "err the seed is made"…Lane interrupts "THE SEED IS MADE OUTSIDE THE BAG THE POPCORN IS MADE INSIDE THE BAG"
Brit "can anyone find me some popcorn seeds i would really like to grow a garden"
Lane just keeps going "The seeds are made outside the bag" Lane start to laughs asks where is popcorn made then?
Brit "oh please tell me how DOOOOO you make popcorn Seeds"
Kathy walks in "what are you talking about i've never heard of popcorn seeds" Hayden says "we got some popcorn seeds" Lane "YES and you put them in the microwave and they pop" Brit "oh please let me plant a popocorn garden" Lane starts play fighting with her she tells him that popcorn comes from corn… he's laughing. She explains the corn husk… he tells her that America thinks she dumb right now. Hayden: "can I just say something.. its you and her non stop" they laugh…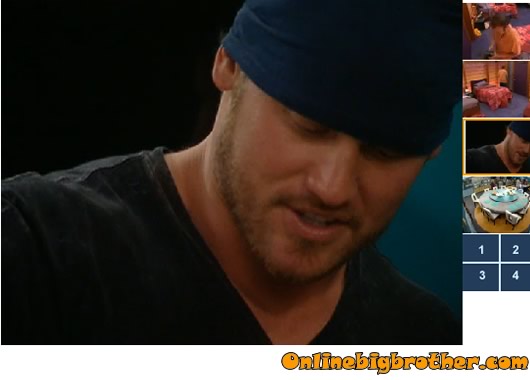 Share it YO!!
Tweet