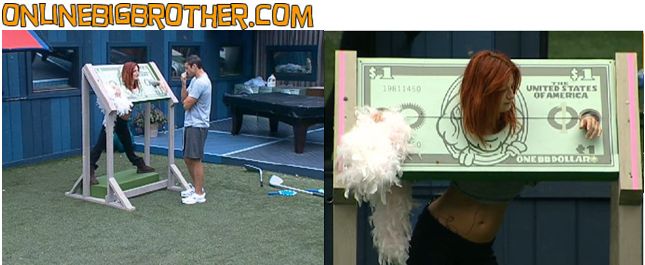 SEE what they CAN'T show you on TV! 3 Day FREE Trial
7:45am All the houseguests are sleeping when Big Brother rings the bell for Rachel to get into the stockades. Rachel says that don't you think ants are smart, and like how they can lift 10 times their body weight. Brendon says well no, they have innate abilities … Rachel says well I think they are really smart ..I know that they follow scents but.. They continue to talk about ants. Rachel says she saw ants eat a whole caribou in Africa. Brendon tells her that he doesn't think Caribou live in Africa. Rachel says well whatever the little things with the horns. They talk about how some animals eat their babies. Rachel says you know Brendon …I could be locked up any time.. hehehe .. Brendon says what!?

Brendon asks Rachel if she has given anymore thought as to what should happen. Rachel says no, that she went to sleep. Brendon says yeah. Rachel says that she doesn't think Monet deserves to go home, now that she knows Monet isn't targeting her or Brendon. Rachel says she thinks everyone might target Matt next week. Brendon stops her and says don't count on anything happening the way we think for next week, the house changes day to day. Rachel brings up how Matt called her a bully. Rachel tells Brendon that Matt came up and talked to her last night. Rachel says that she told him that they don't go sit in the hammock and talk about the game all the time. Racehl says that Matt gave them too much credit. Rachel says that she loves how Brit came up and talked to her. Rachel tells Brendon that Matt is the stupidest player ever. The feeds cut to the we will be right back.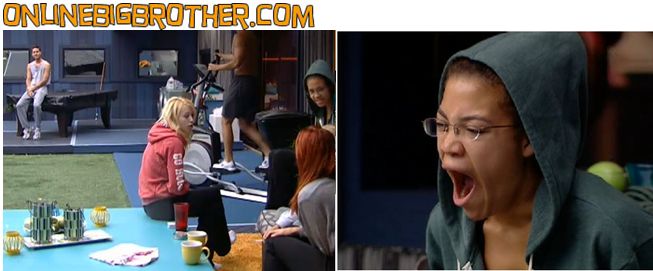 Flashback and see all the drama! Live Feed 3 Day FREE Trial

8:45am The feeds come back up and a minute later the bell rings to release Rachel from the stockades. All the houseguests are up and walking around. Britney, Kathy, Monet, and Rachel are all on the couch in the backyard talking. Andrew is out in the backyard by the pool table and Brendon is working out on the elliptical. Big Brother tells the houseguests they are on an indoor lockdown. The houseguests talk about how they think there might be a luxury competition coming up. Rachel and Brendon go up to the HOH to makeout.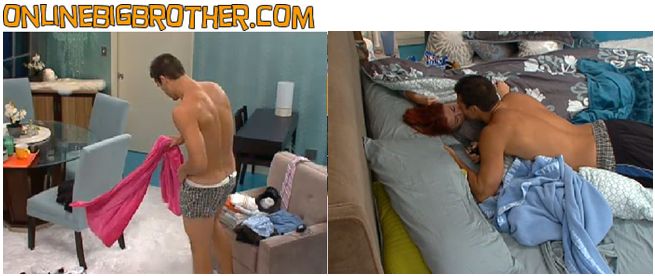 9:30am – 9:50am All the houseguests are getting ready for the day. Ragan and Matt are laying in their beds talking. Matt talks about his wife and how he is here for her. Matt tells Ragan that both Brendon and Rachel and explicitly told him that if they made it to the jury house and he made it to the end they would vote for him because he is in the house for his wife. Matt says that maybe he shouldn't gun for Brendon and Rachel just yet and wait till the jury house…. then Matt says maybe its too late for that. Matt asks Ragan what he was going to tell him. Ragan says that someone told Rachel that Kristen was going to flip her vote to keep Monet …which is not true… but Rachel said it, ….its fishy …its manufactured drama. Matt says yeah if they want to start the drama ..thats a good way to get the ball rolling. Matt says this is an exciting season …he want to go home and watch. Ragan says no you don't. Matt says yeah. Ragan asks if Matt thinks his wife Stacy is pooping in her pants right now. Matt says that she is probably screaming at the TV saying hes an idiot.

9:50amAnother Brendon and Rachel HOH room make out session. Brendon stops her and says wait let me get the food out of my teeth. When hes done he says how you doing sexyness?! Rachel says Mmmm good.. Back to making out ….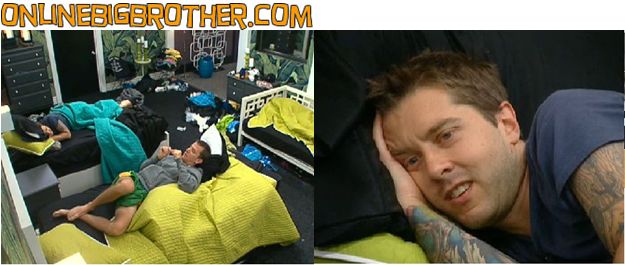 Share it YO!!
Tweet