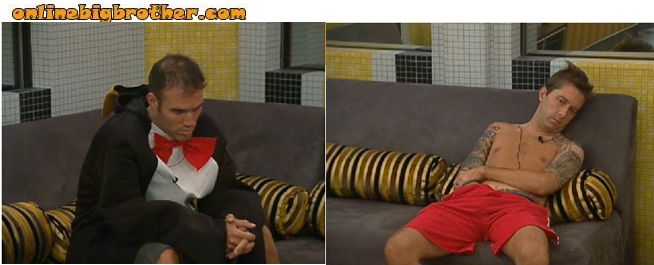 SEE what they CAN'T show you on TV! 3 Day FREE Trial!

9:10am – 9:25am Big Brother cuts the live feeds to wake up the house guests. When the live feeds come back Matt is in the bathroom sitting on the couch looking depressed. The other house guests are in the storage room getting new batteries for their mics. After they are done they come into the bathroom. Enzo sits down on the couch and says that the keep playing the same Eminem song. Big Brother cuts the feeds. When they come back Brendon is sitting on the bathroom couch …he asks Hayden how he feels about it today? Hayden says fine. Brendon says that he isn't too worried about it because some of it is skill but its going to mostly come down to luck. Hayden leaves the bathroom. Enzo comes out of the washroom and sits down to talk to Brendon. Enzo and Brendon talk about how Ragan was complaining about it not being a quiz. Enzo says that he wishes it was a quiz too but its not. Hayden comes back in and Brendon asks them if Britney was confirming with that she wont go up next week. Enzo says that she kept talking about it being a double eviction and how she thinks there might be an eviction tonight and another eviction on Sunday. Hayden tells Enzo that he is heading up to the HOH to nap. Enzo says you're already going up there? Hayden says yeah so he can get a good spot and nap, they're going to get called up there soon anyways. Enzo decides to go up there too. They both head up and Britney opens the HOH door to let them in. Hayden grabs a spot on the bed and Enzo lays on the floor beside the bed. Hayden asks him if he wants a spot in the middle and Enzo says no he's a penguin. Hayden asks if he is sure and Enzo says yeah …he wants to be on the side of the bed to listen to music. Britney, Hayden and Enzo go back to sleep.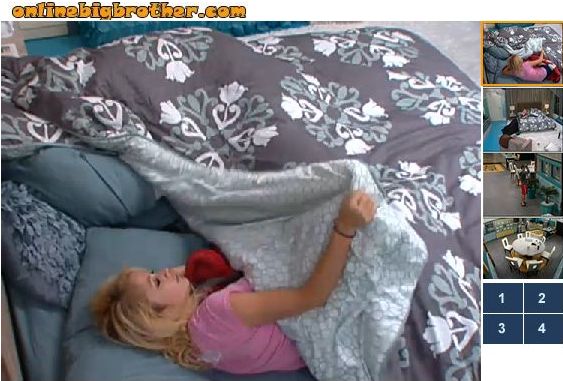 9:30am – 10am Brendon is in the kitchen making his breakfast. Matt, Ragan and Lane are still in bed. At 9:40am Big Brother calls for an HOH lock down and all the house guests head up to the HOH room. All the house guests find a place to lay down on the bed or floor and go back to sleep…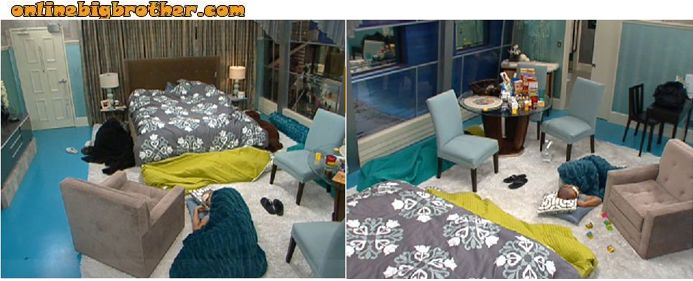 Watch everything that happens after the LIVE SHOW for Free!!
Superpass – 3 Day Trial!