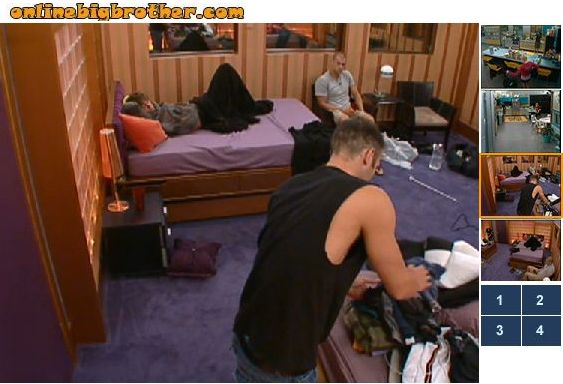 FREE Live Feeds!!
Superpass – 3 Day Trial!

11:40am – 12pm Big Brother calls an end to the HOH lock down. All the house guests leave the HOH room. Britney is the last one to leave the HOH room. She throws all her things in the center of a blanket and folds it up, and then she grabs her bag and leaves the HOH room. Britney forgot her microphone in the HOH room and tries to go back for it but the door is already locked. Enzo heads to the bedroom and takes off the penguin suit and borrows clothes from Hayden and Brendon because Big Brother gave all of his clothes away to charity. Enzo wanted different clothes to have under his penguin suit for the live show. Enzo leaves the bedroom. Brendon and Hayden talk about how they don't see Britney excelling at any of the upcoming competitions. Brendon says that then it will get them down to the final four. Brendon leaves the room and then comes back. Brendon and Hayden talk about the how the game in the backyard will be different for the HOH or POV competition. Brendon thinks that it will be a quiz HOH competition and that the POV will be the backyard game.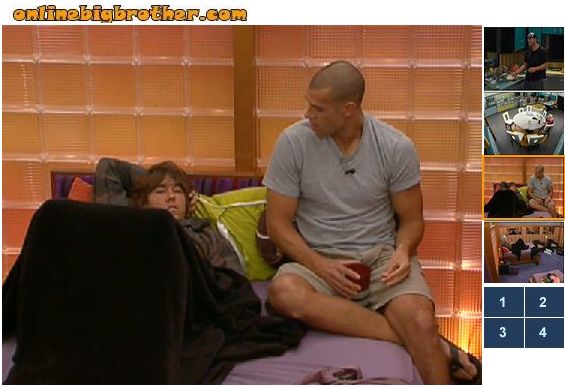 12:10pm Britney asks Lane if ex-girlfriends ever called him nick names.  Lane says that one called him god.  Britney tells Brendon that she used to call her ex snuggles and he called her cuddles.  She says at first it was cute but looking back now she thinks its kind of disgusting.  Britney says that she used to make up names to demasculinise her ex-boyfriends.  Lane comes into the kitchen and throws a rolled up towel at Britney.  Britney grabs it and chases him out of the kitchen while she whips him with it.  Lane comes back into the kitchen and they wrestle a bit.  Enzo is in the kitchen too and gets into it and say booga hookie… They stop wrestling and Britney asks him what booga hookie means?  Enzo says its when you hit someone that isn't looking.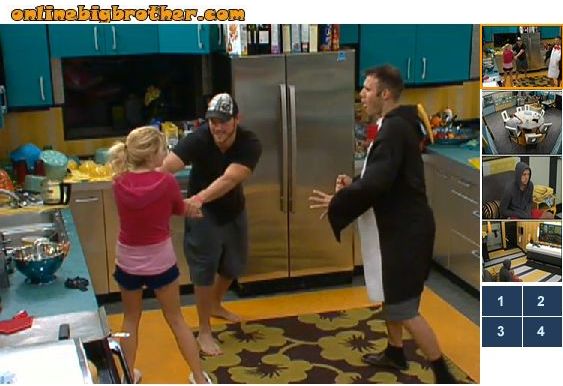 12:15pm – 12:35pm Lane starts quizzing Britney on the questions that are on the back of the Raisin Bran cereal box. Enzo heads to the bedroom and talks with Hayden. Hayden says that they are changing things up and that maybe it's a double eviction. Enzo asks if Matt has been trying to talk to him. Hayden says yeah, but that Matt hasn't thrown him (Enzo) under the bus not even once. Hayden says that was pretty cool and Matt knows he is voting for Enzo. Hayden and Enzo then start studying the time line of the events of the house. Hayden tell Enzo to go over the POV's and Enzo says that he doesn't study them because they are just two days later after the HOH's. Hayden starts going through who won the POV's and when. Hadyen lists off Brendon and Britney's name a bunch of times and Enzo says Yo …we got to start winning things. The door opens and they stop talking. Brendon comes in and they continue to go over the events. Brendon starts studying with them. They go over the HOH's, POV's, have not's, Saboteur messages. They are going over the messages and confirming the days and events with each other.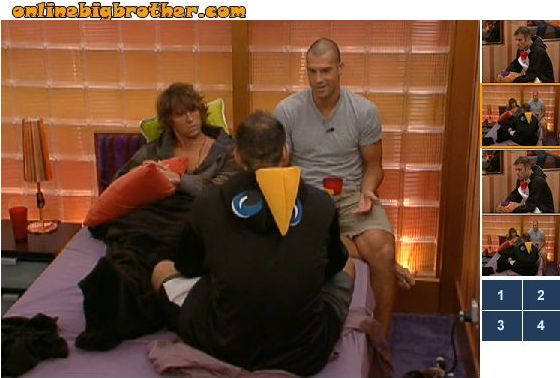 Watch everything that happens after the LIVE SHOW Tonight!!
Superpass – 3 Day FREE Trial