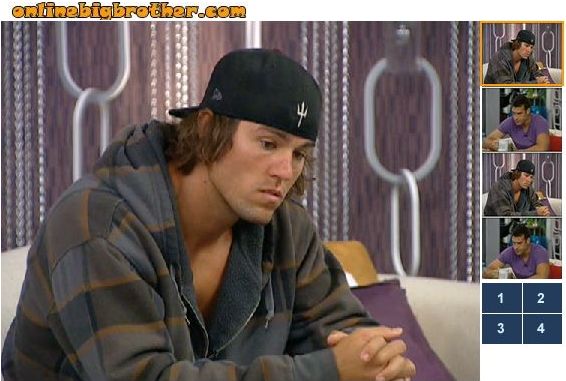 11am Big Brother cut the feeds for about five minutes when they come back everyone is in the living room talking about an up coming challenge. They talk about how they will be having a have/have not food challenge. They talk about how maybe they have to eat something disgusting that's put in front of them. Brendon says that everyone better eat what ever is put in front of them …eye balls, testicles… whatever… Hayden asks about last season where the house guests had to put the faces together if it was for the HOH. Matt and Ragan both says that if was for the POV ….and that it was the one that Jeff had to win.

Watch all drama on FLASHBACK! FREE 3 Days TRIAL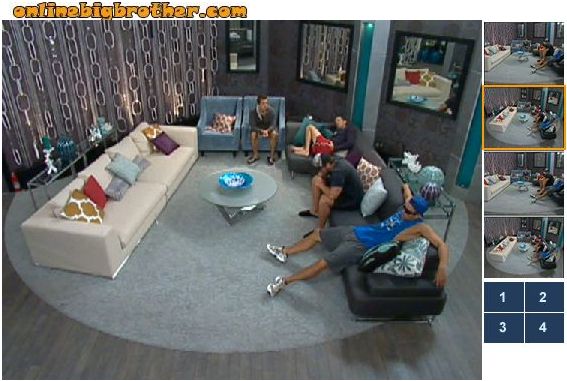 Matt, Raga, Lane and Enzo are still sitting in the living room. No one is talking …then Matt says that he is having flash backs about where he and Ragan are sitting. Lane asks him where he is sitting …Matt says on my face. Lane laughs. They talk about where Britney is and Lane says that she is probably changing. Matt says that it will have to be something that they can clean up quickly because we still have nominations today too. Ragan agrees. They sit there in silence …then Hayden says here she comes… Matt asks you heard the door? Hayden says yeah. Then they realize that the noise came from the storage room and figure that it must be big brother putting their costumes for the challenge in there. Brendon and Hayden start talking about playing sports.
11:22am Britney comes out to the living room in her costume screaming OKAY HOUSE GUESTS ITS TIME FOR THE HAVE/HAVE NOT COMPETITION!!! Everyone is in the living room and they weren't enthusiastic enough so Britney had to do it again. Matt says how are we supposed to be excited about having to compete to be have nots. Britney goes around the corner and then comes back and yells again that its time for the have/have not competition. The other house guests see Britney's outfit and wonder if its country competition or an Alice in Wonderland theme. Britney tells them that they will just have to wait ….. Then Big Brother cuts the feeds to TRIVIA….

SEE what they CAN'T show you on TV! 3 Day FREE Trial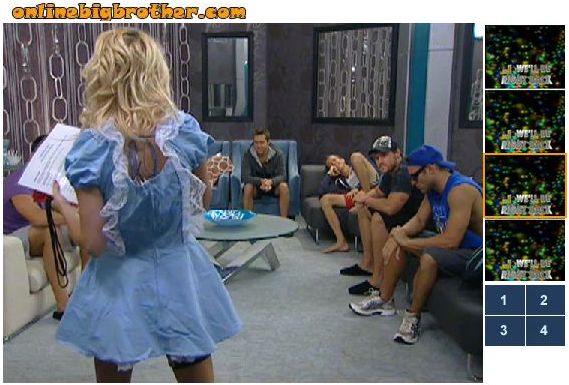 12:35pm The live feeds are still showing TRIVIA… the house guests are still competing to have/have nots….