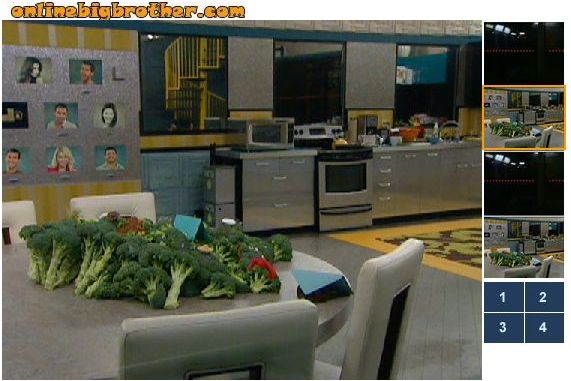 12:55pm The live feeds come back on from having their have/have not competition for a split second before 1pm, all of the house guests are in the backyard. Britney is still in her blue dress costume with her back to the camera. The guys are sitting and standing in the backyard in cowboy outfits. Britney says that if they were matching shots…. and then Big Brother cuts the feeds to the "We will be right back" screen. When the feeds come back again the cameras are on the inside of the house showing a large pile of broccoli sitting on the kitchen table …moments after the screen opens letting the house guests into the house. They all come in wearing their cowboy out fits. The come over to the table and Britney reads aloud the announcement telling them that the have nots get to eat broccoli and bean dip. The all says that it is better than what they have been given before.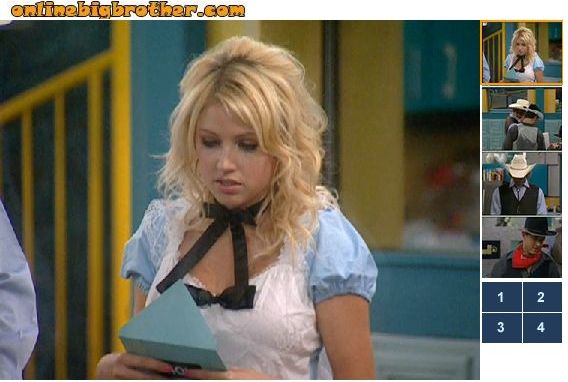 1:20pm They all head to the bedrooms to change out of the cowboy costumes. Matt says that he has enough bandanas to last a life time now. Brendon, Hayden and Enzo are all have nots this week. Enzo is a have not he says that he doesn't mind broccoli that he can cook it up and put salt on it. Brendon says that they could grill the broccoli too.


1:30pm Lane, Hayden, Matt and Ragan are in the living room.  Hayden has one of the bean dips and is reading the nutrition label.  Brendon is yelling from the kitchen asking what the protein and carbs are?   Hayden tells him.  Brendon says that its not too bad.  Lane asks Hayden if he is allowed to eat chips with it.  Hayden says no.  They start talking about the competition.  Lane says that he couldn't read him when they were closing their eyes.  Lane says that Ragan was crying.  They talk about grilling up the tonight.  They talk about how they are going to be given a BBQ grill.  They laugh about how big brother waited until Kathy was gone before giving them a BBQ because she was always out there smoking. Hayden asks what the final score was …Lane says that it was 2 to 1. Matt asks Britney if she was guessing along in her head. Britney says that she was but wasn't right all the time. Lane says that his team all had different faces each time. Britney and Matt says that he could smell them first. Matt says like the jalapeño one. Matt says that he had to spit after and then he had to spit every time just so that people wouldn't know any different. Apparently they each had to eat something and someone from the other team had to guess which one ate something specific. Like guessing who ate the jalapeño.



1:50pm Britney tells everyone that she is going up to the HOH and if any one wants to talk before nominations they can come up. Matt goes up to the HOH with Britney and says that he is trying to win $50 for blocking Brendon from being able to talk to Britney. Matt reads Britney's letter. Britney asks Matt what the best thing she do with nominations. Matt says that what she can do to make things fare is to nominate people that haven't been up before. Britney says that she wants Matt to help her with her speech. Matt talks about how she can tell Enzo that he is in already in a competitive mode and that he has a chance to win the POV. Matt says that he doesnt know how overt she wants to be with nominating Enzo as a pawn. Matt tells her to tell Brendon that they are just as good as the deal that he made with her before. Matt tells her to just leave it at that. Britney says that she thinks her speech to Brendon will be to tell him that he has made a deal with everyone in the house and that she is also making it partially personal ….and to consider it as a thank you to Nick her fiancé. Britney says that the best thing to do is to nominate the person Enzo who is closest to Brendon. Britney says that she like to play this game strategically and that strategically he sucks … Britney goes on practicing her speech saying that he made a deal with both him and her and that he knew full well that he would have to break one of them.. Britney says that it is personal because he decided to personally attack her fiancé so he can consider this from him … he (Nick – Britney's boyfriend) says your welcome… Matt asks if she is just going to flat out tell him that he is going up or if she is going to string him alone …. Britney says that she doesn't know …she doesn't want to talk to him at all … she wants to hide out in the bathroom and if he comes up tell him I'm taking a deuce.

Watch everything LIVE as it happens!!
Superpass – 3 Day FREE Trial

** Updated **

1:50pm – 2pm Lane comes up to the HOH room. Matt is playing with the play doh. Britney starts asking Lane if he heard Brendon trash talking her or Nick last night. Lane says that he's not sure. Britney asks him what do you mean you are not sure …did he say anything or not?! Lane says that he doesn't know. Britney tells Lane that he is acting suspicious. Lane tells Britney to tell Brendon that he is the saboteur. Britney says that the saboteur is over. Britney leaves to go get batteries. Lane and Matt talk. Matt says that he is going to stay up there until nominations because he wants to win $50 cuz thats the only way he is going to win money. Lane gets mad and says that he cant stay up here all the time. Matt says that hes going to … The joke about how they want to hide up in the HOH to listen to Brendon talk to Britney. Matt starts talking about how his wife told him to befriend the gay guy in the house and he said that he didnt want to because he knows that the gay guy is always friends with all the girls and he didnt want to be. Matt says but thats how it ended up. Lane says just says for instance that all the guys and girls took off their tops in the house ….Lane says that Matt would be the one to have a dream about the guys. Matt says no he wouldn't, I dont think I would anyway…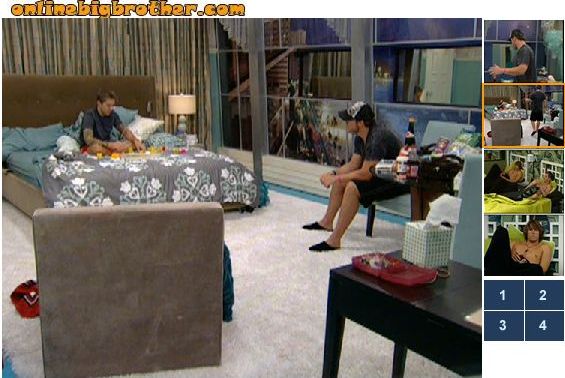 2pm Britney, Hayden are in the bedroom downstairs talking about the Have nots competition.

TRY the Live Feeds for FREE!!
Superpass – 3 Day FREE Trial