TRY the Live Feeds for FREE!!
Superpass – 3 Day FREE Trial
9:30am Big Brother wakes up the house guests. Brendon and Hayden are in Taj bedroom. Brendon is whines to Hayden about how the midget owes him an apology for bashing his intelligence. All the house guests lay in there bed trying to sleep more. Britney, Matt and Hayden talk about their diary room sessions. Matt and Britney joke that Hayden has to go through hair and make up just to do his diary room sessions. Matt asks Hayden to do his diary room character. Then he tells Britney to do hers to show Hayden what they are talking about. Britney then does her over enthusiastic impression of what she is like in her diary room sessions.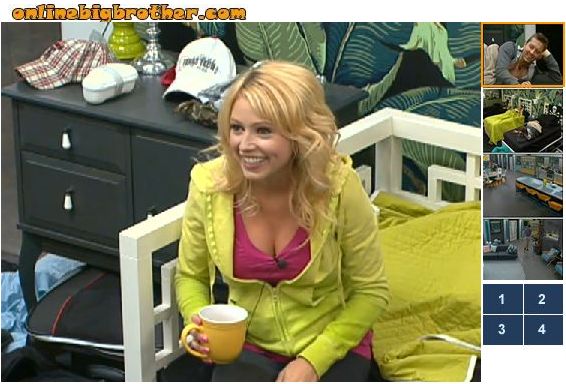 10:30am – 10:50am In the bedroom Britney is complaining about the picture her mom sent her for her HOH room. Britney says that she hopes her mom and everyone hears her thoughts about picture and that they feel bad. Ragan talks about his blog called raganfox.com. The conversation changes to traveling and Britney tells them that they need to go to Europe and it's totally different than USA. They talk about where they might go after show for interviews and crazy events, speaking gigs, to talk about their experiences. Ragan starts to talk about being a cast after show, Stacy and Matt being starred in a fund raiser, Britney starts asking questions about when Matt wife is going to have her surgery, and people will want her to speak for herself about disease. Matt says that he is going to do a fund raiser for sure. Matt says that surgery will be around sixty thousand. Matt says that him being on the show win generate tons of donations. Ragan and Britney start studying and talking about what events happened when.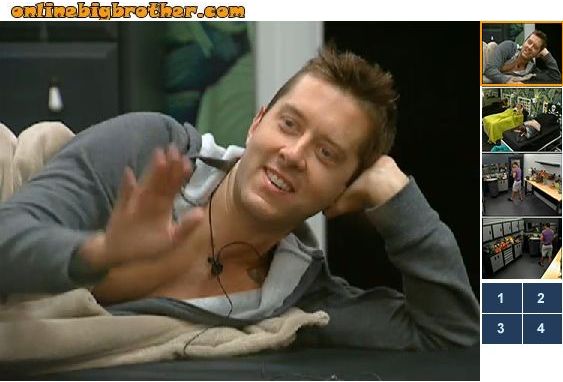 Watch everything LIVE as it happens!!
Superpass – 3 Day FREE Trial
10:55am Britney asks Lane to crack her back. Lane starts limbering up and Britney tells him to just do it already. Lane says okay …take a deep breath and take your top off! Matt and Britney laugh. Lane cracks her back …then Britney goes and sits on Lanes bed and finds a Rachel hair and says ewwww…why do you have a Rachel hair on your bed? Matt says that Rachel is still trying to get into the house.