SEE what they CAN'T show you on TV! 3 Day FREE Trial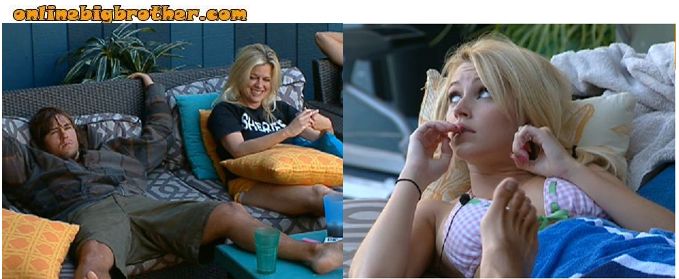 4:40pm Kathy, Lane, Hayden, Britney and Enzo are all sitting on the couch talking about random stuff. Kathy says that she wants to call the shrink and have a group session. Enzo says that he wants to skip the session and just be sedated.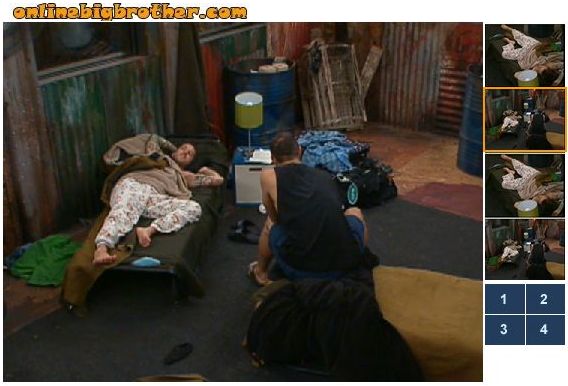 4:50pm – 5pm Matt and Enzo are in the have not room talking. Enzo asks Matt how do we do this yo?! Do we split the vote or what?! Matt says that he just wants to know …that he if he doesn't then he is going to be pissed. Enzo says that this is the biggest decision he has to make …that he is close to both of them …how is he supposed to do this. Matt starts talking about how he has to stay strong and keep hoping for a miracle because he is here for his wife. Enzo says that this sucks that Ragan won the POV… this is the worst decision we have to make. Enzo says that we just need to be straight up. Enzo says that they will have a BG CT right before the thing on Thursday. Enzo keeps saying BLANK man. Enzo says that he doesn't even want to go up there and be fake with Brendon. Matt says why would you look what he did!  Enzo says that he went up there to try and keep himself save … and you and look what happened yo! Its out of my hands.. Enzo says that he doesn't feel like sleeping, playing pool …nothing. Matt says that this is a day of mourning. As Enzo leaves the have not room he says yes it is….
FLASHBACK – Don't miss a minute of all the action
Superpass – 3 Day FREE Trial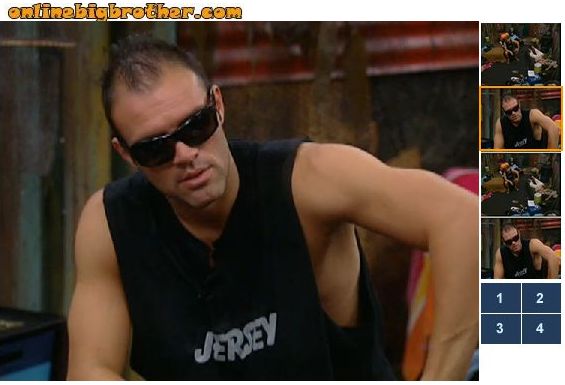 5pm – 5:15pm Ragan and Kathy are talking out on the backyard couches.  Ragan says that if he could he would go on slop for the rest of the time he is in the house just so that Matt wouldn't go home.  Kathy says that she tried to keep Rachel busy the other day just so that she couldn't think about anything else.  Kathy says that as soon as she would leave Rachel would start going off again… it was like you had to baby sit her.  Kathy says that she would have to back and just keep telling her that Brendon loves her and misses her just to distract her from thinking.  Ragan says oh yeah …and laughs.  Ragan starts talking about how he treats people the same way he would want to be treated.  Ragan says that everyone that gets close to Brendon and Rachel has gotten burned.  Ragan says whats that saying you have to stand for something or you will fall for everything.  Ragan says the only thing he hates about that saying is that Star Jones used to say it all the time.  Ragan says that he loves the View.  Britney asks him how he could love the View?  Ragan says that he just loves hearing women talk about current topics and thinks that a womens view is so under valued.  Britney says that she wants to do a show with Anderson Cooper from CNN.  Britney asks what she should call it.  Ragan says "Britney Haynes  101"  Then Ragan gives another suggestion …saying she should call it "Fruit Loops"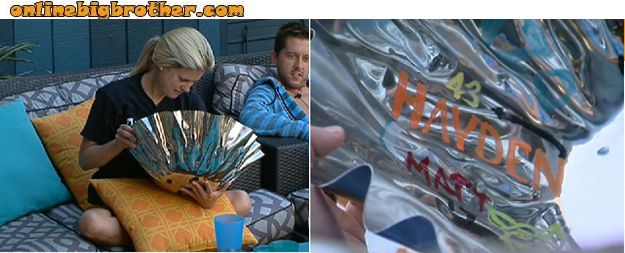 5:20pm – 5:30pm Britney asks Matt where the bowl is and Matt asks what bowl? ..and then says oh, this bowl!  Britney tells Matt to go get it and bring it into the backyard.  Britney says that she wants to look at it again before the tournament.  Matt brings it out into the backyard and everyone takes a look at it. Britney tells Matt that he treats it with disdain and that he needs to display it.  Matt then sets it up in the middle of the yard on the vase.  Britney says that someone should take the trophy home with them …that it would be worth having to pay the extra charges to take it on the airplane.  Matt says no ..they should leave it for Big Brother to auction off for charity.  Kathy asks if they do that and Matt says oh yeah they auction off all of the furniture for charity.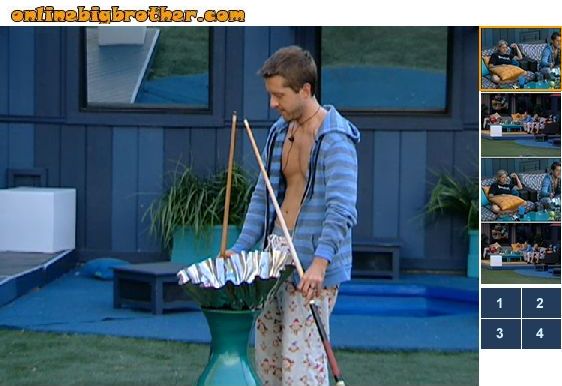 5:35pm – 5:55pmMatt, Kathy, Britney and Lane are sitting on the couch talking about random stuff. Hayden is working out on the elliptical. Matt and Britney go into the kitchen to cut up some eggplant for dinner. Britney says that it will be such a waste if it doesn't taste good. Matt and Britney go into the storage room and Britney finds new eggplant frozen dinners in the freezer. They have Eggplant Michelangelo's, Eggplant Parmesan, and Eggplant Mediterranean. Britney is excited about the Michelangelo's and as they leave the storage room Britney says BLANK you to the eggplants sitting on the counter. Britney and Matt decide to try them all so that they know which ones best. Ragan comes into the kitchen and is excited too. Britney says that even if she doesn't like the eggplant she will eat the tomato sauce and cheese. Ragan says that now they only need to eat one serving of slop a day. Ragan goes to tell the others that the have nots got frozen dinners. Britney says they dont BLANK care …they are eating grilled chicken.. Matt and Britney make their dinner and are so excited to eat…