SEE what they CAN'T show you on TV! 3 Days FREE No Commitments
Unique, Funny and Awesome A Big Brother Favorite https://bitchybigbrother.blogspot.com/
6:08pm hammock Ragan and Matt Ragan is thinking that they should talk to people and tell them that Matt and LAne are equal competitor but there is one difference and that is Matt has taken out rachel who was a huge taget for the house you got your hands dirty for everyone. Ragan: "You need to tell Hayden that you avenged Kristen getting evicted". Ragan thinks the only way he can see them surviving is that they can make a final 4 del with hadeyn and Enzo. Matt isn't sure that he should make a deal with people because he thinks theres a power in the house and if he sides with a group and then the power is played he might find out he's screwed. Matt explains there was that one week were Amercia didn't vote and he thinks a power was voted into the house. Matt: "Do you think hayden and enzo are trustworthy over a final 4 deal? " ragan thinks they are he thinks that Enzo will go with whatever brings him further to the end but Hayden is 100% trustworthy. Matt is worried that it'll get back to lane for the next couple days. I don't want to be like i'm taking away an opportunity away from people. Matt tells
Ragan: "I will cry like a baby if you stay… I'm such a pussy i'm such a pussy boy"
Matt: "we'll work for that, but please, don't cry"
Matt: "i gotta play the social game with these guys, there guys guys they like to talk about sports they like to screw around and talk shit.. I'm going to continue to play that game with them"
Matt: "instead of good cop bad cop it'll be straight cop gay cop"
Brit talks to them from across the backyard asks them if they've seen Brendon all day. Matt say no he's been hiding in his HOH room all day he's scared to come down.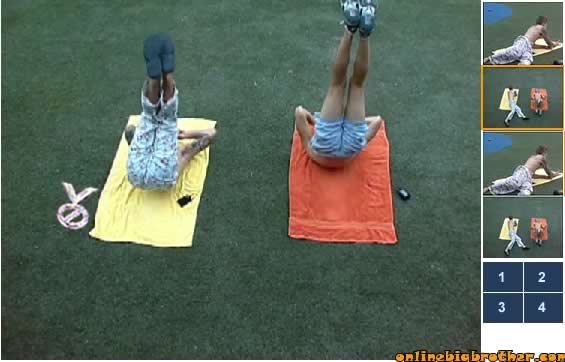 6:30pm all 4 cams sexy bitch abs
7:04pm Kithcen brendon finally comes down from his HOH and starts making BBQ pork. Outside is Ragan, Lane and Enzo working out they are joking about having a fight for HOH this week.