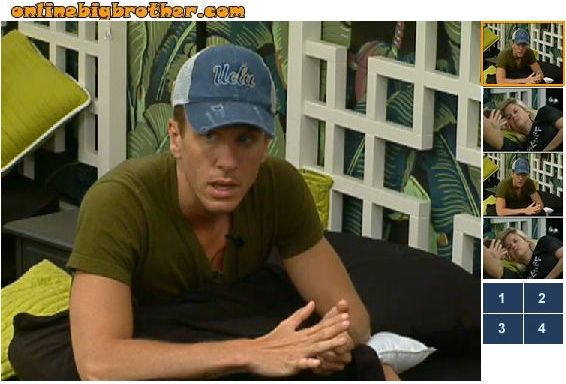 Watch everything LIVE as it happens!!
Superpass – 3 Day FREE Trial
3:15pm Ragan is in the bedroom crying to Kathy about the whole situation. Ragan is pissed at Brendon. Ragan says that this whole week feels like a tit for tat. Ragan says that Brendon is getting back at people because of Rachel going home. Ragan trashes Rachel saying how disgusting she is. Ragan says that Brendon actually said to him that he was glad that he won the POV. Kathy asks …he said that?! Ragan is upset that Matt is on the block because of him. Ragan is crying. Ragan says that Brendon is full of crap. Ragan says that he had told Britney that all they need to do is make sure Ragan doesn't win POV. Ragan says that then he told Britney that all they need to do is keep making these one week deal and picking people off. Ragan says that he won't make any deals with Brendon. Ragan says that he is a very emotional person …clearly.. Ragan says that Brendon had to him that he is emotional… Ragan says that he thinks clearly and that Brendon is the one that was willing to give up an opportunity that tens of thousands of people would give their limbs for to have. Lane comes in and Ragan and Kathy stop talking. Lane tells them what every one is doing and where they are. Matt then joins them. Matt says that if he (Brendon) doesn't leave next week he will be mortified. Kathy says that the only way he wont is for him to win the POV. Ragan says here is another juxtaposition he is playing for a girl that is a horrible person that he met a month and a half ago and you are playing for your wife that has a really rare disease. Ragan says that he (Brendon) is playing for an evil monster. Lane comes in and says something about Rachel coming back again. Ragan says hello BLANK, I am back again!! Matt says coup BLANK.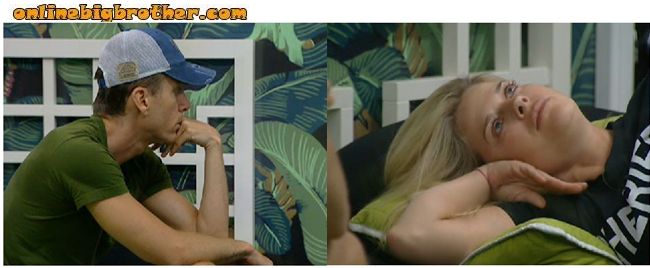 3:35pm – 3:40pm Matt is talking to Kathy and saying that Brendon is such a coward. Matt says that Brendon shook his hand and said that he wouldn't put him up and then now he goes and does it. Matt says that he did the same thing to Britney that he told her she wouldn't go up either knowing full well that he would go back on his word with one of us. Kathy says he did that?! Kathy agrees that he has to go. Matt and Ragan go to the kitchen to make protein shakes.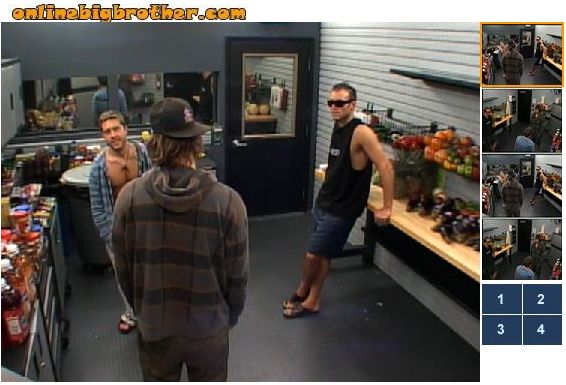 3:40pm – 4pm Hayden, Matt and Enzo are in the storage room talking. Hayden asks Matt if he has a power … says that he wishes. Matt talks about how they need to get Brendon out next week. Matt says that he doesn't want to be blindsided and that he wont say anything bad about Lane. Hayden tells Matt that Rachel left Brendon a message. Matt asks how do you know that? Hayden says that Kathy told me. Matt asks really how did she know. Hayden says that Rachel gave Kathy the HOH key to give to Brendon. Hayden says that Rachel left a message using the pretzels. Hayden says that it said I heart you and then had Matts name in pretzels. Hayden tells Matt not to tell any one about the message. Matt says that he wont. Hayden says that Enzo knows about it too but that it cant get back to to them that they told him. Matt says that he wont even tell Ragan. Enzo says that he had it in his mind already we tried to get him to put up Britney and he just wouldn't go for it. Matt says that he will be so livid if he goes home this week and Brendon doesn't follow him out next week. Matt asks them to keep him informed about what is going on. Matt says that he wants them to give him and Lane a split vote.
SEE what they CAN'T show you on TV! 3 Day FREE Trial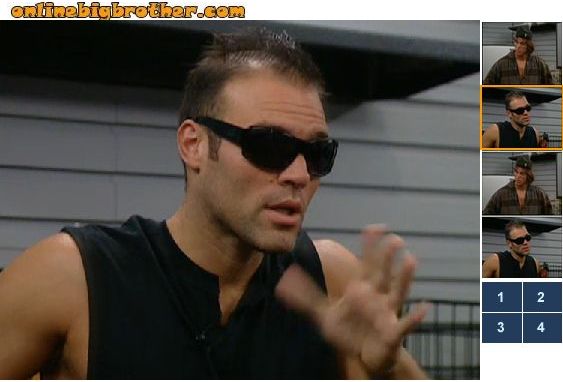 Enzo and Hayden both say that they will give him a split vote and that Kathy will be the deciding vote. Matt says that she will probably get confused and not know what to do. They talk about how Ragan winning the POV was the worst thing that could happen. Matt tells Enzo and Hayden that they should watch how much they talk to Brendon because the whole house is watching. Matt says that Ragan is festering and is pissed at him and if they're seen around him too much it will transfer on to them. They talk about needing to start winning BLANK. Matt asks them to just tell him whats going on and that he wont talk BLANK against Lane. They leave the storage room. Enzo and Hayden are in the kitchen whispering. Enzo says that this sucks… Enzo says that maybe they should just tell Matt on Thursday that they are voting him out…. Hayden says that he knows just how to tell Matt the news. Enzo says that they gotta just do it and then says that he started it.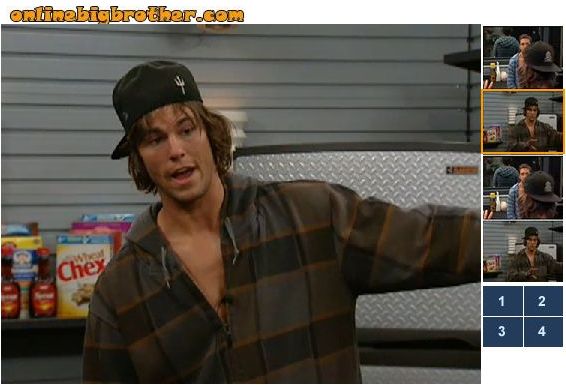 4:20pm – 4:30pm Kathy, Ezno, Britney and Hayden are sitting on the couches in the backyard. Britney says what are you thinking about Hollywood Hayden? Ezno answers for him and says that he is thinking about having to make a BLANK decision this week. Enzo says that this is the worst week. Britney asks Hayden what was his worst week. Hayden says that it was when he was on the block. Enzo and Hayden laugh about how Matt keeps talking about how he wishes there is a power that could save him… They all say that there isn't anything that's going to change things and that no one has any powers. Enzo says that if the amazing Enzo doesn't have a power, there is no BLANK power. Enzo says that its impossible to not get attached to people in this house…. it sucks. Kathy says yeah the longer they are in the house the harder it gets…