$5 off Discount – LIMITED Time OFFER! ONLY $9.99!
FREE for 3 Days!

5:05pm Backyard Hayden and Enzo Enzo talking about his DR session where he was calling Annie the Greyhound because she was out of the house fast. They are playing a game where they throw the billiard balls on the lawn… kinda like boccie I guess. Enzo doesn't like the game, Hayden says it's becuase he sucks at it. Enzo propses they play a new game he'll hide the q ball somewhere in the backyard and HAyden has to go find it. HAyden really wants to play so Enzo covers his eyes and Hayden proceeds to hide the ball. He places right on "Johnny 5" Enzo opens his eyes and goes straight to the the centre camera (Johnny 5) grabs the ball and tells Hayden he heard somethign he swears. Hayden laughs tells him he's cheating.
5:17pm Backyard Lane joins them, Hayden tells him they are playing hot and cold with the billiard balls.. asks them if they've had a nap yet. Enzo: "we just woke up". Enzo has hidden the ball for HAyden. Hayden is trying to find it everywhere he goes Enzo tells him he's cold. Hayden: "I've walked everywhere and it's all cold". enzo :"get your hat and mittens it's the frozen tundra over there" Hayden getting frustrated "You have to tell me if i'm getting warmer". Hayden finds it in the yard hose coil.. It's now Hayden's turn to hide the ball again, HAyden asks Lane to make sure Enzo doesn't cheat this time. HAyden tries to hide the ball under the rubber ducky but it doesn't fit (ducky has a chlorine filter on it) Enzo finds it near the window by the hammock. Enzo says the game is corny but it wastes time. Lane asks them what their DR sessions were like. Enzo: "pitchers and dogs" (production comes on over the PA telling them not to talk about production). Enzo wonders what the HOH will be like.. he hopes it's not a stupid one where you are out because of one questions, Enzo: "this is a important HOH the person who wins this goes to the next step"
5:30pm Lane tells them he talked to Ragan this morning, Hayden and enzo want to know what they talked about. Lane says they talked about advantages and disadvantages. Lane says he was talking a bunch of shit that HAyden should go etc etc. Hayden laughs.. Enzo: "well HAyden whats your argument?" Hayden: "Ragan is not taking you guys to final 2 he's taking Brit" Lane says that Ragan was telling him that Enzo and Hayden are going to take him out next week, ragan claims that enzo told him that in the taj. Enzo laughs I haven't talked to ragan in the taj". Lane says that Ragan told him that he can't beat any of the guys in the final 2. Hayden: "You won't get to final 2 if you keep Ragan.. who do you think will win HOH next week?" Lane: "Ragan says if he stays I have a 75% chance to get to final 2 and a 100% chance to win 500thousand… Sure it all sounds dandy but if he stays he'll make it to final 2 because he's god at Skills and good at endurance". They're all laughing, Lane says he knows he's going to have to backstab one of them sooner or later should he backstab them now or wait and do it another week. Lane tells them that Ragan thinks that Brendon will vote for Hayden, Hayden doesn't' think so. Lane: "Ragan says I will be asked what bold moves did you do to win 500thousands and this is the bold move that will win you 500thousands". They start talking about Matt using the DPOV on Kathy and not Brit like they all wanted. Enzo calls it the biggest waste of a power. Hayden says they have to win HO this week and he plans on doing it but they have to vote to keep him first, Lane and enzo laugh. Lane says that the DR told him he has to fight so he thinks that production really push him to say those things. Enzo: "Yeah you have to do what you have to do". HAyden says they need to get Ragan out he knows this game too well. Enzo adds Brit is playing the game right now, the other day he was asking her stuff and she was lieing because she thinks that this weeks HOH is questions about the remaining houseguests.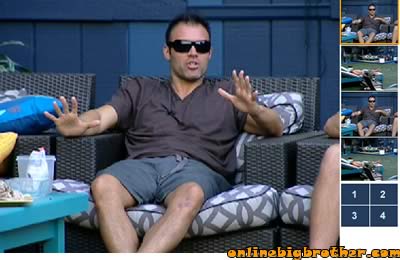 5:48pm Enzo and Hayden are telling Lane that Brit will beat them all int he final 2 and that is why she has to go. Enzo tells them he knows he's not going to get to final 2 unless he wins shit and he's ok with that. LAne says Brit knows she's going home unless she wins HOH. Enzo: "If She doesn't win HOH us three got rock that shit out in the POV"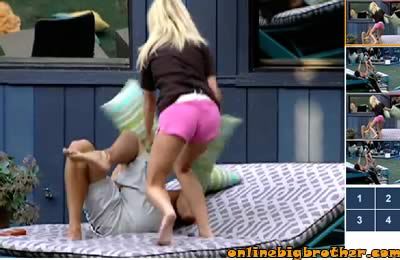 5:55pm Brit joins them and starts a pillow war.. everyone joins in. Lane to Brit: "What they do to you in the DR"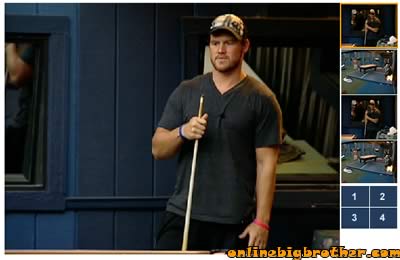 6:58pm playing pool Hayden, LAne and Enzo talking about the brigade and how awesome they are. They keep bringing up how MAtt didn't beleive in them and that is why he turned. LAne is convinced that Matt told Ragan that the 4 of them were in an Alliance. LAne doesn't think MAtt called it a brigade but he definitely told him they are in an alliance.

7:25pm Hammock Ragan
Ragan going over the things he'll say to rachel when he first sees her in the Jury house.
"First thing on my list… oh look the mansion has it very own waitress… ehh who got in a knife fight with that traannies face…when it's done befgging for attention i have a DVD to watch… or I can just take the mature route and say i'm done fighting with you.." Ragan gets called into he DR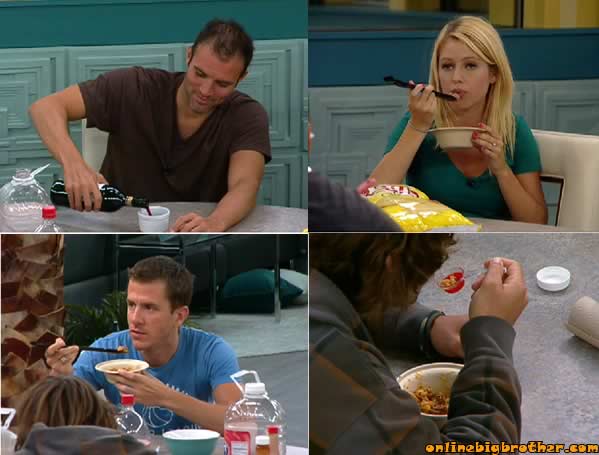 7:41pm Everyone eating the Hamburger Helper Brit made. She tells them a story about when she was in college and they use to buy boxes of wine. They would take the bag out and carry it in their purses to frat parties.





Vote Dawg!

Big BRother 12 Poll Whose the hottest BB chick